Return Gifts for Indian Weddings - 12 Chocolate Box

Return gifts for weddings make sure that your guest that his presence has been very much appreciated and that you are gratified. Also, it would go a long way to strengthening your bonds with your guests and it would make sure that they wouldn't be forgetting your wedding anytime soon.
So, if you are looking for return wedding gifts for Muslim weddings or return wedding gifts for Sikh weddings, you've come to the right place.
Chococraft has a wide range of gifting solutions that you can choose from. Without further ado let's jump in.

Chocolates configuration options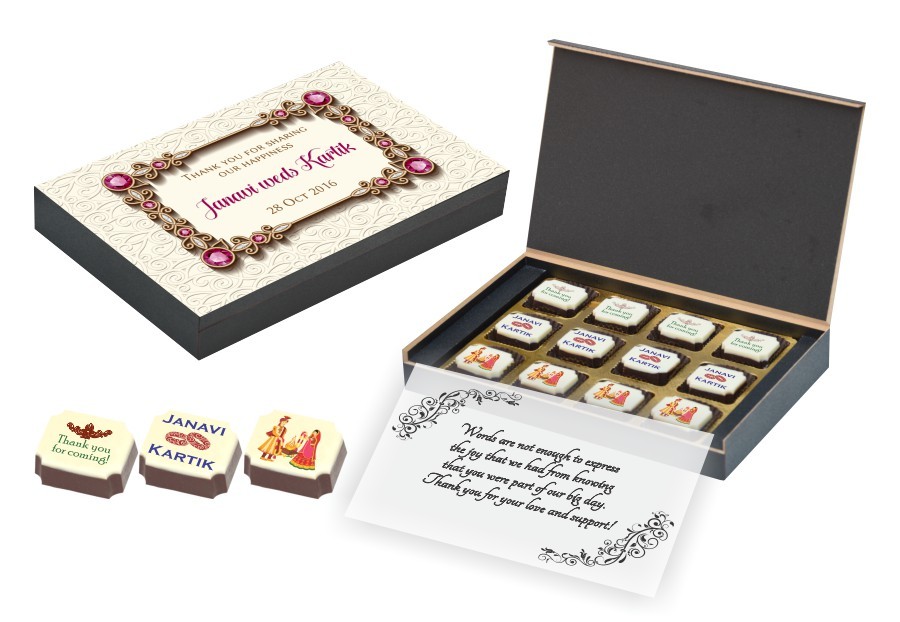 All Printed Candies, Customised Wooden Box , Message on Butter Paper.

6 Printed & 6 Assorted Candies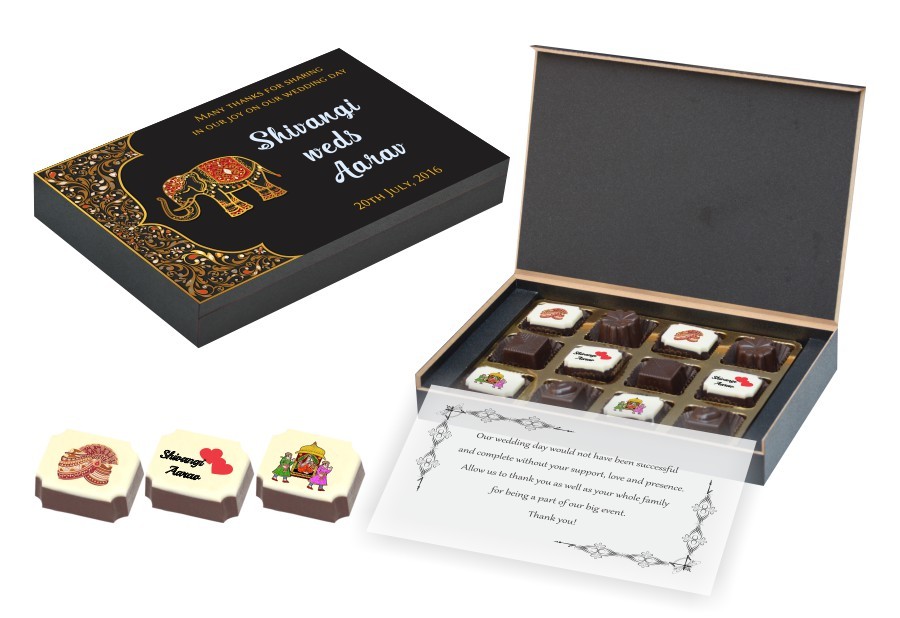 Alternate Printed Candies, Customised Wooden Box , Message on Butter Paper.

Printed Bar & 10 Assorted Candies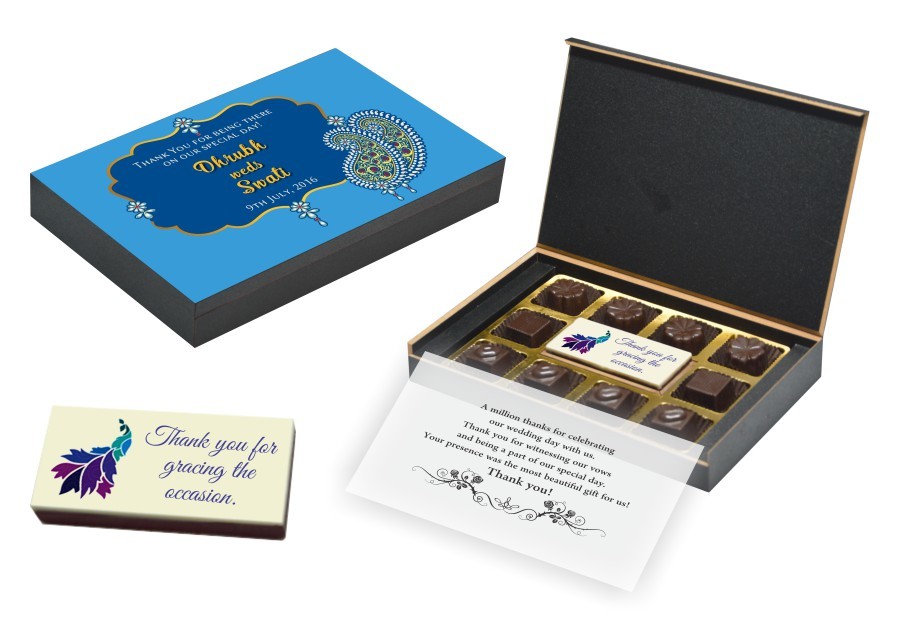 10 Assorted Candies With Printed Bar, Customised Wooden Box , Message on Butter Paper.

2 Printed & 10 Assorted Candies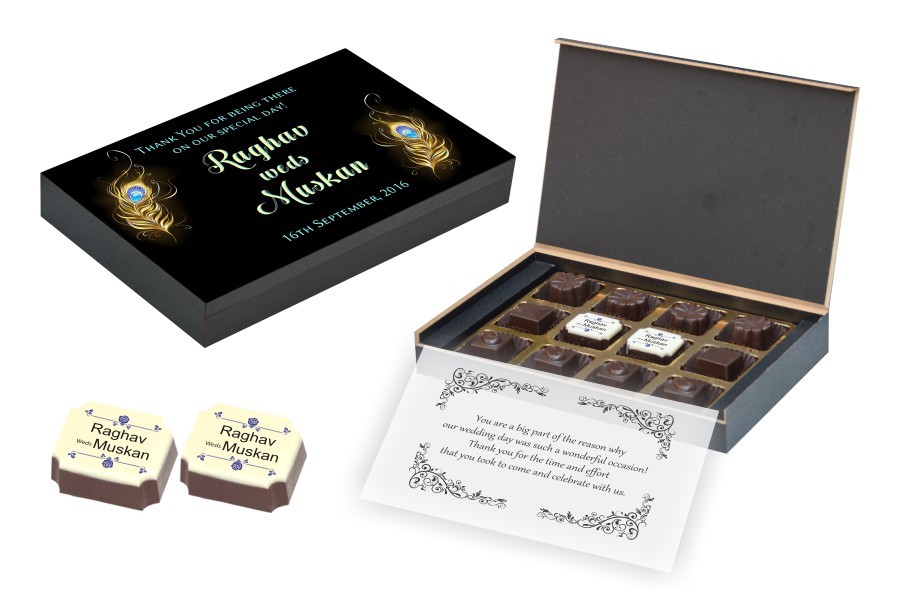 Middle Printed Candies, Customised Wooden Box , Message on Butter Paper.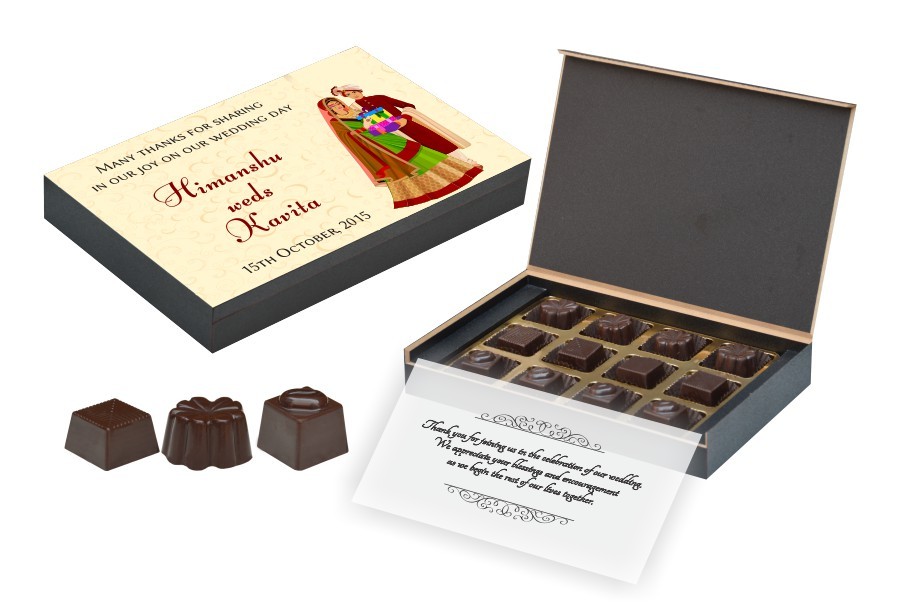 Assorted Candies, Customised Wooden Box , Message on Butter Paper.

---
Return Gift for Indian Marriages
---

Indian weddings are nothing short of a mini-festival. Families and friends unite together in this days long fiesta to make it a grand success. It is because of them that the great, fat Indian wedding has come to exist. And speaking of tradition, there is nothing older than the custom of bringing gifts.
Weddings are no exceptions.The food, drinks, fun and frolic interspersed with heartfelt laughter and warmth don't need much else to make it a memorable affair. But the age-old tradition of gifting the bride and groom as they start a new chapter of their lives has been passed down generations and it still is carried out very fondly in this day and age, even more so. In fact, this tradition of gifts has been prevalent in many countries all around the world. Some just believe a gift would bring good luck to the couple, others just do it for the sake of it.
Traditions are to be respected but what's new and gaining traction is this relatively new notion of return gifts. Be it return gifts for your friends or return gifts for relatives, the popularity of it is increasing rapidly and with good reasons too.
It is our guests who make time out of their busy schedules to answer our invitation. It is their gracious presence that can bring the roof down when you're reminiscing those funny stories of your uncle with your in-laws. The little bits really that amount to a lot.
And return gifts is just a nice and polite way to say thank you to them for their blessings and gifts and more importantly, their presence. Words often do little justice in such matters and the reason why we resort to gifts. Return gifts for weddings can be expensive if you are looking to splurge in keeping with the grandeur with the rest of the wedding feels or it could just be an inexpensive thank you note. The thought matters here, not the monetary value.

Thank you Gift for Indian Weddings
Gift by Region
Return Gift Ideas
Our Unique Offerings
Beautiful Designs for Box & Chocolates
Message for your guests in the box
Design / Make your own Wedding return gift / favors

Best wedding return gift-12 Chocolate boxes
Chococraft has been a leading pioneer in the field of gifting solutions for years and we're proud to present to you our very best for your wedding return gift-the 12 chocolate box. Before we delve further, let us take you through the intricacies of it all.
Now, the thing with weddings is the sheer magnitude of them-all the guests, different age, different sex, different taste. It is really a difficult job to settle upon any one wedding return gift that'd please them all equally.
This is where we come in.Chocolates have been forging new bonds and strengthening old ones since time immemorial and in recent times it has become the most trustworthy of all gifts.You can rest sure that each one of your guests is sure to love chocolates.Well, who doesn't?
But that's rather too simple to keep pace with your grand wedding and the rest of the festivities.You want to impress your friends so that with each bite of that chocolate they would be reminded of happier times spent with you on your wedding day. So that, even after the evening ends, the memories and buzz of it will linger on.After all, any gift should have a recall value.
And that is exactly why we have gone a step further. With our in-house bunch of talented designers, we have come up with the idea of printed chocolates for wedding return gifts. Edible ink and running imagination.Let the wedding chocolates be the canvas.But the fun doesn't stop here.
We at Chococraft are committed to bringing the very best for you and nothing else. So in that endeavour, we've been able to provide you with the option of customizable chocolate boxes, the design of the chocolate itself and the message to your guest.
You can have your message printed on the wedding return gift itself or should you choose for something more classy, there's the option of having the message printed on a piece of beautiful butter paper that would be inside the wooden chocolate box.
There are options galore and the prices are more than affordable.And what's more exciting is that you can choose and order online. The products will reach you in time thanks to our ace delivery network that offers free deliveries across all major cities of India like Delhi, Bangalore, Mumbai, Hyderabad, Chennai, etc.
IIt is unique and if you have been looking for the best wedding return gift ideas in Indiaonline then we can safely say that our offering should take the cake.

Combinations
We offer you a range of options at your disposal to choose from and the rest would be taken care of. We have one of the largest catalogues of wedding return gift ideas but in case you don't find what you're looking for, we'd be more than happy to fulfill your request if it's a bulk order.
Right then, first up we have the All printed candies at INR 9950 for 10 boxes.Each of the boxes is of course customizable as we have mentioned earlier and the message within it too. With 12 printed candies in each box, this should be a delightful return gift for a Hindu wedding.
Next up is the 6 printed and 6 assorted candies at INR 8300 for 10 boxes, taxes and shipping charges included. This and the 2 printed and 10 assorted candies at INR 7150 should be the best return gift for Muslim weddings.
And if printed chocolates aren't your cup of tea the might we suggest the Assorted candies at INR 6600 for 10 boxes? Customised wooden box, message on butter paper. That right there is a bargain! Something tells us this would be the best wedding return gift for a Christian wedding.
And last but not the least, the 2 printed and 10 assorted candies for INR 7150. These are just a few of the many options that we have in store for you. Just go with what your heart wants and leave the rest of us. And lastly, before we cap this off, from everyone here at Chococraft we would like to wish you a very happy married life ahead and thank you for shopping with us.


For more information, please get in touch with us.