Birthday Return Gifts - 9 Chocolate Box

With Chococraft you can add birthday favor to the chocolates. By adding designs or messages on the chocolates, you can give a personalized return gift for the 1st birthday which would be loved by everyone. Designs on the chocolates should be colorful and bright that would attract children. Chococraft allows you to add whatever design you like on the chocolate, and the ink used on chocolates is 100% edible and safe.

Chocolates configuration options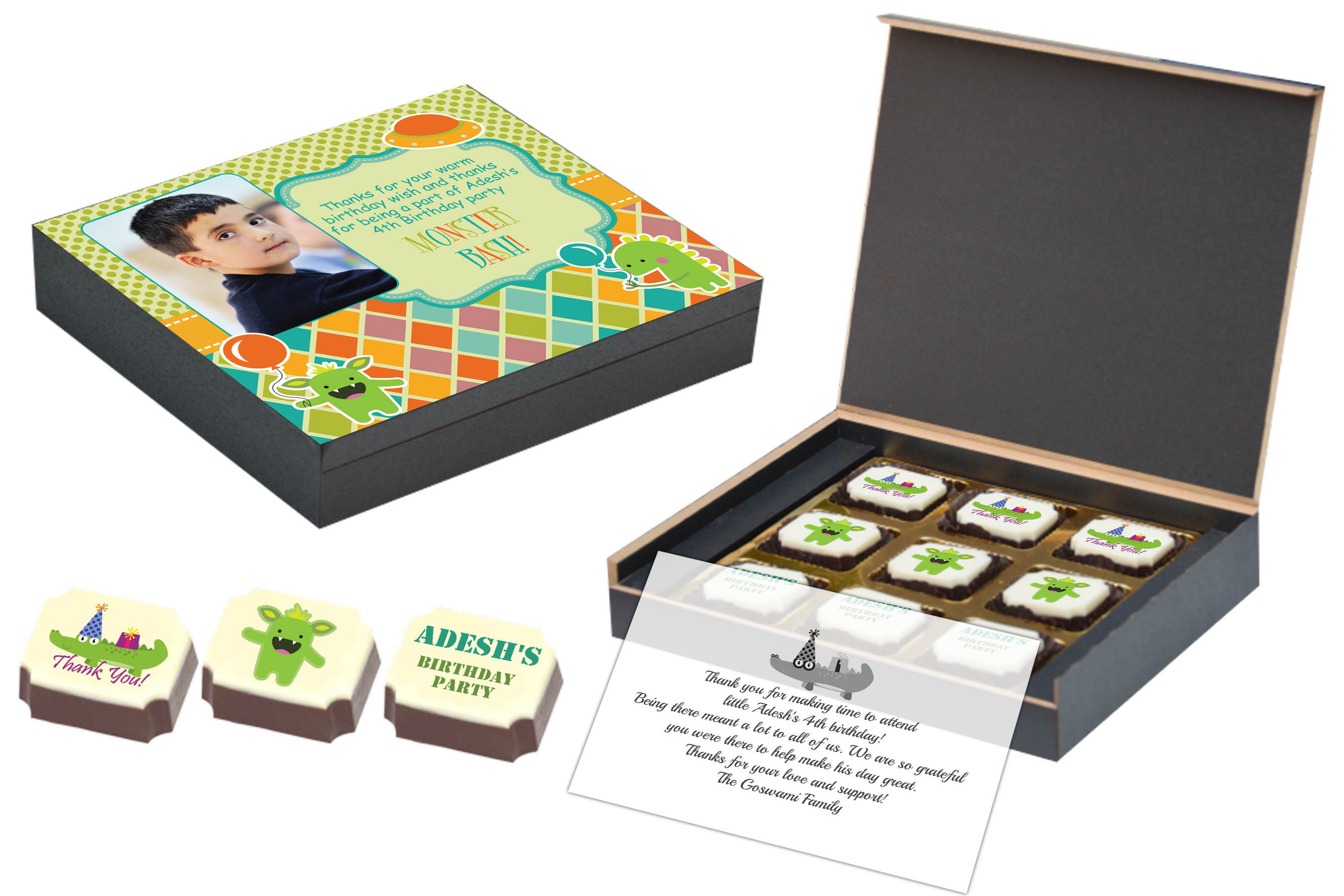 All Printed Candies, Customised Wooden Box , Message on Butter Paper.

5 Printed & 4 Assorted Candies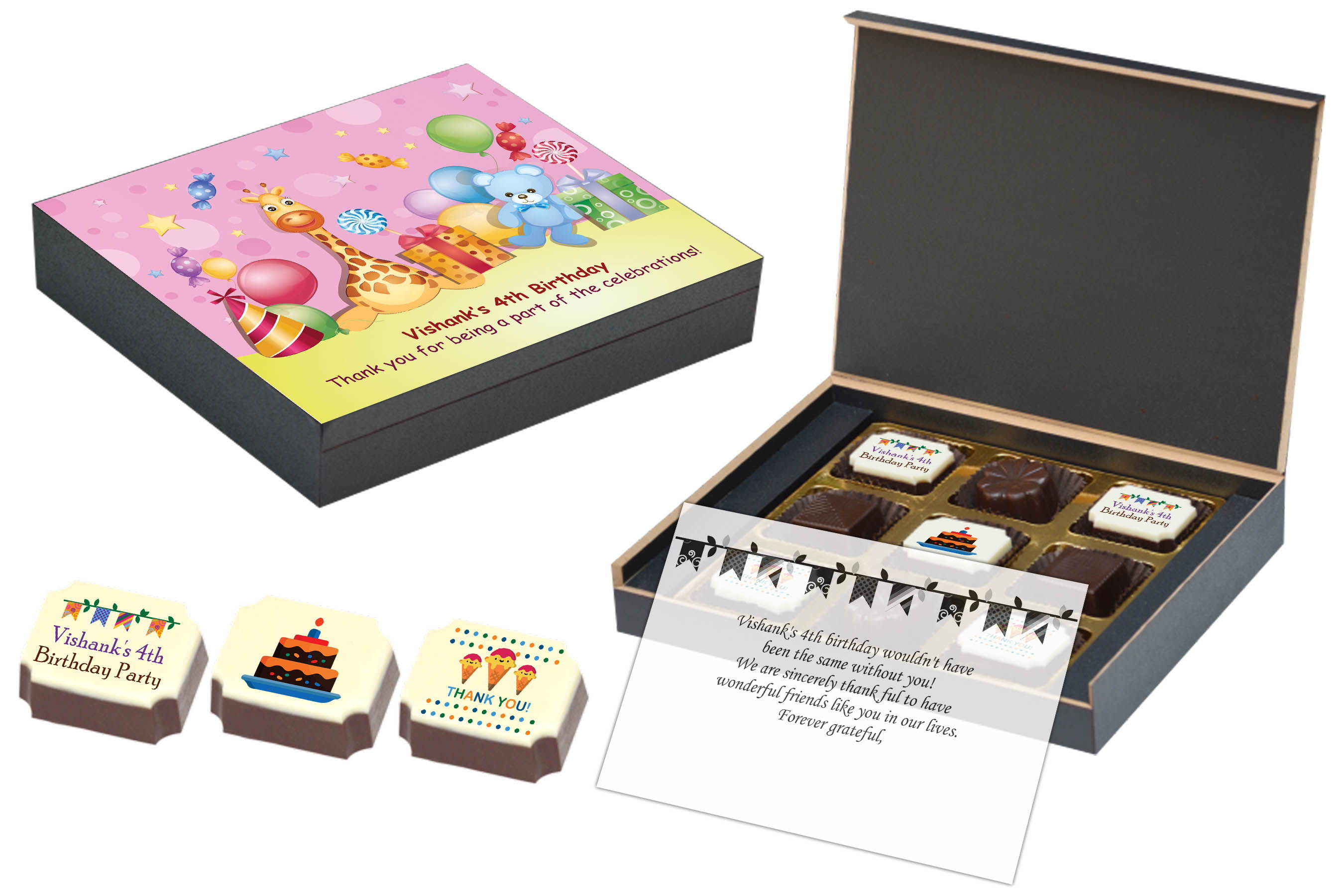 Alternate Printed Candies, Customised Wooden Box , Message on Butter Paper.

1 Printed & 8 Assorted Candies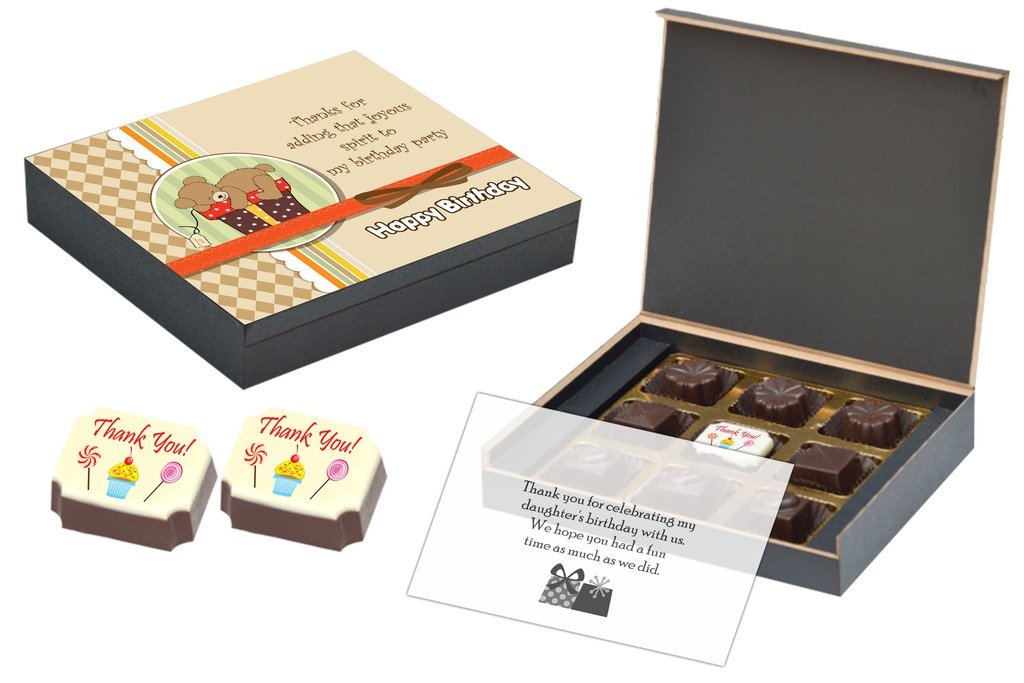 Middle Printed Candies, Customised Wooden Box , Message on Butter Paper.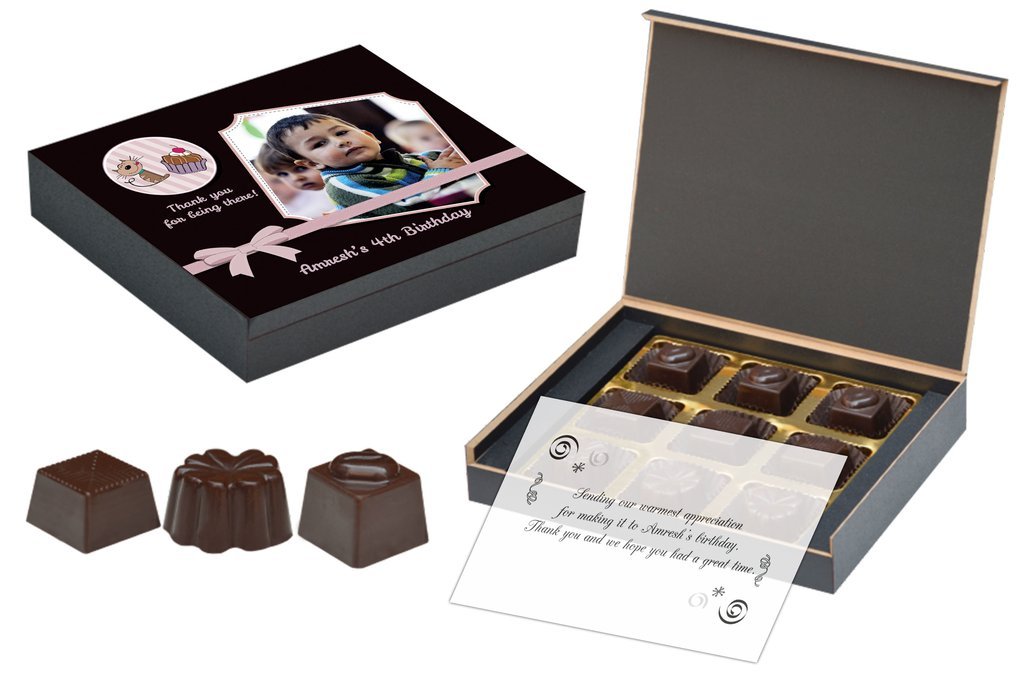 Assorted Candies, Customised Wooden Box , Message on Butter Paper.

Return Gift for 1st Birthday
Your little baby is growing bigger every day, and now it is his/her birthday. Finally your baby is now 1 year old, and after all the sleepless nights and struggles you get to celebrate his/her birthday and leave the stress behind. Your little baby is a toddler now, and you want to celebrate the marvelous time you had with him/her.
After all the excitement of the birthday preparation, you think about what should be best return gift for toddlers. Guests on your baby's birthday would mostly be between the age of 1-2 years, and you would want to gift them something that would have them smiling.
Select something that a child would appreciate. Gifting them crockery or vase would not make them happy. Kid's birthday party return gifts should be toys or something they can play with, that would have them giddy with excitement. One of the popular return gift ideas is gifting them chocolates.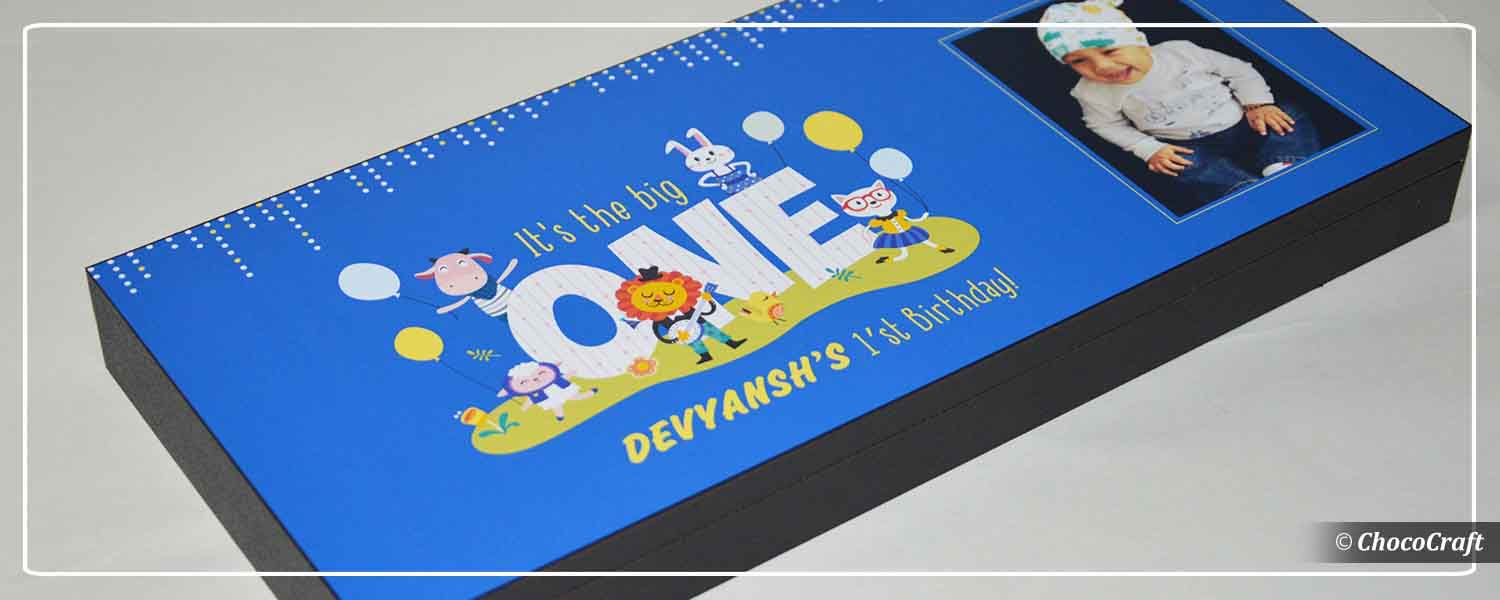 Return Gift for Baby Birthday Party - CHOCOCRAFT
Gift Categories
Gift Ideas
Our Uniqueness
Elegant & Impressive Gifts
Make your own Return gifts
Products in a wide price range
Chocolates are the best return gifts for the 1st birthday because it is loved not only by children but also by adults. So you can give the same gift to the adults who would come to the party.
What else? You can even customize the chocolate box! Add colorful drawings on the chocolate box, and it would definitely become a favorite among children. You can also print your child's photo on the box. Chococraft 9 chocolate box is the perfect return gift idea for the 1st birthday.
You can give birthday return gift message with the chocolate box. The message would be printed on a butter paper. The children obviously can't read the message, but their parents would be sure to tell them, and it would make them happy. Add cartoons on the card for children. You can check return gift template.
You can order return gifts chocolates for kids online through Chococraft without any hassle of traveling to far distances. Chococraft partners with Blue Dart for shipping and they deliver to most cities, and they even reach metro cities in about 1-2 days. You can get return gifts in Delhi, Mumbai, Bangalore, and Hyderabad etc.
Order the 1st birthday return gifts online through Chococraft.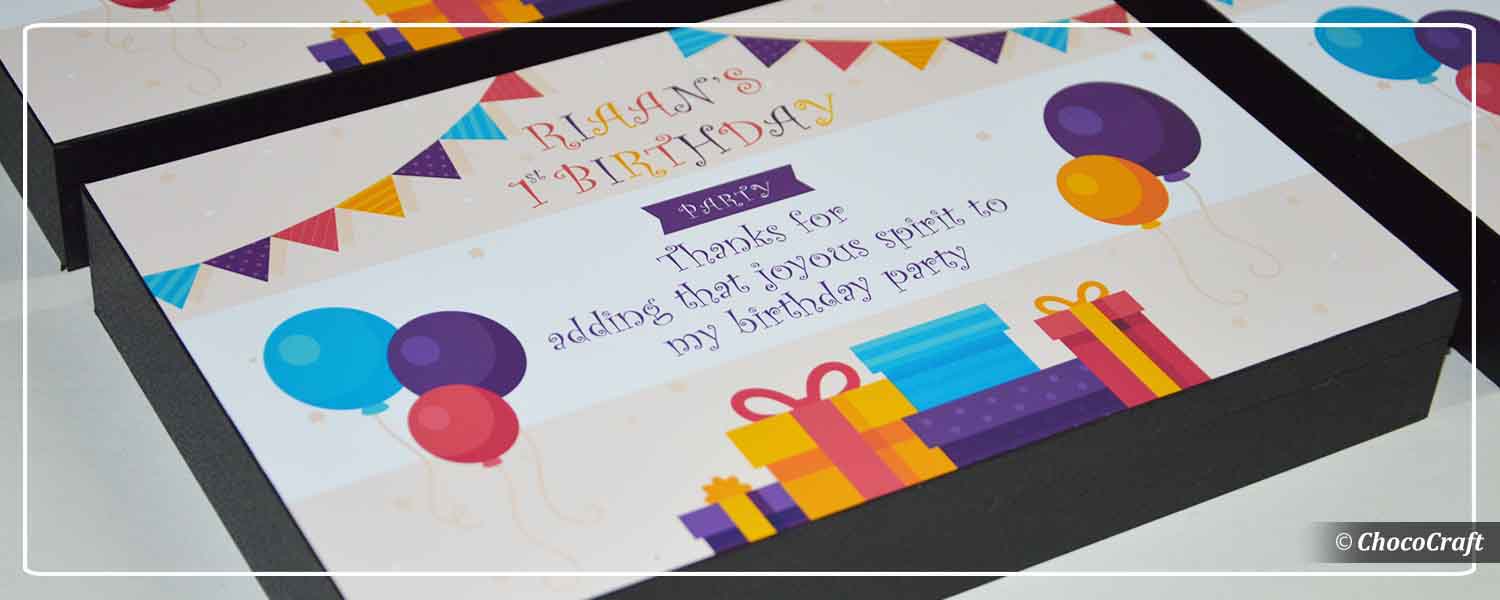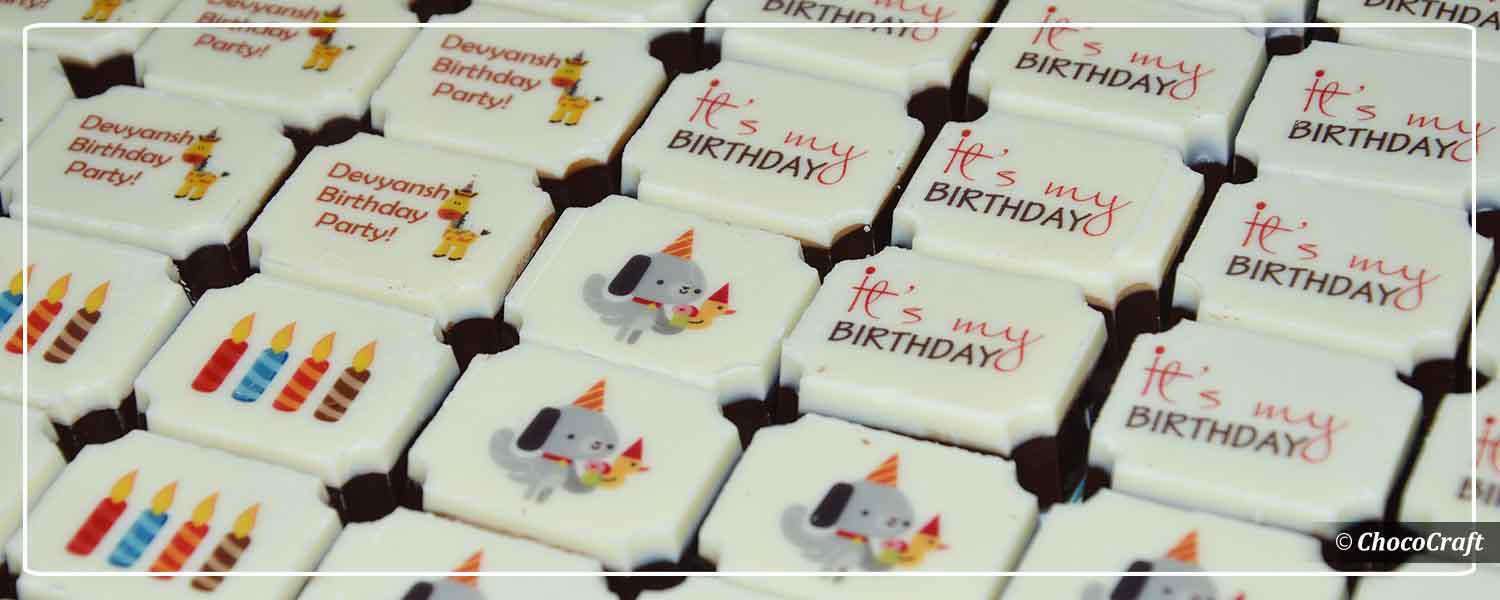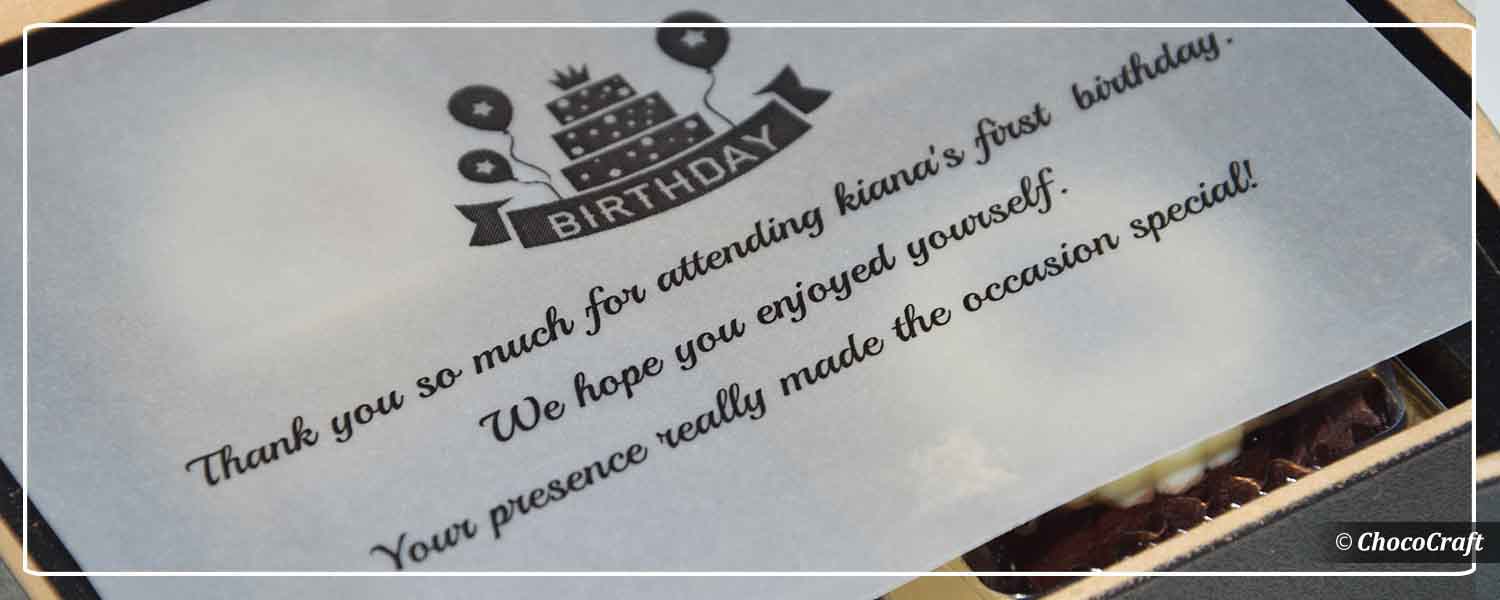 Theme Ideas for First Birthday Party
Everyone gets excited about first birthdays, and it is even better if the party has a theme. Even though it is not necessary to have a theme for the birthday, but themes do make birthdays more interesting. Children can dress up in costumes, and the whole decor of the party would be fixed on a single theme. You can also extend your theme on the return gifts for the 1st birthday.    
Party themes should be such, that it makes children excited and happy to be there. For example, in a boy birthday party, a princess theme would definitely not fit. Try to have gender-neutral themes, for example, pirate themes are quite popular and liked by everyone.
Make sure to extend theme on return gift for the first birthday party. Princess theme, animal theme, pirate theme, mermaid theme, and Micki mouse themes are quite popular among children, and they love to be around cartoon décor.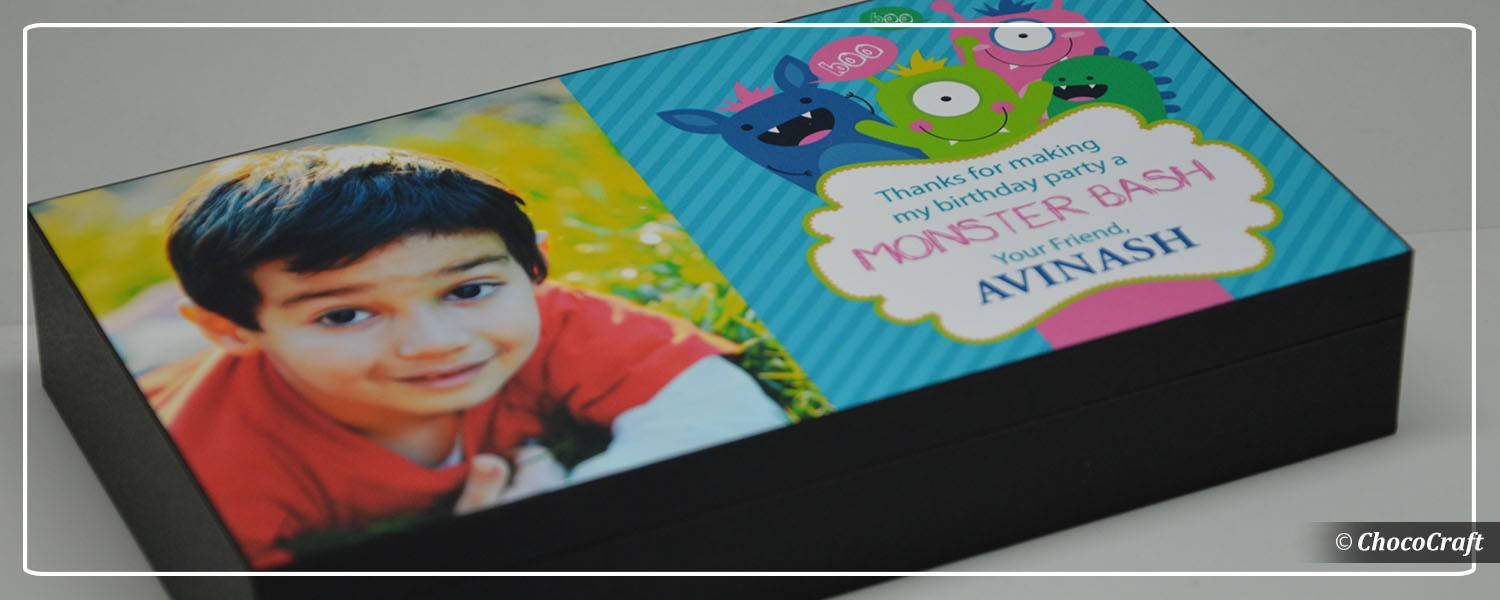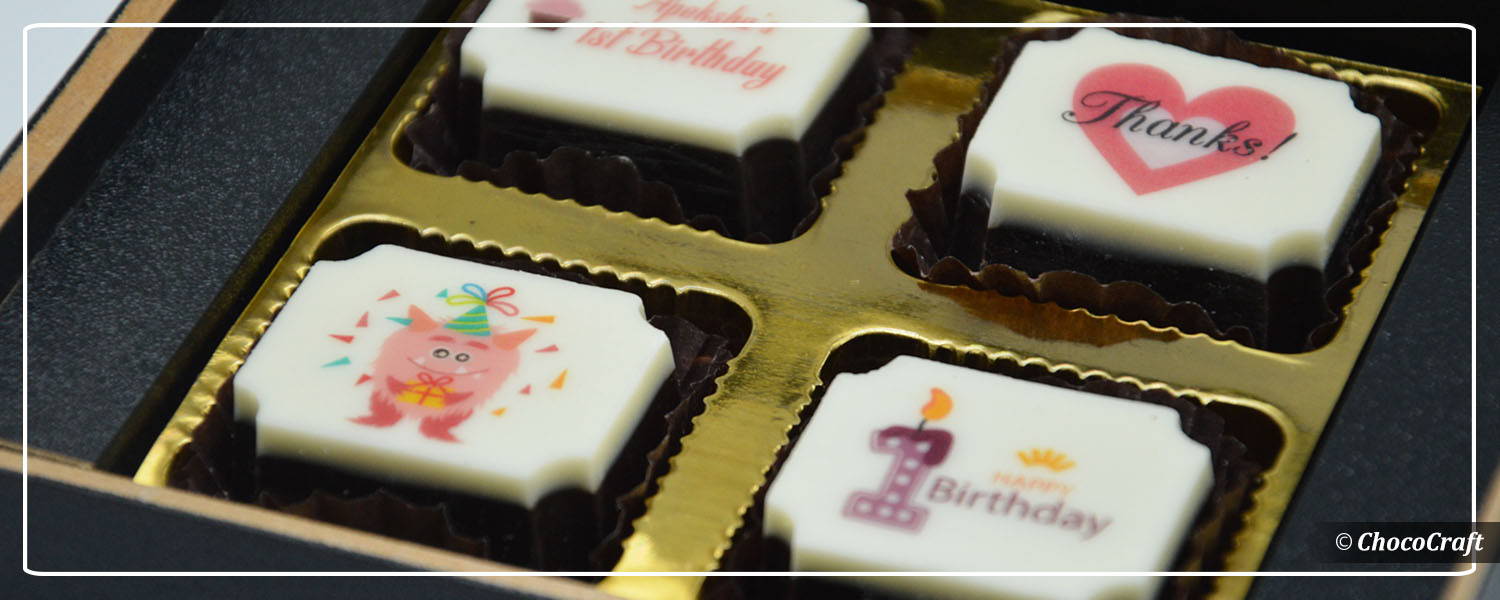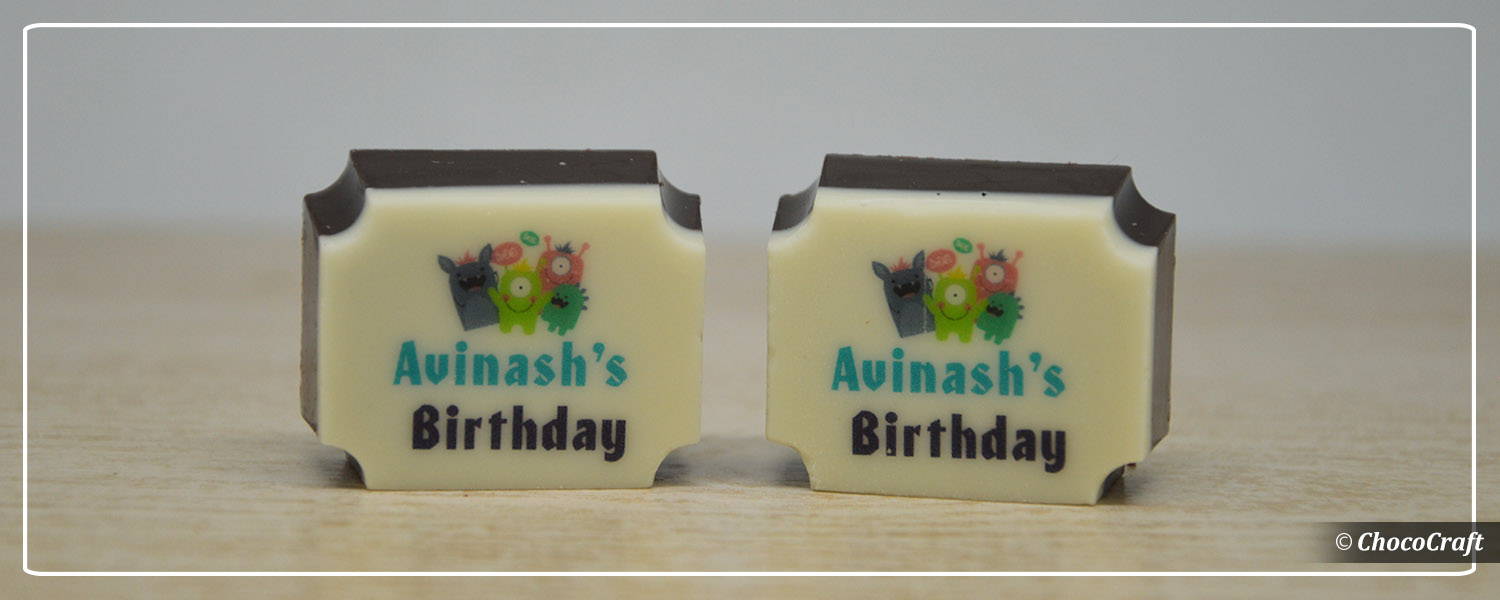 1st Birthday Party Favors in India
First birthday events have always been grand. They involve the involvement of almost each person close to the baby. In recent times a reasonable amount is likewise invested in making the first birthday party a memorable one.
This party in general has all pals and circle of relatives invited over and hence the number of babies coming remains variable. Consequently, the go back presents have to be such that they're relevant and additionally provide a memory of the event. Personalised birthday return gift ideas are adopted on a large scale by the elite crowd.
These are mainly famous as return gifts in Delhi. A whole lot of effort is placed inside the party planning, unique birthday return gift ideas are looked for the go.
Each parent desires to rejoice the first birthday of their little one in fashion. Some accomplish this by outsourcing the event or some take efforts to get everything done by themselves. They come up with the return gifts by implementing homemade birthday return gift ideas.
First birthdays are special and people take all the required efforts to make each factor of the birthday party memorable. After all, the baby's birth marks one of the most important events of their lives.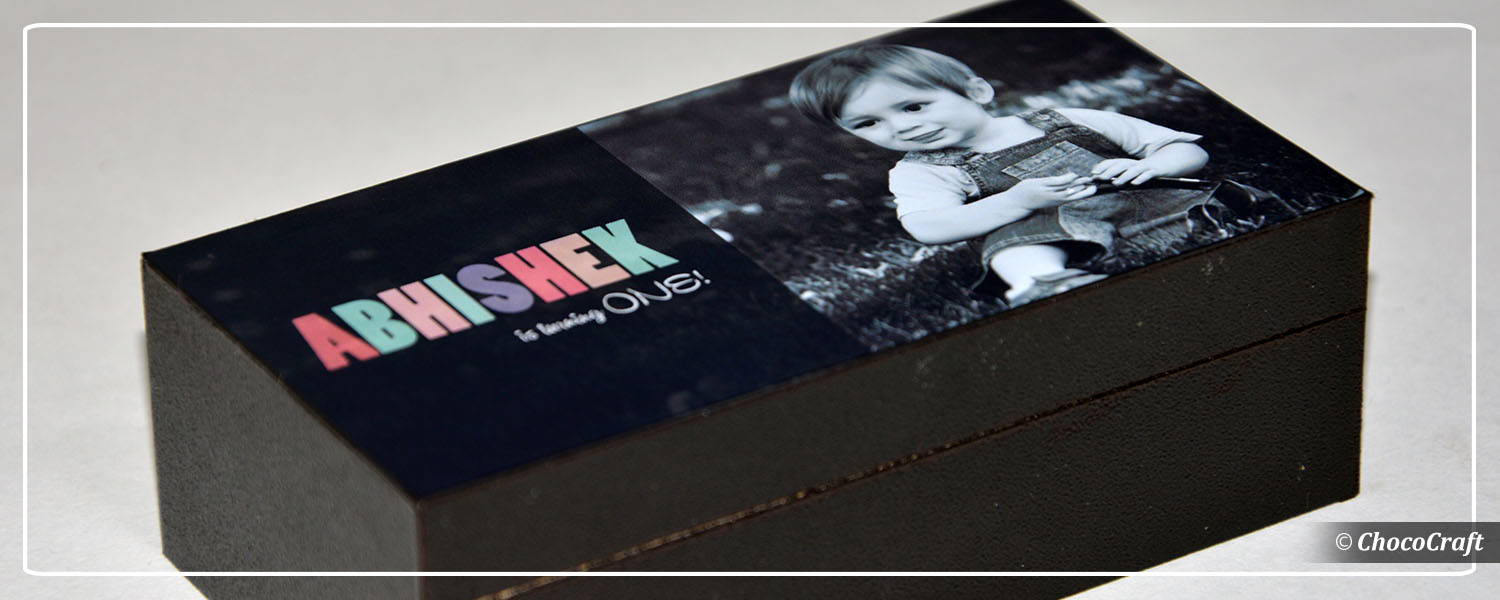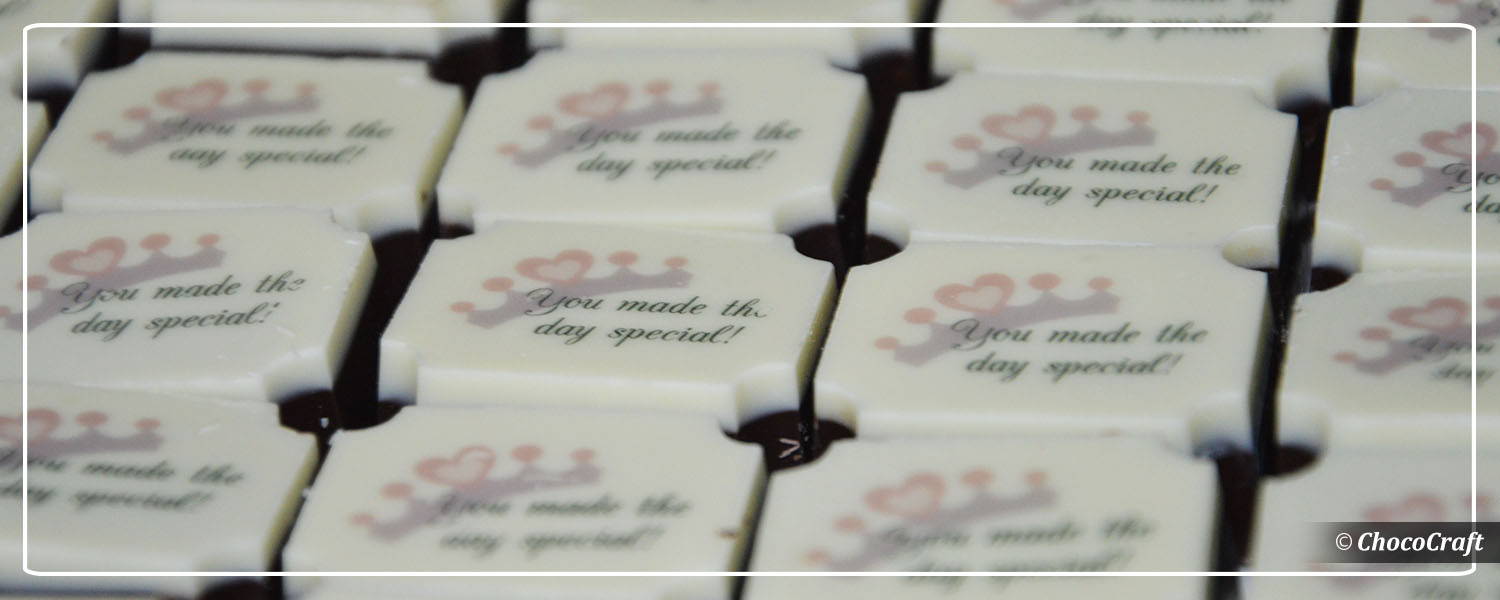 Return Gift for Baby Girl Birthday Party
It is the special of your little princess, and you want to make her feel happy. You have dressed her up nice and pretty, and you have invited all her friends. The little friends she has won't be going home empty-handed. They would have a lot of memories and a return gift.
Be sure to give 1-year birthday return gifts, that they would enjoy having. A gift that would be of any use to the child is the perfect return gift idea for kids. They certainly won't understand the use of a Rubix cube or a video game that young, so gift them something that is appropriate for them.
Birthday return gifts for the 1st birthday party for a baby girl should be something that would incorporate the theme (if you have one). Glasses with cartoon characters on them or hair bands are liked by kids. Toys such as Barbie dolls and cars are something that kids can't stop playing, and they would love them.
Gift them a personalized towel with the name of your baby girl on it. You can also gift them a box of chocolates which they would surely love.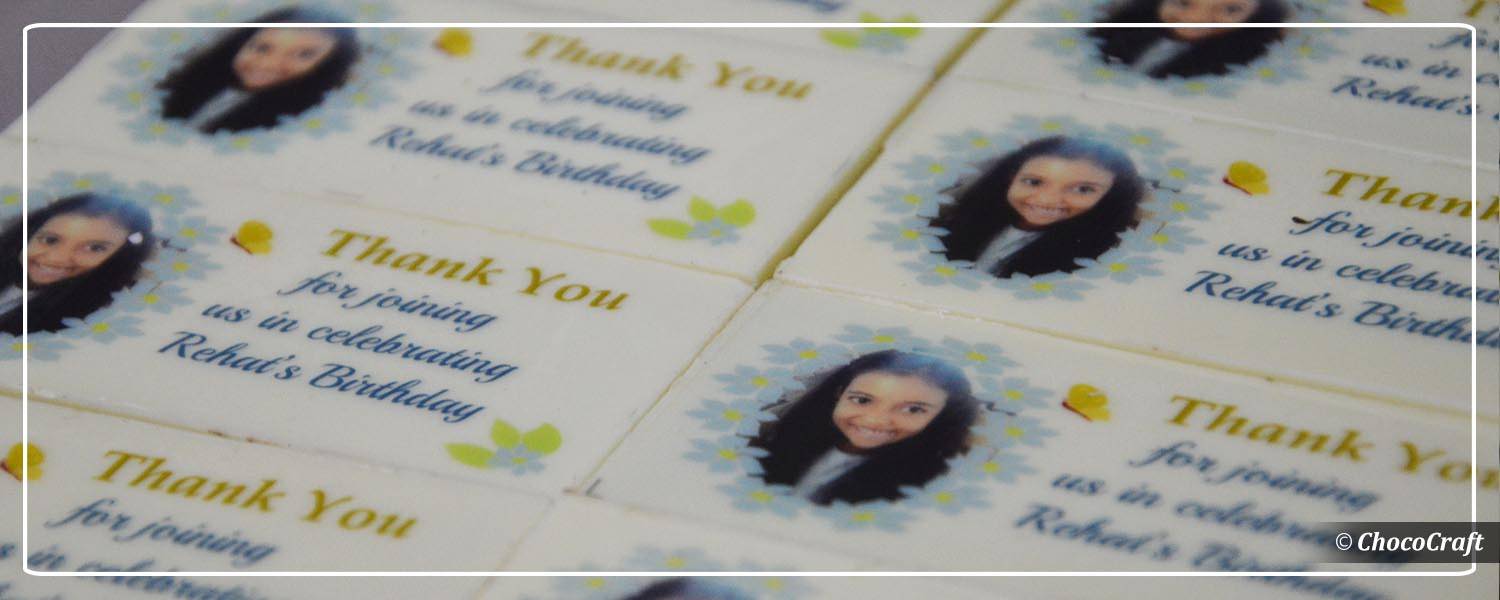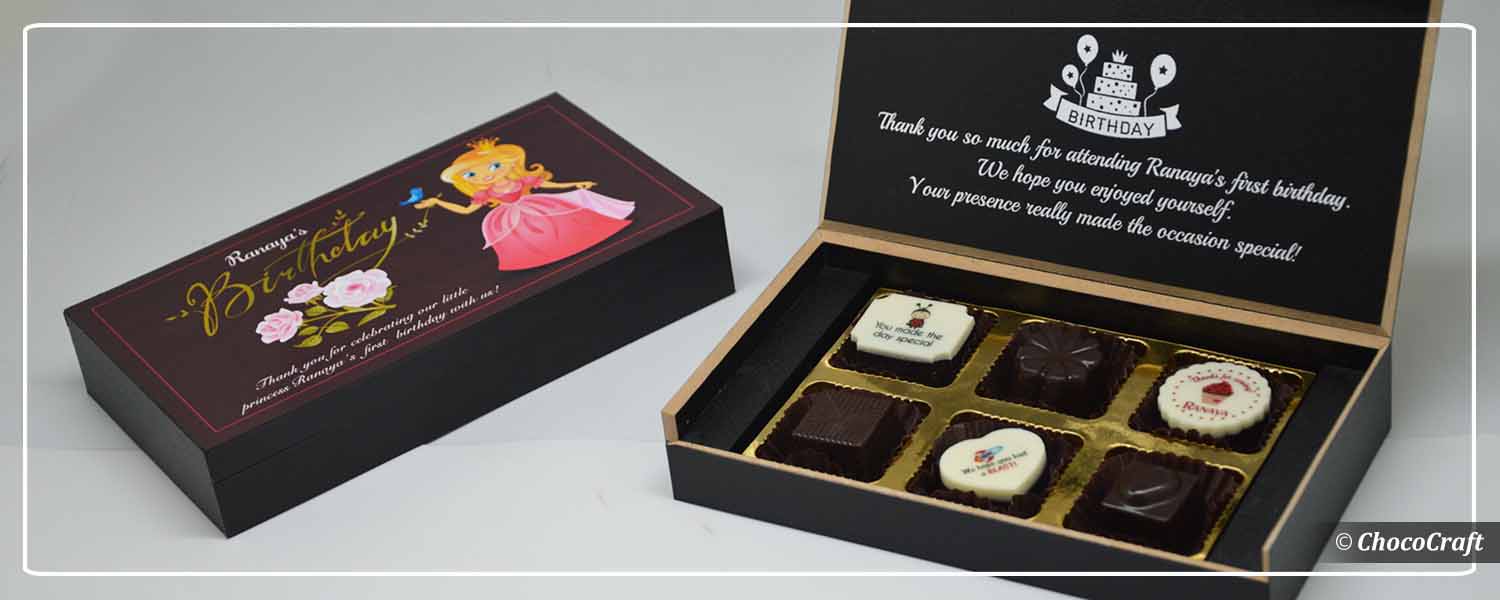 Return Gift for Baby Boy Birthday Party
Your baby is finally 1 year old, and you want to throw a party for him. But what should you give for a baby boy 1st birthday return gift? For a boy's birthday party, you should gift something that they would find interesting. Searching for return gift ideas for baby's 1st birthday is not an easy thing, you don't want your gifts to end up as trash. Gift something that would have their attention.
Picture books and coloring books are perfect return gift idea for the 1st birthday party. Kids love to look at something that is colorful, and it would definitely have their attention. As they grow up, they would get into coloring books that would help in letting their creative side out.
Small puzzles and toy cars or trucks are also liked by children. Small puzzles would help in developing their brain, and it would have their interest. You can also give them play dough which would definitely have them playing with it for hours.
Chocolates are also a popular gift which children love, and chocolates could never be neglected by anyone. With Chococraft you can give them chocolates, that would have a personalized design, and you can give it along with a message.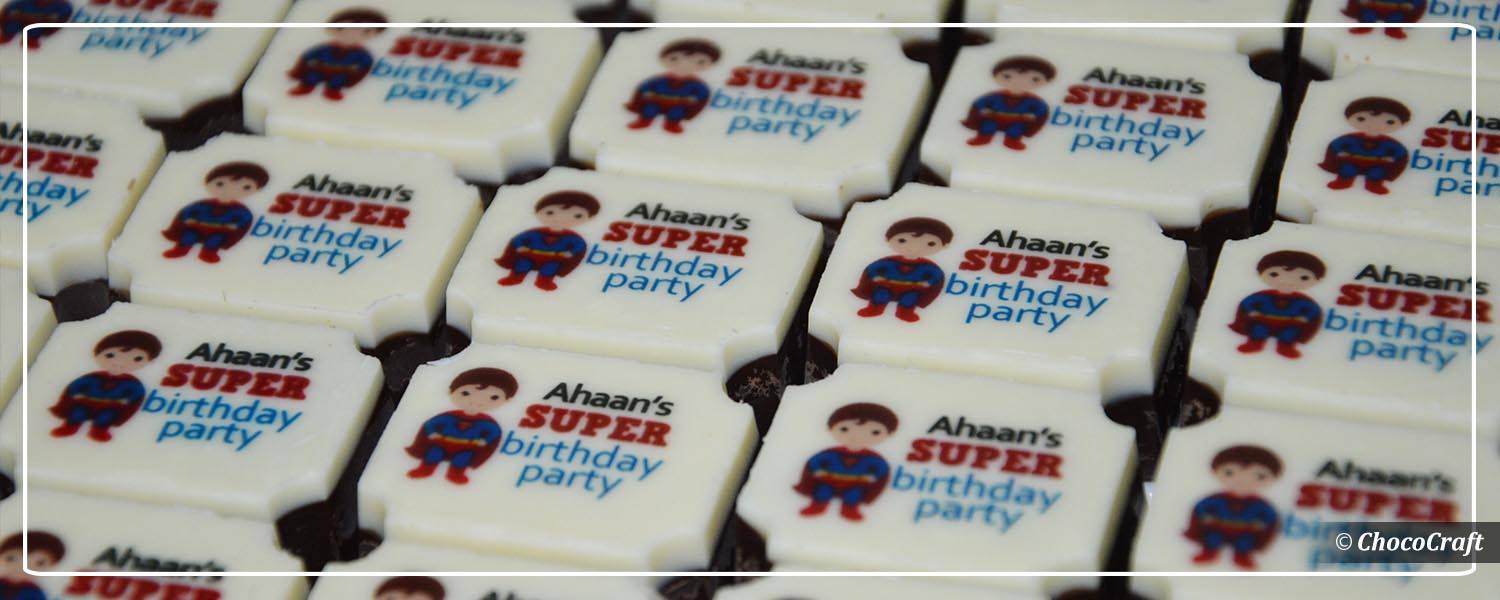 For more information, please get in touch with us.