Birthday Return Gifts - 18 Chocolate Box


Chocolates configuration options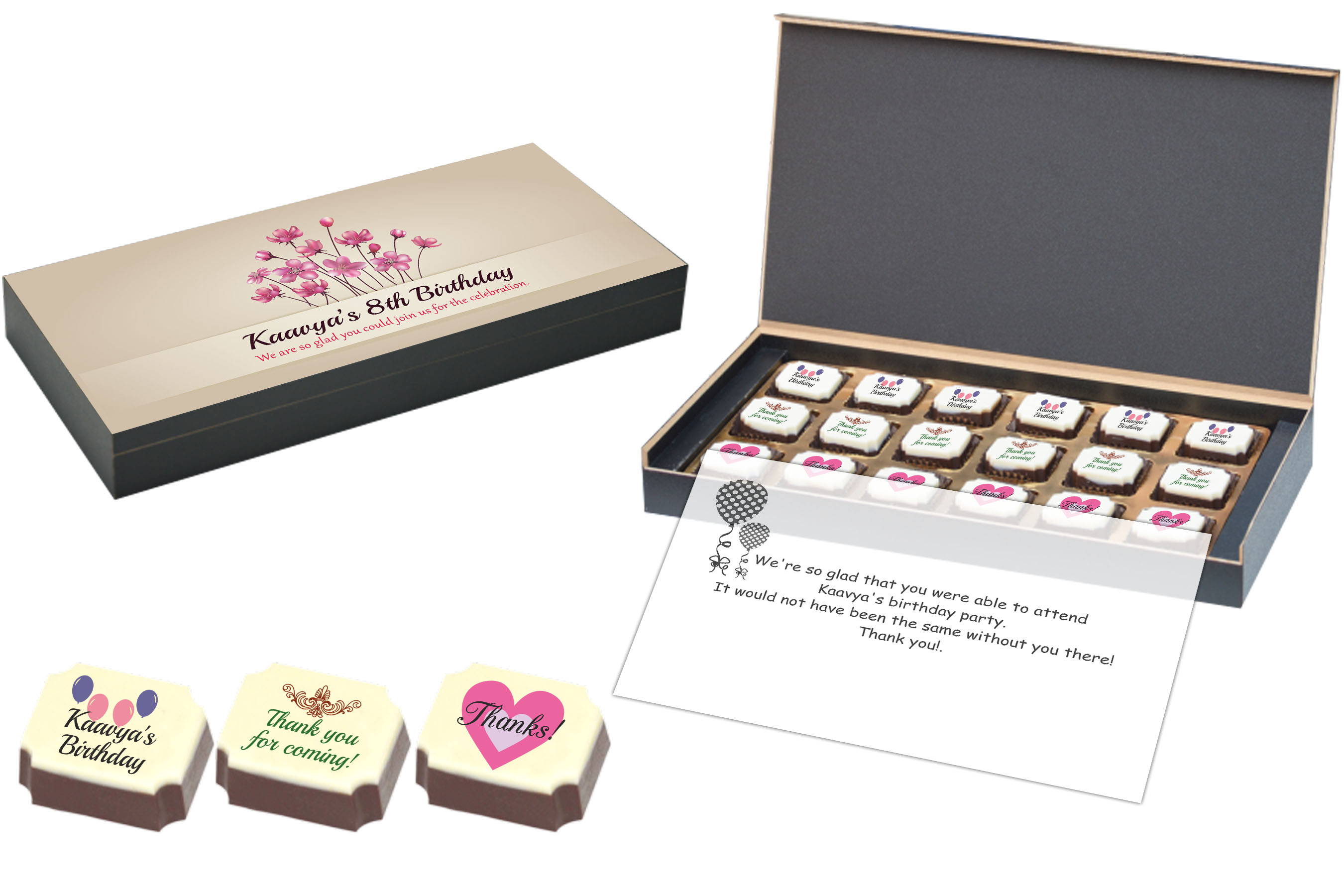 All Printed Candies, Customised Wooden Box , Message on Butter Paper.

9 Printed & 9 Assorted Candies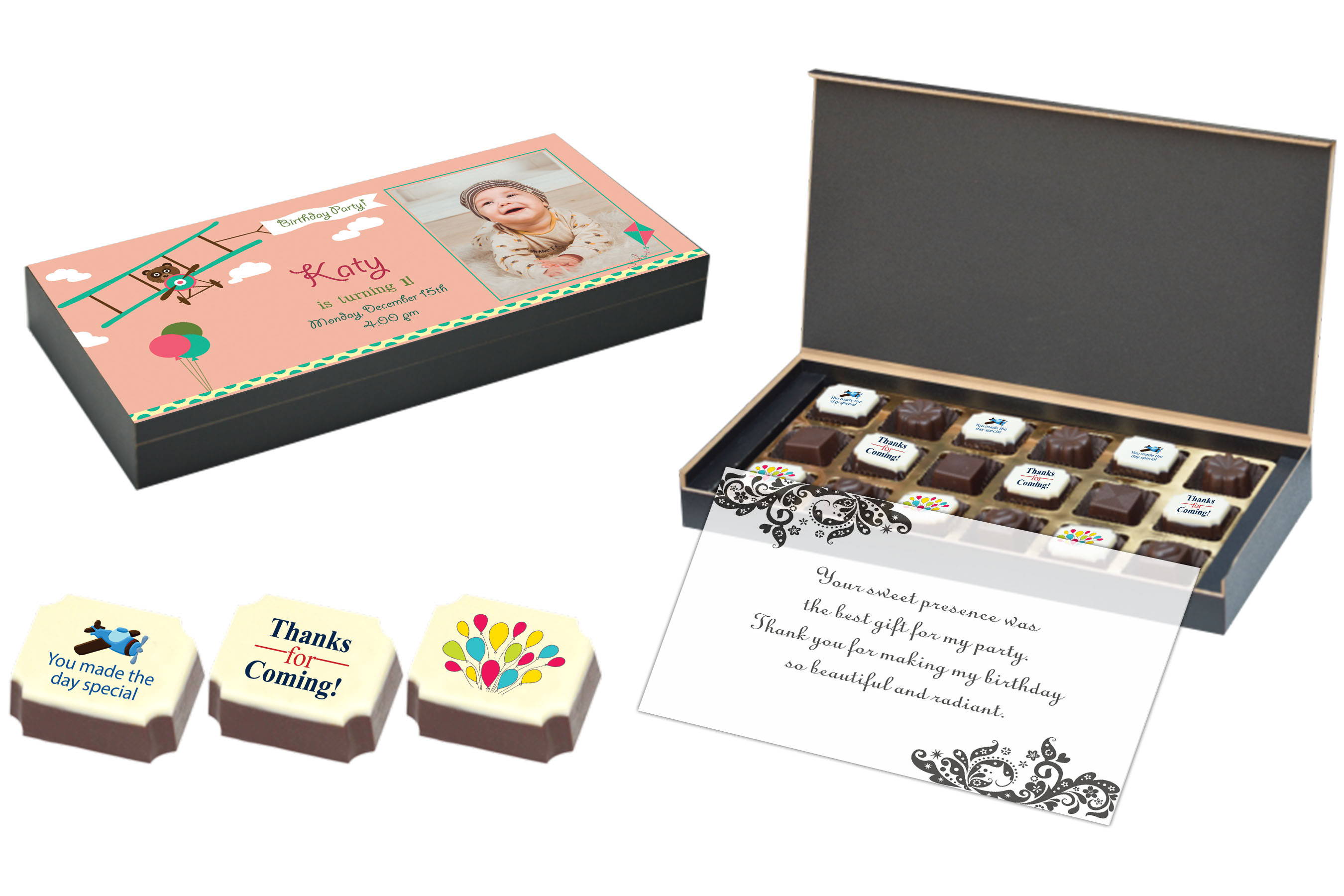 Alternate Candies, Customised Wooden Box , Message on Butter Paper.

Printed Bar & 16 Assorted Candies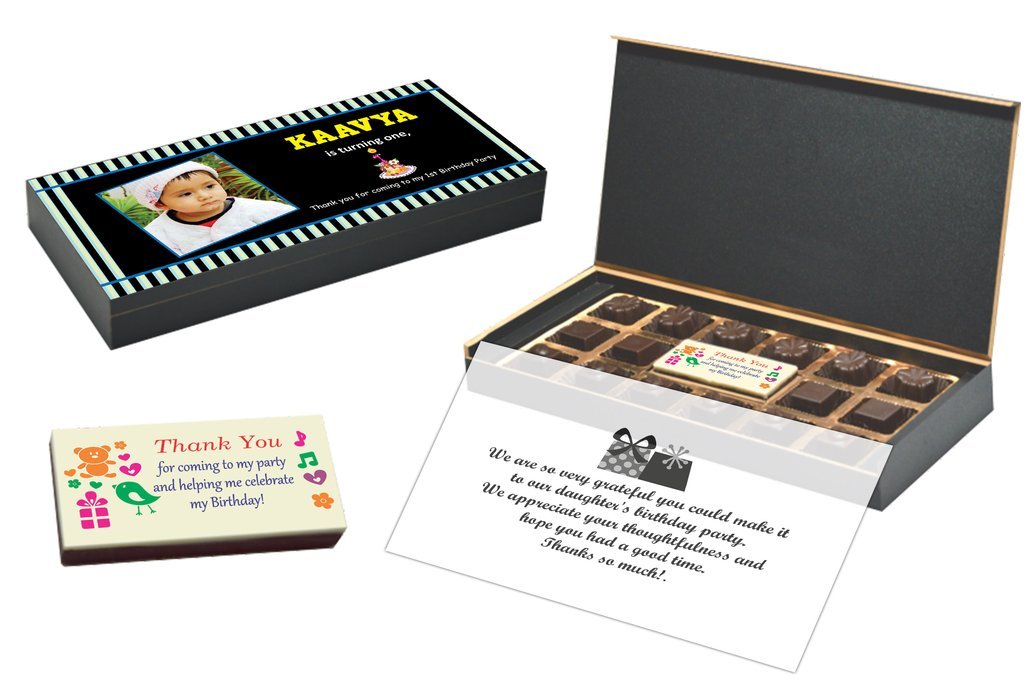 10 Assorted Candies With Printed Bar, Customised Wooden Box , Message on Butter Paper.

4 Printed & 14 Assorted Candies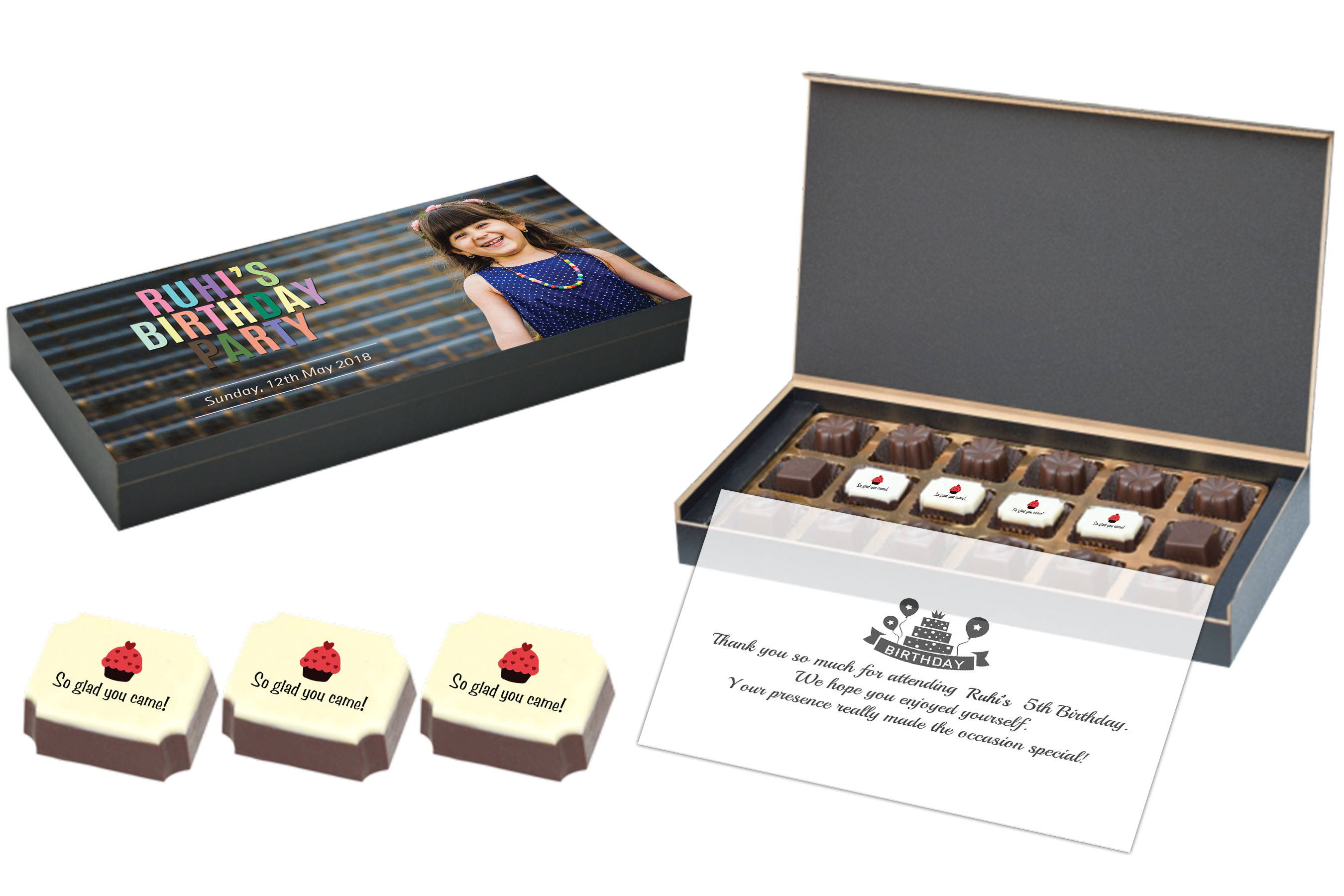 Middle Printed Candies, Customised Wooden Box , Message on Butter Paper.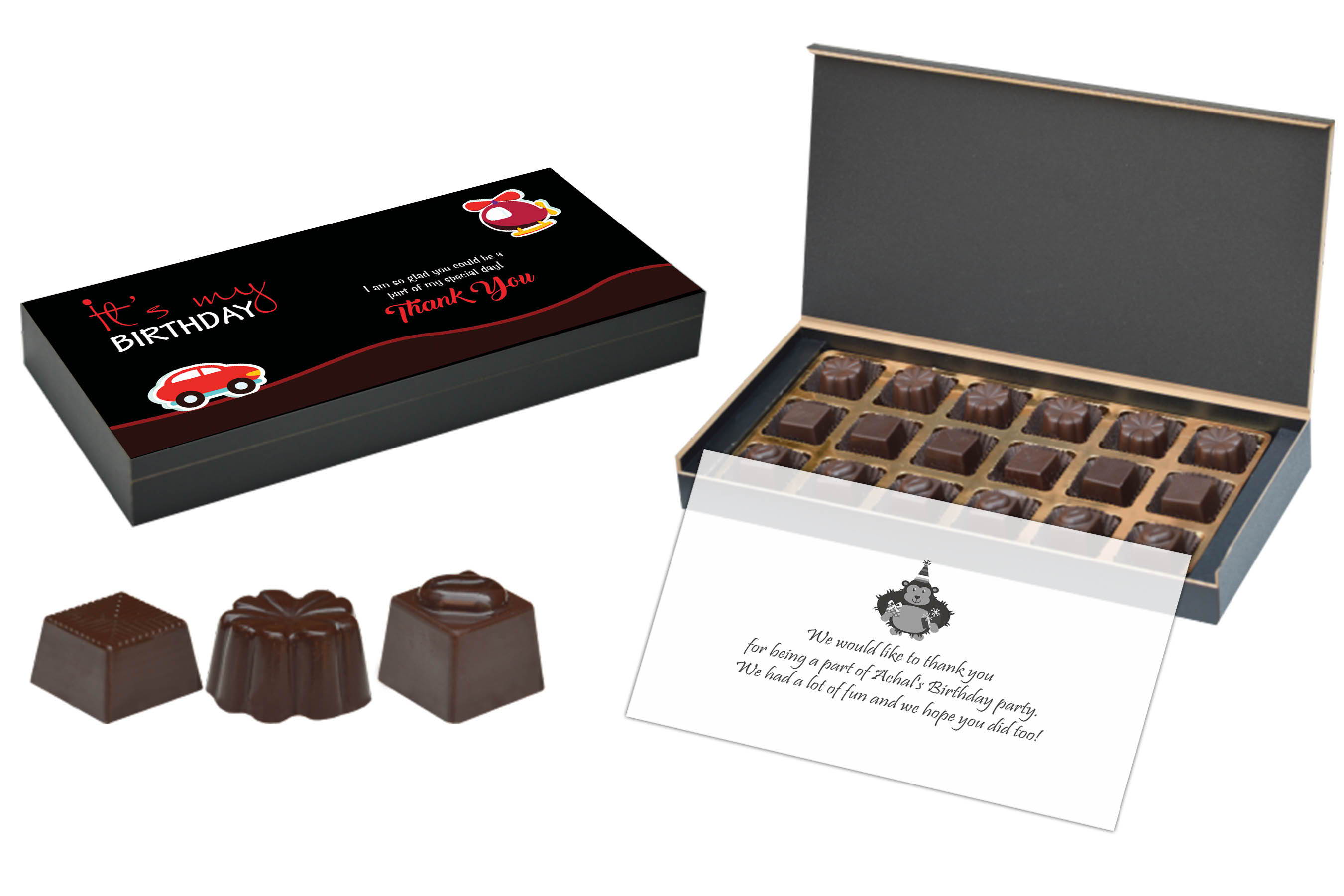 Assorted Candies, Customised Wooden Box , Message on Butter Paper.


---
Birthday Return Gifts - 18 Chocolate Box by Chococraft
---

Your special day is coming up? Hope you have a happy birthday! So, ready for some surprises and gifts? No, not just for you!
"When we give cheerfully and accept gratefully, everyone is blessed." — Maya Angelou

18 Chocolate boxes - Birthday return gifts in India
Birthday celebrations are not just about the celebration of life and achievement of milestones in one's journey. They include the celebrant engaging in the joyous festivities of the day, accompanied by all those participants who hold some amount of significance in the celebrant's life and has helped him/her to reach the stage where they have reached. One always wishes to spend their special day with those who make it more special for them. And as a thankful gesture, it is very much advised to offer return gifts on birthdays to the attending guests.
One may wonder, it is the birthday boy/girl who shall receive the gifts. Well, there's that, since hardly we have ever heard of a time when birthdays didn't correspond to birthday gifts. But when the birthday celebrants offer return gifts to the intended guests, it expresses their feeling of gratitude. Such return gifts seem to try to explain the guests how humble are they to have offered their presence to make this day more special than it already was for the celebrant.
This concept of gift giving and sharing has been integrated in our Indian culture for a longer time than what we might assume to be. And over the course of time, as we have adopted from the western culture the concepts of birthday celebrations, the notion of return gifting and its popularity in practice has grown significantly in our country too.
There are many return gift ideas up for sale in the market which can be produced as return gifts on birthdays. But nothing about such gifts bought from retail seem personal or exceptionally impressive. Well, we at ChocoCraft hear your plight and understand your needs. Return gifts need to portray the humility of the giver with a personal feeling of compassion and admiration. Henceforth we bring to you customised return gifts for birthday to offer a more intimate appeal to the traditional and rigid return gifting solutions.
As rightly said, "Exists no man who shan't adore some chocolates!" Rightfully, we believe chocolates are the perfect elements which remind the receiver of the sweetness of one's being. Each decorated gift box contains customized chocolates and our new concepts are sure to make the most unique birthday presents. For more convenience of our customers, designer birthday gifts can be ordered from and delivered to all major cities in India for free. So if you are searching for personalized birthday return gifts Mumbai or wishing to send birthday return gifts in Delhi, ChocoCraft not only provides you solutions, but will also serve you its fruits.

Birthday Return Gifts - 18 Chocolate Box by Chococraft
Gift Categories
Gifting Ideas
Our Speciality
Customised return gifts for birthday
Beautiful return gifts for birthday
Doorstep delivery across India
Return gifts on birthdays
Unique Ideas with a personalised message
Design / Make your own return gifts for birthday / favors
Products in a wide price range
Personalized birthday return gifts Mumbai

Designs for birthday return gifts
ChocoCraft brings to you exclusive designer birthday gifting ideas. We offer a wide collection of Return gift template choices to choose from. Every return gift design for birthday beautifully incorporates the purpose of the gift box, with color schemes, patterns and wordings made appropriate to the occasion.
We specialize in customized chocolates with added images and prints on them. To create more customized return gifts for birthdays, you can add the name, birthdate or pictures of the celebrant the on the chocolates. Even personal birthday return gifts messages can be printed on the butter paper to add an expressive birthday return gift thank you note element. It offers a more personal and affectionate touch to the return gift templates. All this comes in specially crafted and well decorated customizable chocolate boxes. You can add your own choice of words, symbols and pictures on the packaging as well to make the special birthday return gift even more special.
Our 18-chocolate box offerings come in 5 varied boxes. You can either gift a box of all 18 chocolates with prints on them, or one with 16 assorted non-printed chocolates with a single double sized printed chocolate bar placed at the center of the box. A variant may be of 9 printed candies and 9 non-printed ones placed alternately in the box. Also available are 18-chocolate boxes with either 4 or only 2 printed candies in them. In addition to your choice of selection, all these 18 candies are elegantly decorated in your customized boxes.

Birthday favor messages
The intention of a return gift is to forward to regards of the celebrant to the guests for their attendance at the party. There is a reason such gifts are known as party favors. Thanking the guests for their presence is socially as well as morally obligatory. Therefore to further this end, crucial to the return gift is the addition of a personalized birthday return gift note.
With our extremely flexible and customizable templates, you can prepare for yourself the most creative birthday return gifts. Personal thank you notes and birthday favor messages can be printed on the chocolates and also on the butter paper to go inside the chocolate boxes. Be it the fiftieth birthday celebration or first birthday return gift message, prepare your own thank you note wordings and add them to the return gifts in the way most appropriate and satisfying to you.
The personalized birthday return gift ideas offered by ChocoCraft make the Best birthday favor ideas. The uniqueness of our products are what sets them apart from the rest. Another very important factor which makes our return gifts the ideal choice is its appropriateness. One can never go wrong with chocolates. Kids, adults, all alike love to relish in the sweet treats. And since the return gifts should be common to all recipients, if you are wondering for birthday party favor ideas for adults, our offerings make suitable gifting solutions for the older folks in addition to the young.


Express your love and thoughts with beautiful gestures of kindness, only from ChocoCraft.
"To get the full value of joy you must have someone to divide it with." — Mark Twain

For more information, please get in touch with us.