Customised Diwali Gifts Online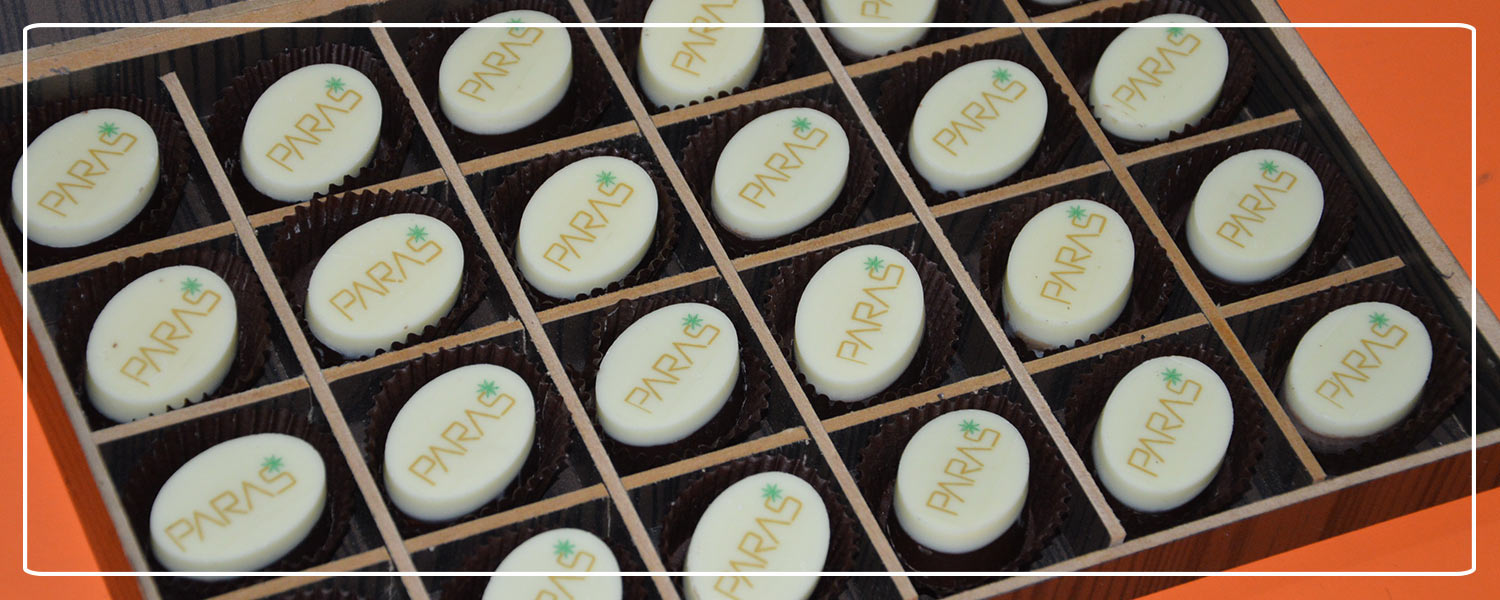 ChocoCraft offers customised Diwali gifts online Diwali for Corporates. We have printed chocolates packed in elegant gift boxes. There are 3 different box sizes available.
6 Chocolate box with 1 printed chocolate

9 Chocolate box with 1 printed chocolate

12 Chocolate box with 2 printed chocolates

18 Chocolate box with 4 printed chocolates
What all is included in the customisation?
A. Customised Box & Box top design
ChocoCraft offers 2 colors in wooden box - Light Brown or black
Customised design - ChocoCraft offers multiple design with Diwali theme and your logo printed on the box.
B. Butter paper with message
Now greet the recipient with a personal message on butter paper which is inserted in the box.
C. Printed Chocolates
Promote your brand on chocolates and surprise the recipient with your logo printed on chocolates.
Your customised box of chocolates will truly stand out from the number of gifts that any one would receive.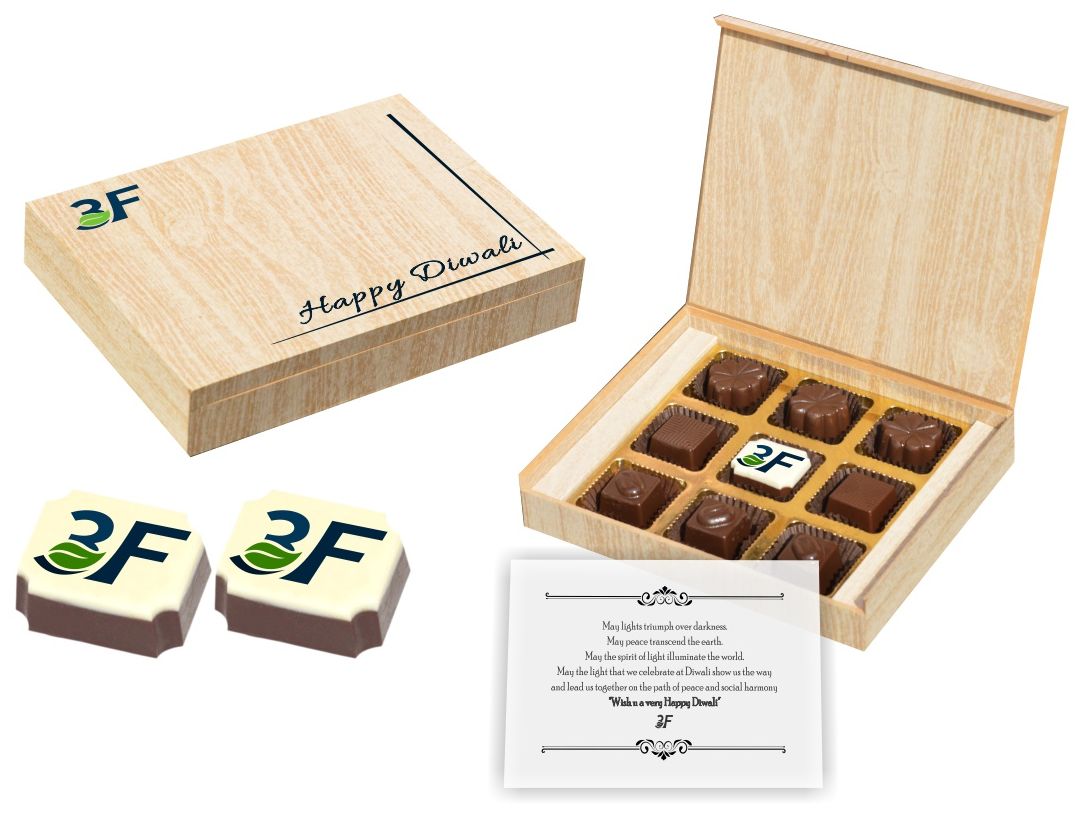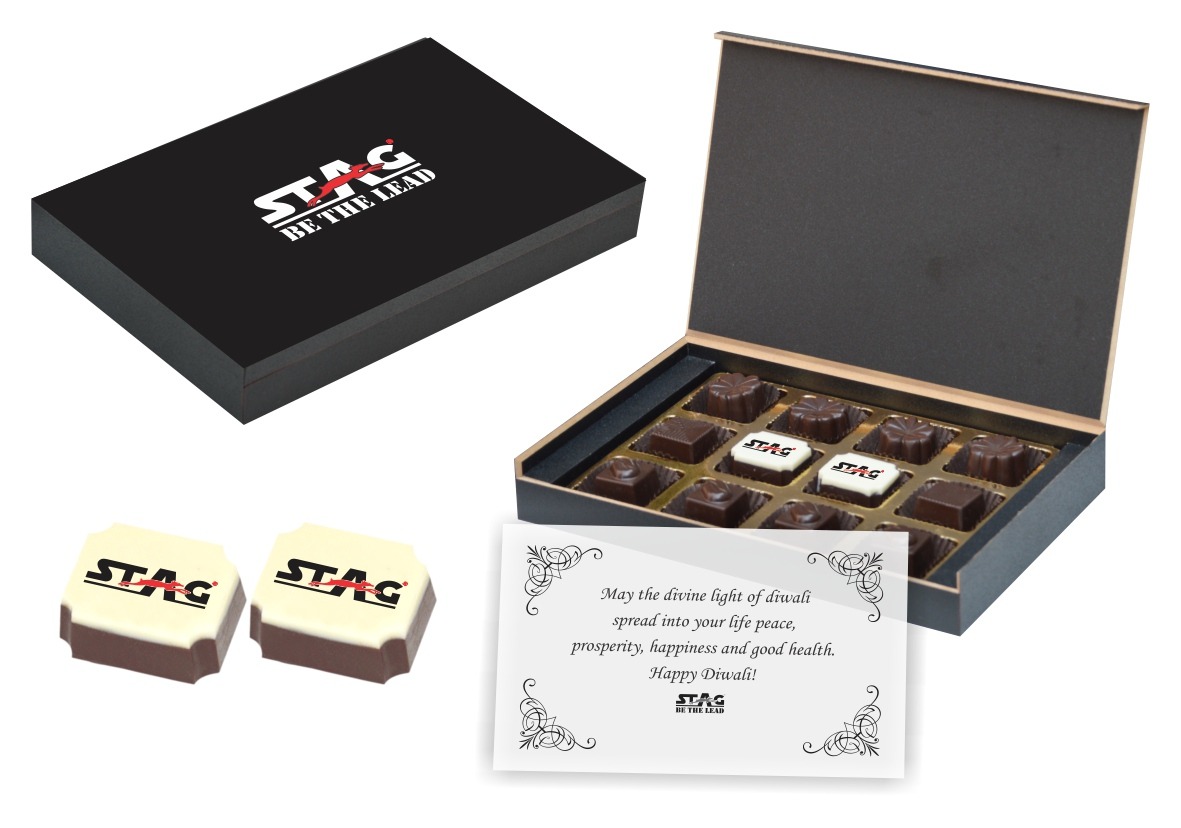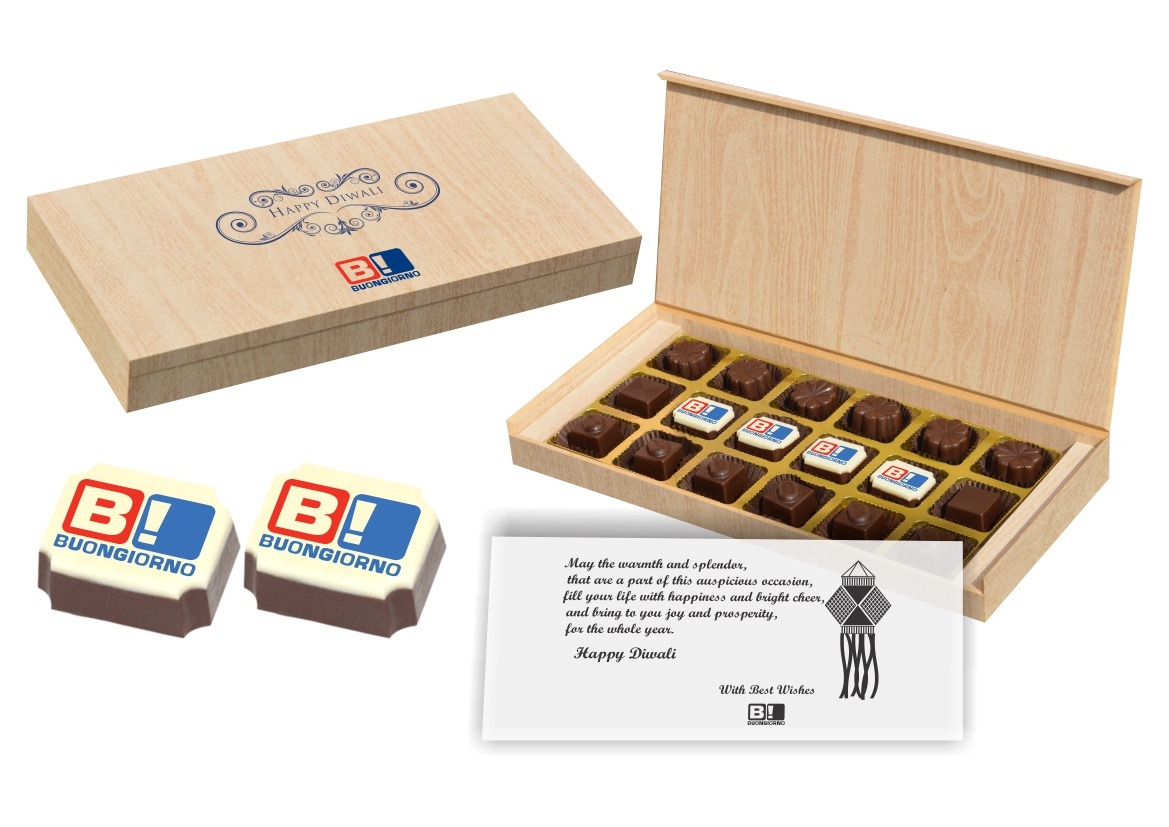 Video - Customised Diwali Gifts Online

Importance for Diwali Gifts
Diwali is the festival of light, and it is celebrated to reminiscent the triumph of light over darkness. It is one of the major festivals in India, and it is celebrated by most people in India. It reconciles with the Hindu New Year, and people anticipate this festival with excitement.
The charm of this festival is so huge that people tend to wait for this festival. Diwali means the coming together of family, bright lights everywhere; sweets and food keep on coming, and best of all Diwali gifts!
Diwali gifts to Indian people are really important, and they cherish these gifts. Diwali is the moment of happiness, and the best way to spread the happiness is by giving Diwali gifts. Diwali greetings are taken really seriously in India, and a lot of thought is given before giving a gift.
Even in corporate industry, Diwali is the time of joy, it is the time when you can finally go back to your family and present them with a Diwali gift. Corporate Diwali gifts are given as a bonus and to increase the motivation of the employers.
Diwali gifts to clients and Diwali gifts for employees in India are generally given to create good relations and to thank them for their hard work and for being with us. A lot of thought and money is spent on corporate gift ideas for employees and clients every year.
Diwali gifts are also exchanged in between friends and family. Family and friends love to receive Diwali gift because these gifts are a way of saying that they are part of your happiness.
Diwali gift ideas for friends and family should be something which can clearly show your feelings for them. Also, do send sweets and a card along with the gift.

Customized gifts by Chococraft
Diwali gift ideas should be something which can convey your feelings when words can't. Gifts are able to show your gratitude and happiness, so select something which is unique and simply perfect. Any simple gift will not do for your loved ones. Anyone can give a store bought gift, but these gifts are not able to show your feelings properly.
Similarly, for corporate gifts, any store bought gifts will not be able to show employees, clients or partners the message we want to send across. Not to mention promoting a brand would not be possible with simple gifts.  
Customised gifts are the unique Diwali gift idea which would be able to convey your feelings across properly.
Personalised gifts can be easily modified, and you can add touches to your gift. These little touches make your gift special and add a personal feel to it. Your loved ones would love to receive which had been personally customized by you.
With Chococraft you can customise chocolates anyway you like which makes it the best Diwali gift. You can customise these chocolates, and turn it into something wonderful. You can have names, quotes, messages, and even picture printed on the chocolates. You can even select the design as well as the filling in the chocolates. Let your creative juices flow, and create something wonderful for your loved ones.
You can have the best corporate gifts in India with Chococraft. Chococraft is the perfect corporate gift idea. You can have the logo of your company printed on the chocolates along with your company name. By this, you not only create Diwali gifts for employees and clients, but you can also create the perfect way to promote your brand.
Not only this, you can also customize the chocolate box! You can have the name of the sender, quotes like "Happy Diwali", and you can even have any picture printed on the chocolate box. Chocolate box is the best place to advertise your company, and to spread your love.
Chocolates are the perfect way to make your loved ones happy, and when the chocolates are from Chococraft then their happiness increases. Chococraft makes the unique personalized gifts in India which your family and friends would love to receive. Chocolates give the sweetness which everyone deserves to get during festivals, and with Chococraft you can give the special edge it needs to make your loved ones happy.

Diwali is the time when streets are filled with lights and happiness. But it is also the time when people rush out in marketplaces to buy gifts and crackers. It is the time when people buy stuff in extensive quantity, and it leads to unnecessarily rush. People keep marketplaces hogged and buying anything becomes difficult.
At that time creating a personalized gift in India becomes almost impossible. With huge orders, any shop would not be able to send orders on time.
But with Chococraft you can get your Diwali gifts on time! And the best part is that you can order your chocolates in the comfort of your home. Yes, you can order Diwali gifts online with Chococraft. No more jumping from shop to shop in search of the perfect gift. You can make your perfect Diwali gift at your home!
You can design your chocolates and chocolate box any way you like. But if you run out of ideas, then you can simply select any template from Chococraft's website. You don't even need to go anywhere to tell the details of chocolates. Mail Chococraft with all the details, and just sit back and receive your chocolates.
Chococraft makes chocolates fresh against every order, and the colors used for printing is USFDA approved, so it is 100% safe and edible. Chococraft partners with Blue Dart for shipping and they deliver to most locations in India. They deliver within 1-2 days in major cities, but other places might take longer.
Once your order is placed, Blue Dart will send you a bill number through which you can track the progress of your shipment on Blue Dart website. The packages are properly insulated with Thermocol box, and cool gel packs are added during summers to refrain the chocolates from melting. So, get Diwali gifts online India and celebrate this Diwali without stress.

Buy Customised Diwali Gifts Online

For more information, please get in touch with us.