Corporate Gifts - 4 Chocolate Box
The festive season is beckoning and we have the most unique and innovative gifts for your customers and employees. Gift your business partners, associates and employees a beautiful 4 chocolate box. Chocolates are loved by all and make for good gifting options. We have a choice of chocolates from all printed, all assorted to even a mix of printed and assorted chocolates to be given as a gift during the festive season. These custom made chocolates will make sure that your best wishes for the season are delivered with love and make your association sweeter than before.


Step 1 - Select Configuration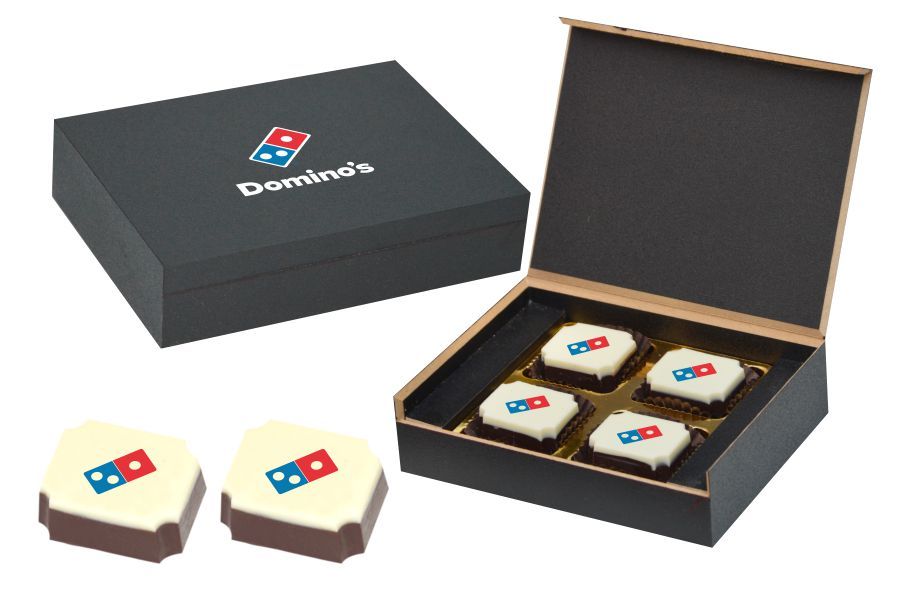 4 Printed Candies, Wooden Box with your logo, Message on Butter Paper.

2 Printed & 2 Assorted Candies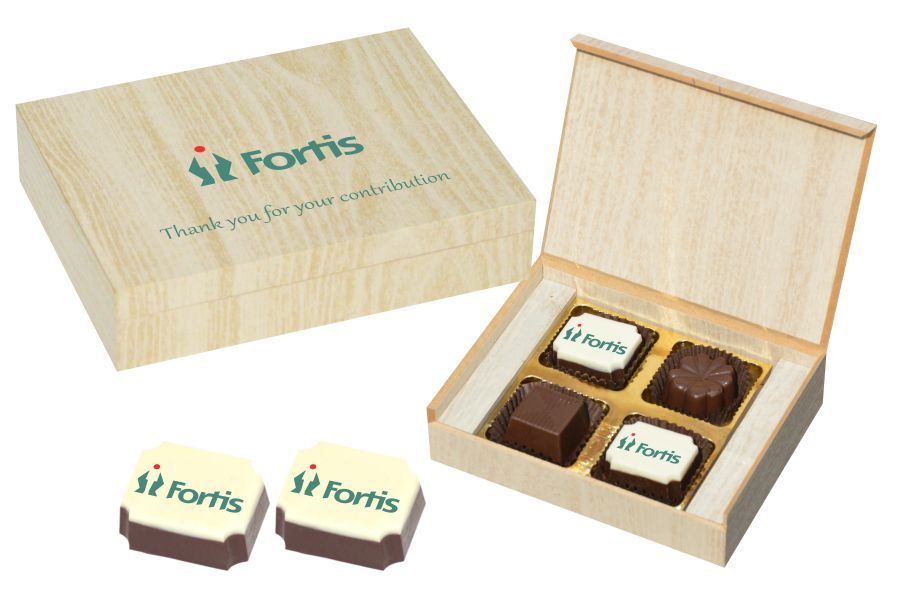 2 Printed Candies, Wooden Box with your logo, Message on Butter Paper.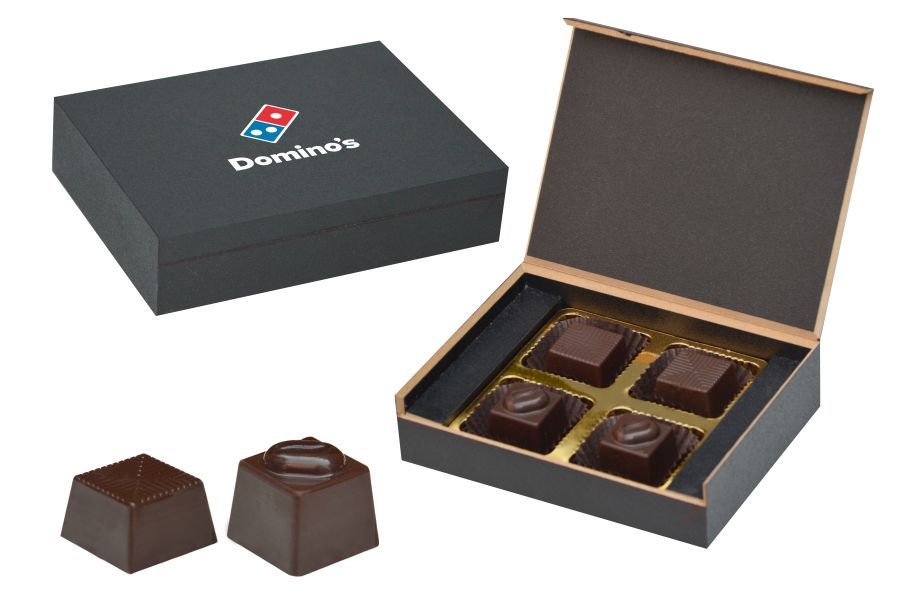 4 Assorted Candies , Wooden Box with your logo, Message on Butter Paper.


Corporate gifting is nothing new. Just like we gift our loved ones during the festive season, corporate gifting is extending our love and well wishes to those business associates who help us in taking our company to new heights. Corporate gifts are essentially our way of thanking and expressing gratitude to our clients, customers and employees who have contributed to the success of our company.
Our 4 chocolate boxes are the most apt corporate gifts that you can give to your business associates and employees. The 4 chocolate box will have the chocolates of your choice which are packaged into beautiful wooden boxes. You can choose to print your logo or your good wishes on the chocolate itself. The prints are completely edible and delicious to say the least. Corporate gifting is an extension of your brand building and hence you should choose only the best for your business associates.
The 4 chocolate box can be designed as per your requirements. You can have the logo and name of your company printed on the 4 chocolate box as well. The chocolates are completely custom made using the finest ingredients that are available. The chocolate box also a butter paper placed inside the box where you can print a heartfelt season's greeting message for your clients and employees. Select the flavour and the filling you want and place your orders today.


Occasions we make corporate gifts for



Corporate Gifts for Employees by ChocoCraft
Your business is what it is because of your employees. They are your most important resources. They work tirelessly day and night and bring you success and prosperity! This year, show your gratitude and appreciation with unique corporate gifts from ChocoCraft.
Whether you're celebrating the launch of a new product or a ten year anniversary, thank you gifts work wonders. It shows your employees that you recognize their contribution and value it. Employee recognition gifts also motivate them to improve and work harder. Now get the best corporate gifts from ChocoCraft; we make these unique gifts for employees using chocolate! Our 4 chocolate box is the perfect way to show your gratitude.
Don't worry; it's not the plain old boring chocolate. At ChocoCraft, we create exclusive client gifts and custom corporate gifts by combining delicious chocolates with beautiful photographs and messages. Our chocolate boxes can be completely customised and you need not worry even about the packaging.
We pack your chocolates in exquisite wooden boxes. Whether you're looking for branded corporate gifts, Diwali gifts for office staff, staff appreciation gift ideas, or gifts for corporate giveaways, we have just the perfect gift box for you. You can choose from a variety of designs for the box. You can even have your logo printed on the box, as well as the chocolates inside.
All of the printing is done using edible ink; you can savour the taste of your custom business gifts till the last bite! Your logo will be printed on a layer of white chocolate placed on a block of dark chocolate. The contrasts look beautiful. Our chocolates are pure vegetarian, and of course, delicious. We make them with the finest of ingredients and in the cleanest of kitchens. We have an assortment of fillings for you to choose from: roasted almonds, fruits and nuts, and butter scotch.
Inside the box, you can have a message printed on butter paper. The message can be Diwali wishes (if the boxes are Diwali presents for employees) or words of appreciation and motivation (if they are thank you gifts for employees). The design of the card inside will also completely reflect the occasion for which you are sending this gift.
You can order your personalized gifts for employees online in just a few clicks. Simply select the designs you want and upload your logo, and you're good to go. We deliver to all major cities in India. You will get these company gifts for employees within seven days.

Gifts for Employees by Chococraft
Gift Categories
Gifting Ideas
Our Speciality
Beautiful corporate gifts
Unique gifts for employees
Doorstep delivery across India
Diwali gifts for office staff
Unique Ideas with a personalised message
Design / Make your own corporate gifts / favors
Diwali presents for employees
Products in a wide price range
Personalized gifts for employees

Birthday Gifts for Employees
Everyone loves to celebrate birthdays; be it children or adults. These days, a lot of companies are celebrating the birthdays of their employees and showering them with business gifts on the occasion. When you celebrate an employee's birthday, you show that you really care for him.
He believes himself to be a valuable asset to the organization. It builds up a feeling of mutual trust and affection. Such actions never fail to motivate employees. Because of the love shown by the company, they remain forever loyal to it. Are you out of gift ideas for staff? If you want to surprise your employee with some special employee gifts, we have great gifts for employees.
Gift your employee a box of our custom chocolates. You can have the design of the box as per your preference; you can also have the logo of the company and a photo of the employee. The chocolates inside can also be printed with whatever you like.
Our 4 chocolate box is one of the most popular gift ideas for office staff. By adding the personal touch, you assure employees of their importance. Such a personalised gift will really gain you an employee for lifetime!

Diwali Gifts for Employees
Diwali is the festival of lights. It is probably the most popular festival in India. People clean up and decorate their house and office, and people visit each other. It is holiday time for everyone. With crackling firecrackers, delicious sweets, new clothes and sparkling diyas all around, Diwali brings with it a great atmosphere.
This festival is a great time to celebrate with your employees with Diwali gifts for employees. These gifts show that they are important enough for you to share your joy. Generally, Diwali gifts for staff include sweets, coupons, or an annual bonus on the salary.
You can also gift them clothes. Some companies organise Diwali parties as well. For the employees at higher levels, the gifts become more exotic such as a weekend getaway, gourmet champagne, or even electronic gadgets. Customized diyas or lamps are also apt and traditional gifts for Diwali.
But this Diwali, be different. We have the best gifts for employees. Gift your staff a box of our custom made chocolates. You can have the company's logo printed on the box, and in a Diwali theme of your choice. The chocolates will also be printed as you want.
Your Diwali wishes will be on a butter paper or special card inside the box. These boxes make excellent corporate Diwali gifts. Trust us; if you gift this amazingly personalized corporate gift, you assure employees of their importance. Such a personalised gift will really gain you an employee for lifetime!  
These corporate gifts are also great media of publicity; chocolate already is loved by everyone. When they see this beautiful chocolate, they'll definitely ask about who gifted it. And there you go! Your brand name is spreading.

Welcome Gift for New Hires
When you have a new employee in the company, it is important to make them feel at home. It's a new environment, new people and new work.
The first day is also a great chance to showcase your company culture and cultivate a strong dynamic from the get-go. With a little creativity, you can make the new-hire experience easy and, yeah, freaking fun! If they are freshers, it's their first foray into the professional world.
As a company, you must create a positive first impression on them. Popular gifts for office staff include a gift hamper with customised stationery items like pens, diaries, mugs, flash drives and so on. Not all inductions are so serious, of course.
Google makes newbies wear a "Noogler" hat their first week to make sure everyone welcomes them appropriately. The first day can be awkward for everyone, so anything that breaks the ice is ideal. Some companies send new employees on a scavenger hunt.
This forces employees to introduce themselves and ask fellow employees for help in accomplishing the tasks.
Our gift boxes are an excellent way to welcome newly hired employees into your firm. With this custom gift, new employees will get a warm, jovial (and undoubtedly, sweet) welcome on their first day at work.

Employee Engagement Gifts
Gifts are a great way to build up rapport with your employees. Companies which routinely award employee appreciation gifts are known to have higher retention rates.
When employees receive something in addition to their salary, it inculcates a sense of pride and respect for the company in their minds. This can include Diwali gifts for employees or corporate holiday gifts. Some excellent employee appreciation ideas include customised items like bags, mugs, diaries, notepads and calendars. Such corporate thank you gifts make them want to perform better and stick to the company for good.
Other employee recognition gift ideas can be coupons or vouchers to various malls, restaurants or even movies. Corporate holiday gifts for employees can include weekend getaways at exotic locations, or a stay in luxurious resorts. Some good gifts for employees are gadgets like laptops, computers, mobile phones and so on.
ChocoCraft brings to you one of the best employee appreciation gift ideas. You can gift your employees one of our exclusive chocolate boxes, designed specially to suit the need and occasion. Other gifts will fade away in time, but this one's there to stay. A perfect gift to keep your employees engaged and loyal to the company!

Motivation Gifts for Employees
When employees are motivated enough, they work and achieve significantly more, leading to overall growth of the business. To motivate your staff, it is essential to provide supportive leadership and empower each individual. You must also create a positive environment and maintain a healthy work culture.
Recognizing and rewarding an employee's efforts has proven to work wonders. Staff appreciation gifts are an excellent method to keep your employees satisfied and motivated. It is a great positive reinforcement. Such employee gift ideas include regular bonuses, holidays, gifts during festivals like Diwali and Christmas, and gifts on their birthday.
Employees actually look forward to receiving these gifts; they like the attention showered on them by the company, and thus, really want to keep on working there.
You can use our special 4 chocolate box to motivate your employees. It consists of four delicious chocolates (printed or plain, depending on how you want them). You can have the appreciation message printed on butter paper inside the box. So go ahead and order one now!

For more information, please get in touch with us.