Corporate Gifts - 18 Chocolate Box
Gifts are a way of acknowledging the importance of people in our lives. Clients are an integral part of our success, they help us grow and survive and can also help us get more business if they recommend us to others. Corporate gifts are one of the most significant ways in which we can express our gratitude to our clients and employees. Chocolates make for the most beautiful corporate gifts that can be given on any occasion. We specialize in custom made printed chocolates which is a new and unique concept that will make your gift stand apart from the crowd.


Step 1 - Select Configuration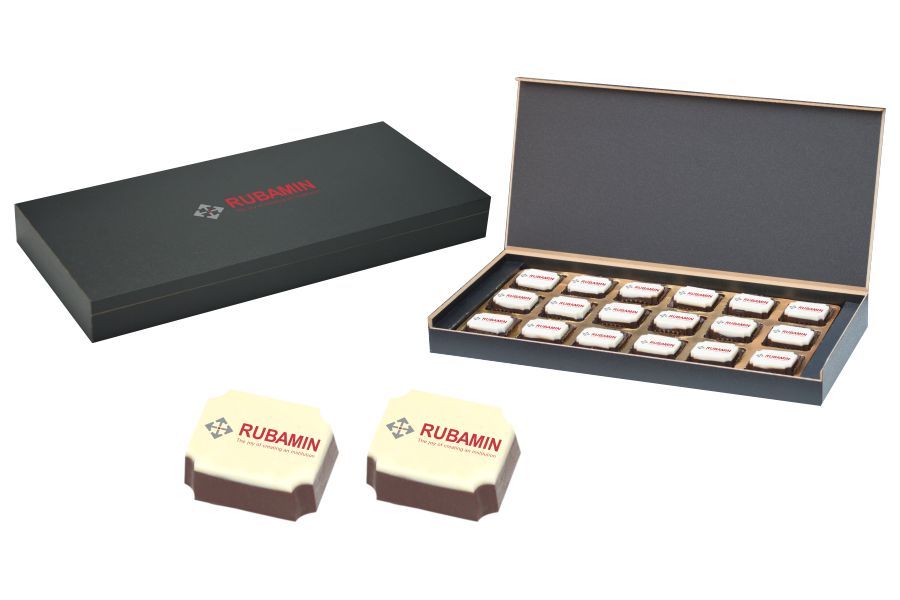 All Printed Candies, Wooden Box with your logo, Message on Butter Paper.

9 Printed & 9 Assorted Candies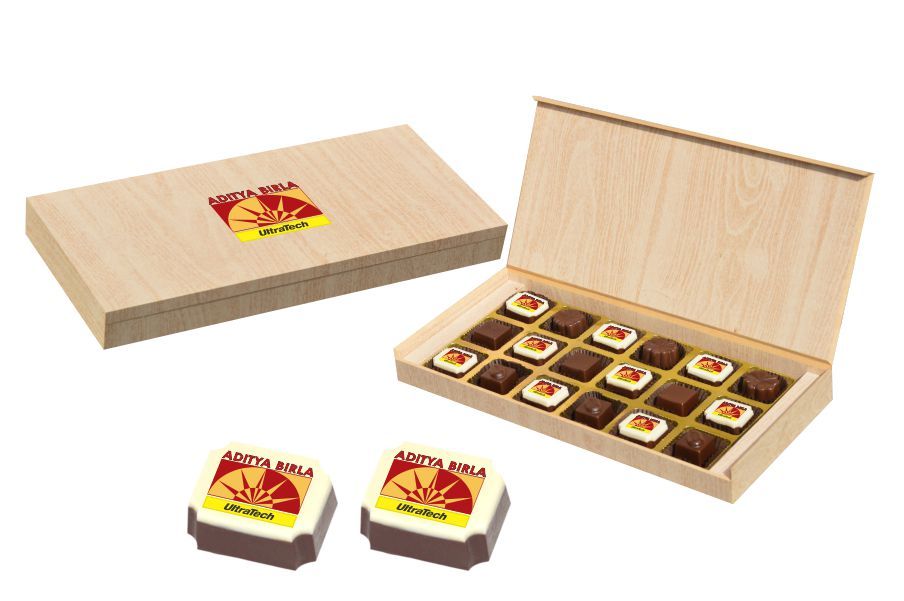 Alternate Printed Candies, Wooden Box with your logo, Message on Butter Paper.

4 Printed & 14 Assorted Candies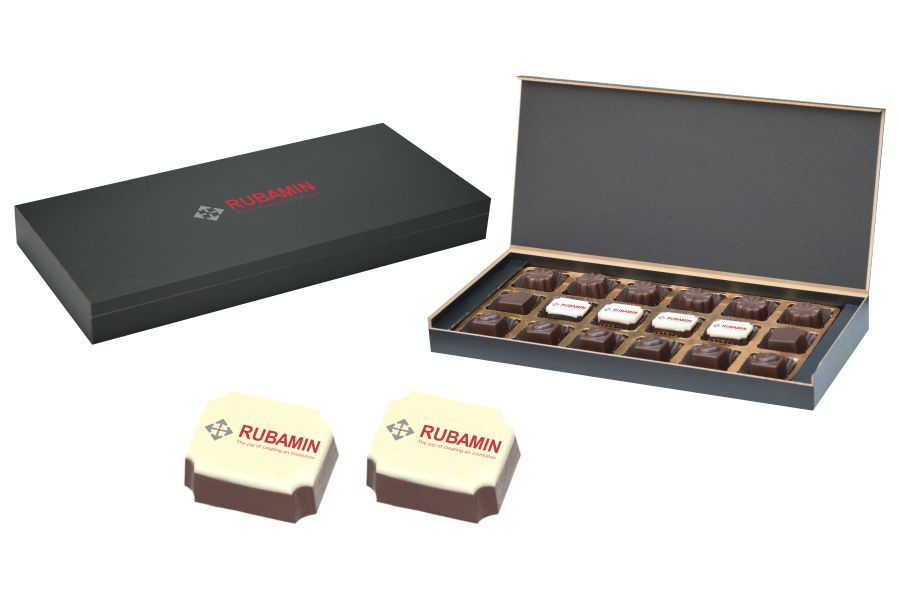 Middle Printed Candies, Wooden Box with your logo, Message on Butter Paper.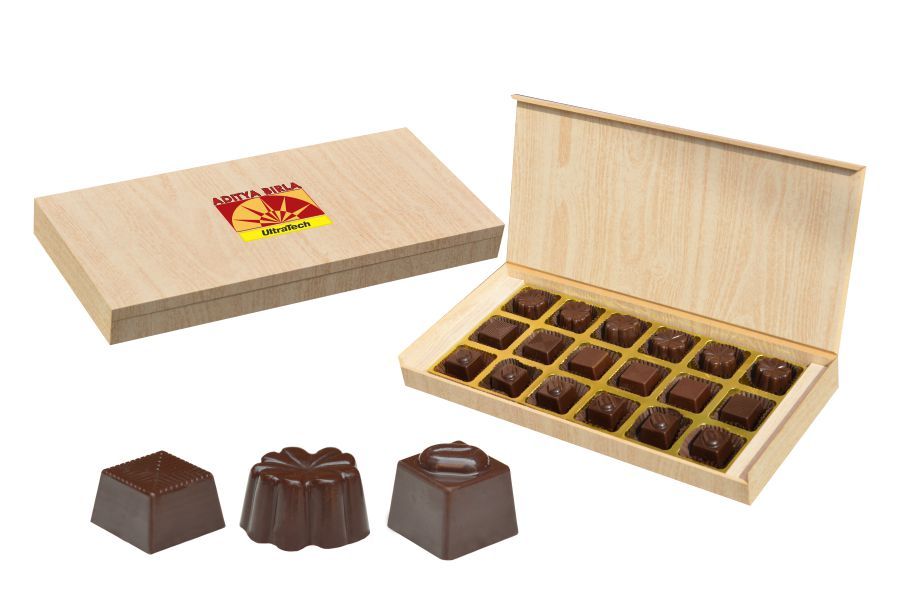 Assorted Candies, Wooden Box with your logo, Message on Butter Paper.


Corporate gifts are a cost effective and efficient way of saying thank you to our clients for all the support they have shown us. Corporate gift ideas can be a tough task as there are too many options which can leave you confused. Mostly gifts are given on festivals and as such giving sweets is a good idea. We suggest that this year you try something unique and gift printed chocolates. Chocolates are sweet and loved by all and they completely fit in the festive atmosphere. Printed chocolates are a unique concept brought forward by ChocoCraft.  
Our 18 chocolate box is one of the most unique corporate gifts ideas that will be loved by your recipients. Corporate gifts are a way of spreading your goodwill and also strengthening your business associations. The 18 chocolate box will have range of options like all printed, all assorted and a mixed candies as well. You can select the one that suits you the most.
We have variety of chocolate designs that can be effective corporate gift ideas for different types of clients that you have. Our 18 chocolate box is designed exclusively keeping in mind your requirements and also the occasion for the gift. Our chocolates are custom made and crafted to perfection and the prints on the chocolates are perfectly edible.

---
Occasions we make corporate gifts for



For more information, please get in touch with us.

---
Corporate Gifts - 18 Chocolate Box by Chococraft
---

When someone gives you a purpose to perform, give them a heartfelt gift in return.

"Giving is the master key to success, in all applications of human life." — Bryant McGill

Corporate Gifts for Clients by ChocoCraft
Gifting is an integral component in establishing and maintaining corporate relations. Not only they are used to felicitate the receiver, they induce a sense of gratification and trust in the intended receiver's heart. These parameters are essential to be taken care of when dealing with clients in the corporate world. None the less, the receiver too in all means can interpret this gesture. Consequently, with the need to establish, as well as maintain healthy relations in this competitive business world, the needs and demands of client gifts have increased significantly.
Gifts for business customers need to boast may qualities in order to make it count. Best client gifts are the ones which are first and foremost appropriate to the formal setting, in as much as not compromising on its appeal of personal admiration. They need to be of something which can be accepted by every working member of the spectrum, not questioning their status or importance in any manner. More so, they must maintain a balance of personal appeal and commonality among all recipients. And at last, serve the purpose of felicitating the recipient and inducing a sense of warmth, humility, and integrity in them. Not to forget, they must be cost-effective. After all, it's all about the business, right?
The list might be long and may make it difficult for corporate firms to make appropriate decisions. They are many conventional company gift ideas which have for long helped businesses work towards this end. But over time, nothing about them seems fascinating, impressive or personal anymore. Hence to provide solutions, ChocoCraft brings to you unique corporate gift ideas to prepare for you the most creative client gifts. We offer custom corporate gifts, all cost-efficient and fully personalized.
Our concept of gifting includes a hearty box of 18 well-crafted chocolates since we believe chocolates are the safest, simplest, sweetest and universally accepted gifts which have been popular choices for company gifts over time. All business gifts come in customized wooden boxes, which not only look extremely impressive and sophisticated but can also be fully customized. You may print the logo of your company on the boxes and present them as unique company mementos. Inside the box are 18 delicious assorted candies which too can be customized as per your needs and demands. We specialize in customized chocolates, which we offer with images and texts printed on them. You can add the logo and name of your firm not only on the box but on the chocolates as well. Also can be added the name or photo of the intended receiver on the chocolates or personalized messages of appreciation.
All these prints come to create great personalized corporate gifts, and safe to your concern, are edible. Our 18-chocolate boxes come in 3 variants; one with all 18 candies printed, a 9 print and 9 non-printed alternately decorated chocolate box, and lastly a box of 18 candies of which 4 shall be printed and 14 non-printed. Your choice of selection comes decorated and elegantly packed in specially crafted wooden casings which shall be decorated as customised by you.
ChocoCraft wishes the best for you and your clients and hence offers its services wherever called for. You may order your personalized business gifts from any major city in India, say Bangalore, Delhi, Mumbai, Kolkata, Chennai or Hyderabad, and we shall deliver the best corporate gift ideas ever possible to your doorstep.

Corporate Gifts - 18 Chocolate Box by Chococraft
Gift Categories
Gifting Ideas
Our Speciality
Unique corporate gift ideas
Beautiful corporate gift ideas
Doorstep delivery across India
Unique Ideas with a personalised message
Design / Make your own corporate gift ideas / favors
Products in a wide price range
Personalized corporate gifts

Birthday Gifts for Clients by ChocoCraft
The practice of exchanging executive gifts is well understood. In addition to its significance, they help to impart a strong message. When a corporate firm presents business gifts for its clients, the intended receivers are not just filled with a sense of admiration and trust imparted by the company. They are also made their importance felt and tend to believe that their relation and business with the given company matters.
Birthdays are important days in one's life. Be it a client or family member, each person deserves to be treated specially on such days. Though a very personal event, it shall be, but business relations carried over to birthday celebrations can speak volumes. Throughout history, gift giving has been used to bridge gaps between formal settings.
ChocoCraft offers personalized corporate gifts very suitable to be given as Birthday gifts for clients. You can personalize your gifts with the name and birthdate of the recipient printed on the chocolates. You may even customize the special wooden packaging of the birthday chocolates with your company logo.
Business gift ideas are now made easy, only by ChocoCraft. Our special customized chocolate gift boxes make unique client gifts and are guaranteed to strengthen your customer relations.

Diwali Gifts for Clients by ChocoCraft
Diwali is a festival celebrated with great pomp and show in the Indian culture. It holds more importance in the corporate world since it's the festival celebrated to bring prosperity. Businesses often offer special Diwali bonuses and gifts to its customers and employees on this occasion. But if you're trying to make a personal statement and lasting impression with holiday gifts for clients, ChocoCraft now brings to you corporate Diwali gifts, not just any Diwali gifts for customers, but exclusive personalized corporate gifts.
A change from the conventional same old sweet-biscuit-juice packets, our corporate holiday gifts include gift boxes of customized chocolates. Why chocolates? Well, the sweetness is mandatory for such a grand festival, but more so these are one such item which is for sure to be cherished by all your recipients. After all, one can never go wrong with chocolates.
You can personalize your Diwali gifts for clients with personal Diwali wishes printed on the chocolates. You can even print the images of the deities worshipped on this festival on the chocolates and also your company motto and logo along with them.

Thank you Gift for Clients by ChocoCraft
Clients are the most crucial entities in making a business what it is. It is for them that we work and nothing satisfies a business more than the goodwill and happiness of its customers. On that note, corporate thank you gifts for clients seem a very fitting choice to be forwarded as tokens of appreciation. They capture the firms' gratitude and vote of thanks in its truest form. Say, when a company wishes to provide gifts for its customers, it shows the firm's interest in the individual client. Apart from the formal setting, it offers a personal appeal to it, as if expressing, "You are important to us and here is how we wish to offer our regards."
ChocoCraft presents creative business thank you gift ideas. Our offerings of customized customer appreciation gifts include a box of decorated customized chocolates which are prepared with all the love you wish to offer. Your client thank-you gifts can be personalized with messages of appreciation printed on the chocolates. These thank-you gifts come elegantly packed in wooden boxes on which you can add your company's logo and moto as well.

New Year Gift for Clients by ChocoCraft
As every year comes to an end, we hope that our admirers and well-wishers had a blissful year of joy and happiness. We wish that the New Year brings them more luck and prosperity. The ones whom we wish the best for are in true sense family. Be it related or professional, gifting New Year gifts to the family is important. Especially when talking about corporate giveaways, they make apt marketing gifts for clients too.
On contrary to the common corporate gift baskets, ChocoCraft offers exclusive New Year gifts and unarguably the best promotional gifts. Our personalized New Year gift for clients include customized 18-chocolate boxes. You can add New Year wishes and the company's slogan as prints on the chocolates. Beautifully decorated in wooden gift boxes, they offer an impressive and aristocratic appeal to it.

Customer Appreciation Gifts by ChocoCraft
Be it customer appreciation gifts or promotional gifts, they all in one manner are aimed to achieve a single end. Offering gifts to employees and customers have forever been practiced and are said to improve business relations and work performances. Especially when a firm takes a step further to appreciate its associates, they are very well received and fruit results higher than the goal that was intended to be achieved.
Looking for appropriate customer gift ideas? Happy to inform you that we at ChocoCraft bring to you the best business gifts you could bargain for. Our unique client appreciation gifts are aimed to impart a sense of satisfaction on the givers' as well as receivers' hearts. Customised gifting seems to be a fitting choice for client gift ideas which aim to felicitate individual customers. They offer a personal appeal and are guaranteed to be well received by all your valuable associates.

We at ChocoCraft bring to you the ideal and most feasible branded corporate gifts and business gift ideas for your clients. Order gifts for business customers online, exclusively from ChocoCraft.

"Gratitude is one of the least articulate of the emotions, especially when it is deep."
— Felix Frankfurter (1882-1965), American Supreme Court Justice