Birthday Invitations - Printed Bars
Birthdays are joyous occasions and are best celebrated with family and friends. Send out the most quirky birthday invitations with a dash of uniqueness in the form of printed chocolate bars. The chocolate bars are made from the finest quality ingredients with the prints being completely edible. You have the option of printing the photo of the birthday boy/ girl on the chocolate itself or any symbol right across the chocolate bars. The chocolates are completely customizable as per your request and are packaged in beautiful wooden boxes that are designed specially for the occasion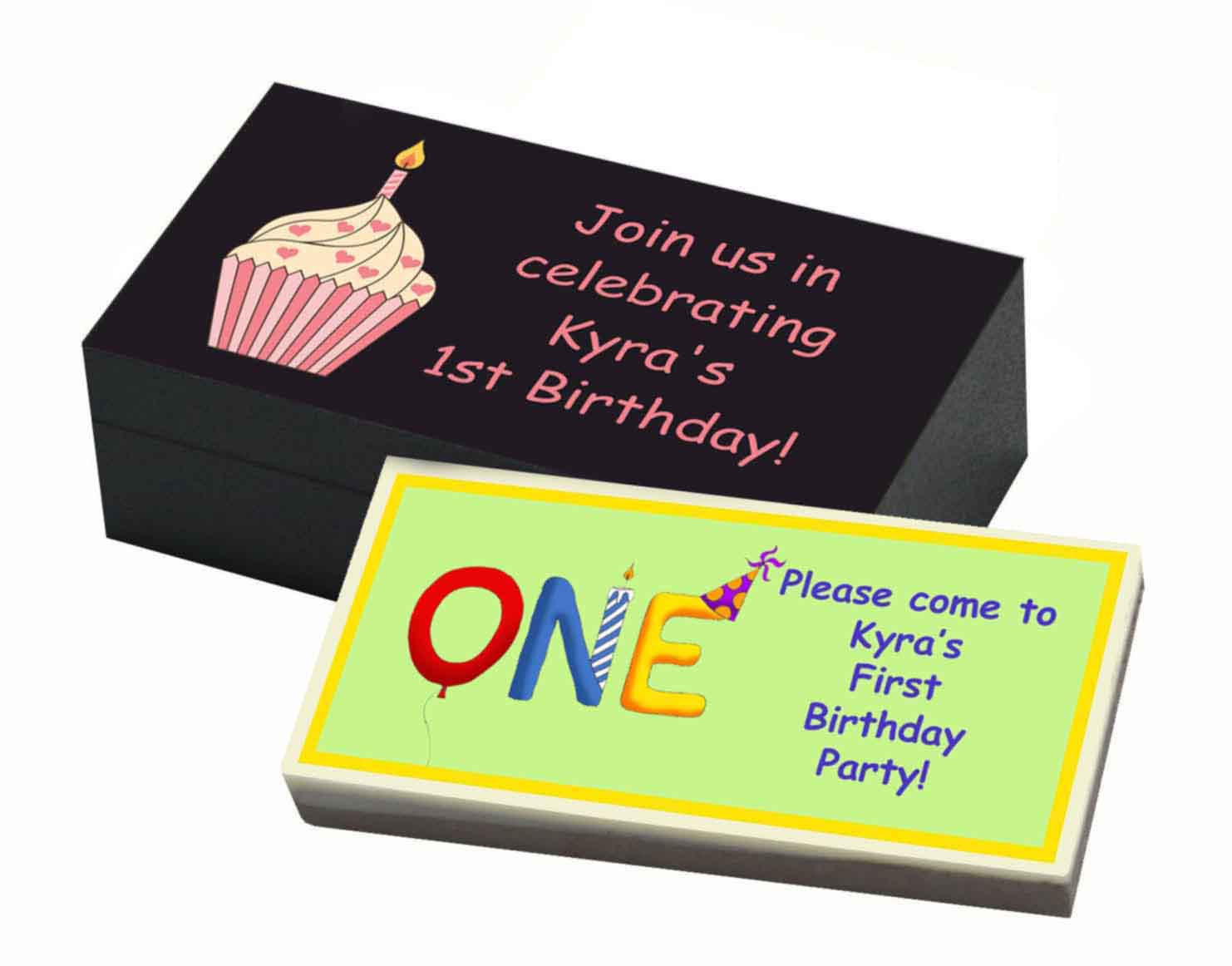 Invitations for 1st Birthday
40 x 88 mm bar - Minimum 10 box - Starting INR 2500 for 10 box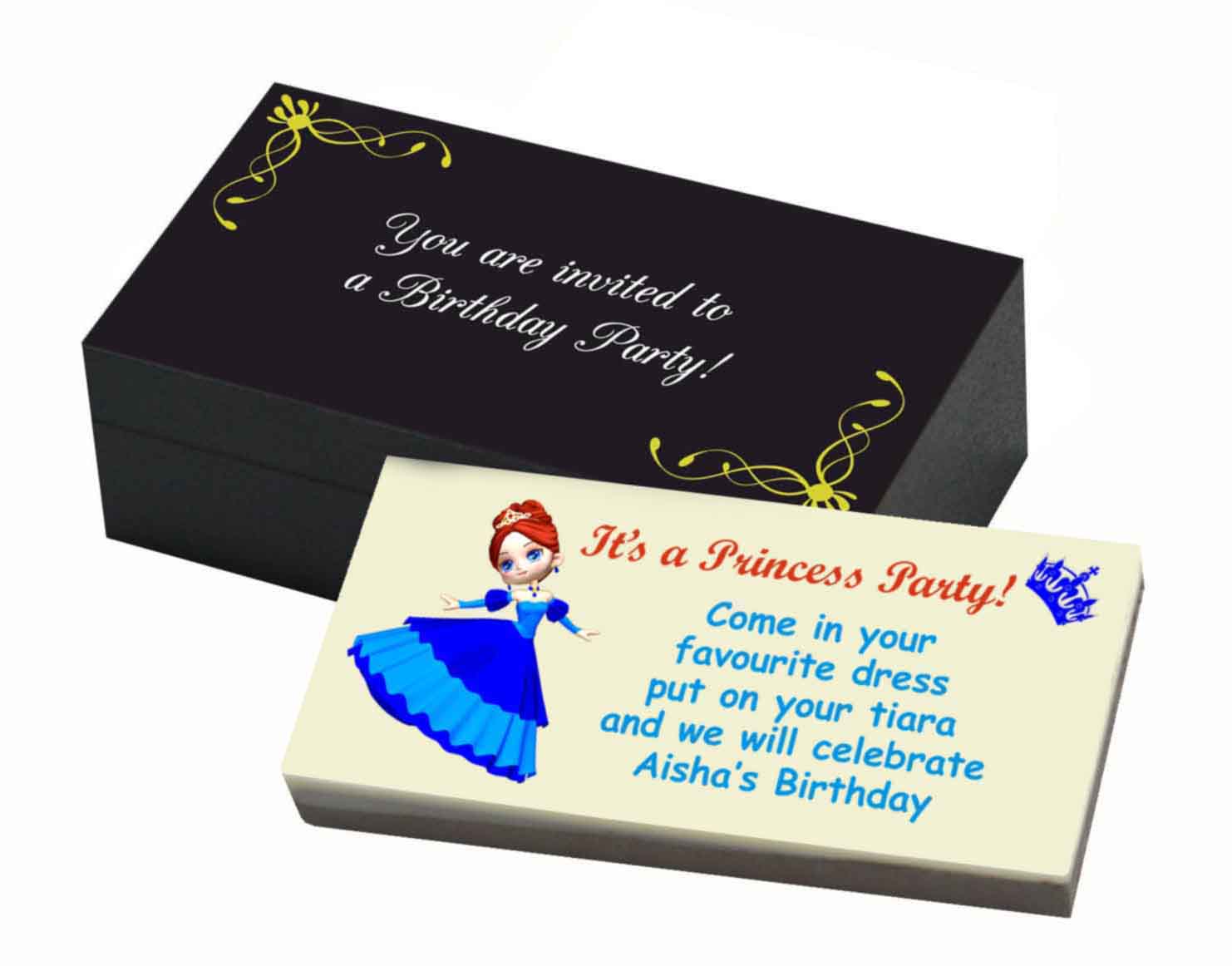 Birthday Invitation of Little Princess
40 x 88 mm bar - Minimum 10 box - Starting INR 2500 for 10 box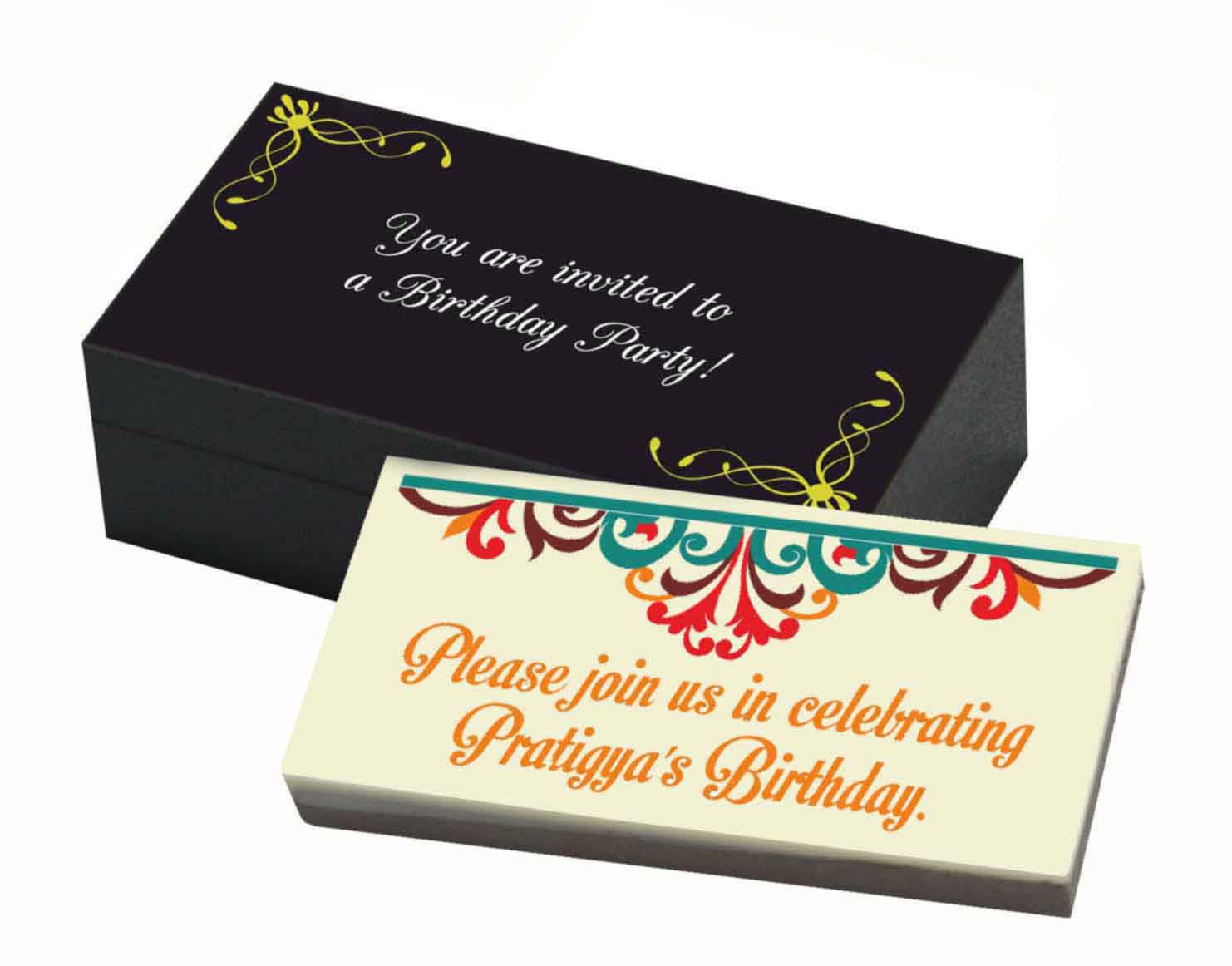 Birthday Party Invitation
40 x 88 mm bar - Minimum 10 box - Starting INR 2500 for 10 box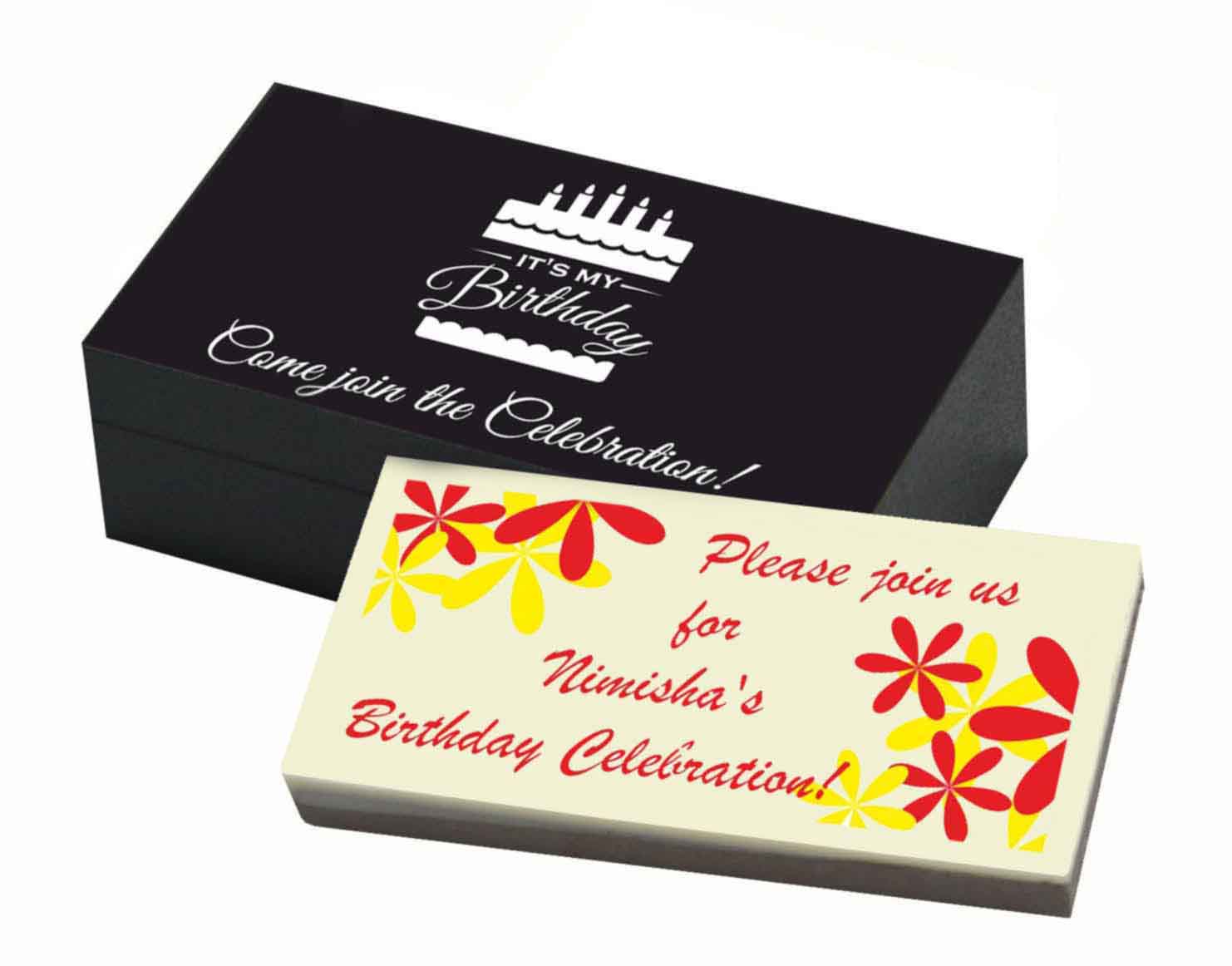 Invitation For Birthday
40 x 88 mm bar - Minimum 10 box - Starting INR 2500 for 10 box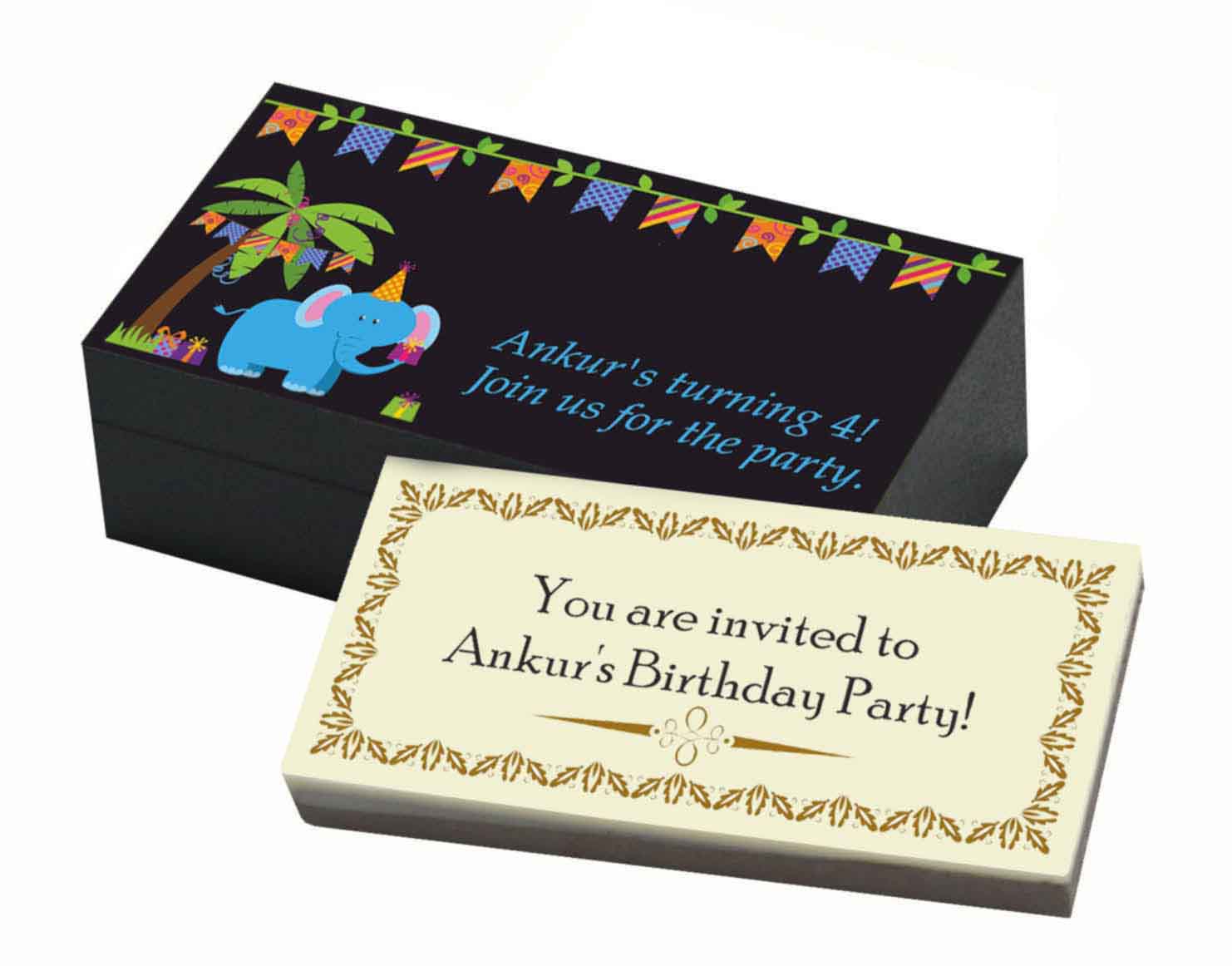 Birthday Party Invitations
40 x 88 mm bar - Minimum 10 box - Starting INR 2500 for 10 box

Birthdays mean fun frolic and enjoyment with family and friends. The joy of spending one of your best days with your loved ones is unparalleled. Send out a beautiful birthday celebration invitation to your family and friends with our unique chocolate bars. Birthday invite done on delicious chocolate bars is a unique and innovative concept.
The chocolates are purely customized as per your requirements with the best of the fillings and flavors. Add a dash of chocolate to your birthdays celebration invitation with mouthwatering and delicious chocolate bars. The chocolate can have the photo of the birthday boy or girl printed in edible ink. You can also opt for a message to be printed on the chocolate birthday invite. The chocolates are made from quality ingredients and are made to order. This means that we make the chocolates only after you place the order so that the best and the finest pieces reach you. This year send out a birthday invite that will surprise and delight your guests at the same time. The chocolate birthday celebration invitation is packaged in beautiful wooden boxes that are specially designed for the occasion. Get in touch with us today for beautiful  chocolate invites.


For more information, please get in touch with us.