Birthday Invitations - 6 Chocolate Box

---
Chocolates configuration options
---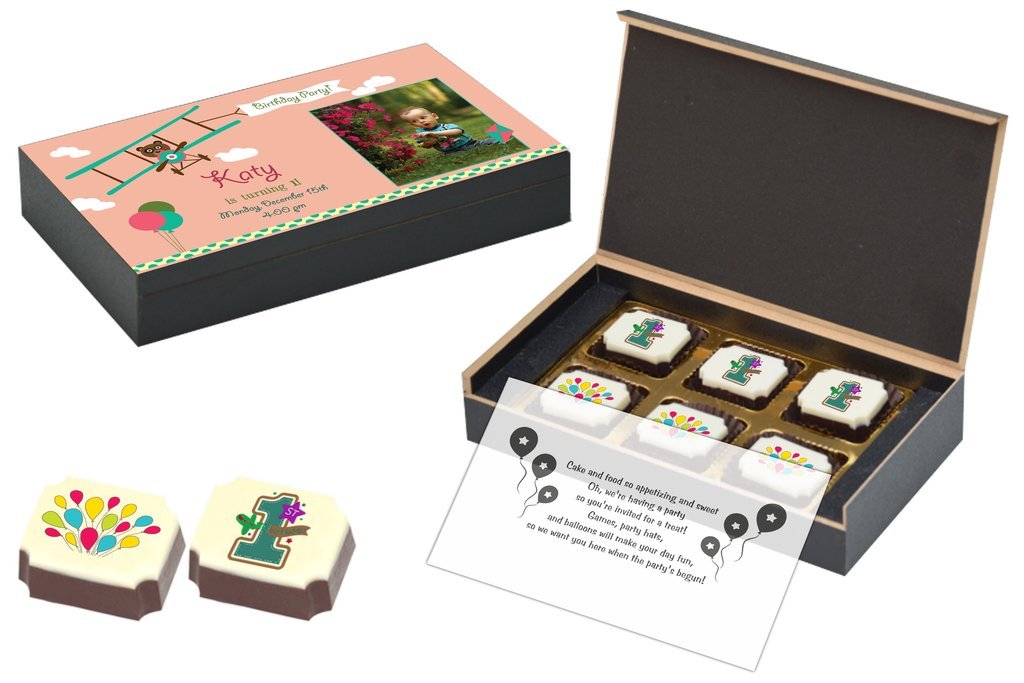 All Printed Candies, Customised Wooden Box , Message on Butter Paper.
---
3 Printed & 3 Assorted Candies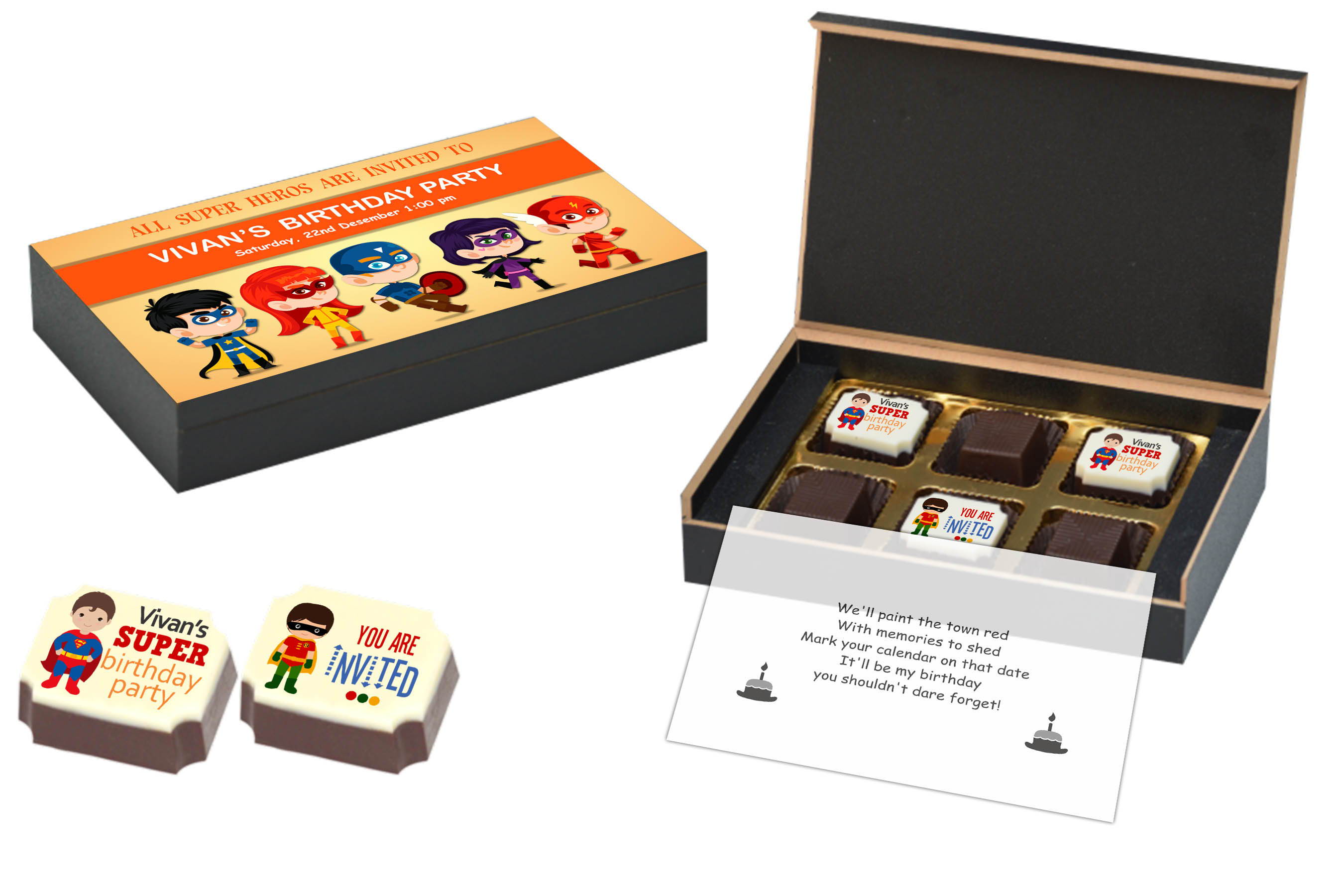 Alternate Printed Candies, Customised Wooden Box , Message on Butter Paper.
---
1 Printed & 5 Assorted Candies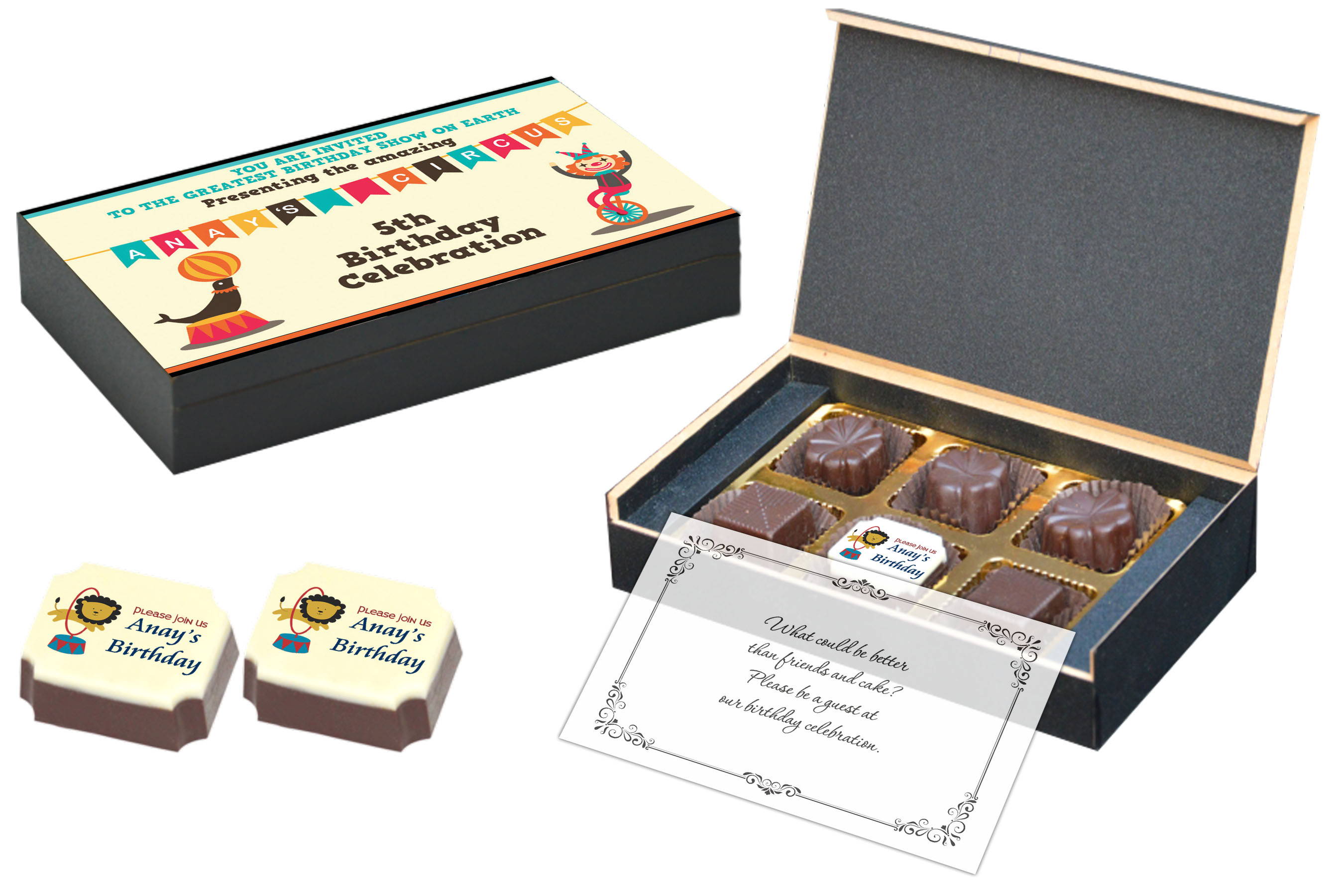 Single Printed Candies, Customised Wooden Box , Message on Butter Paper.
---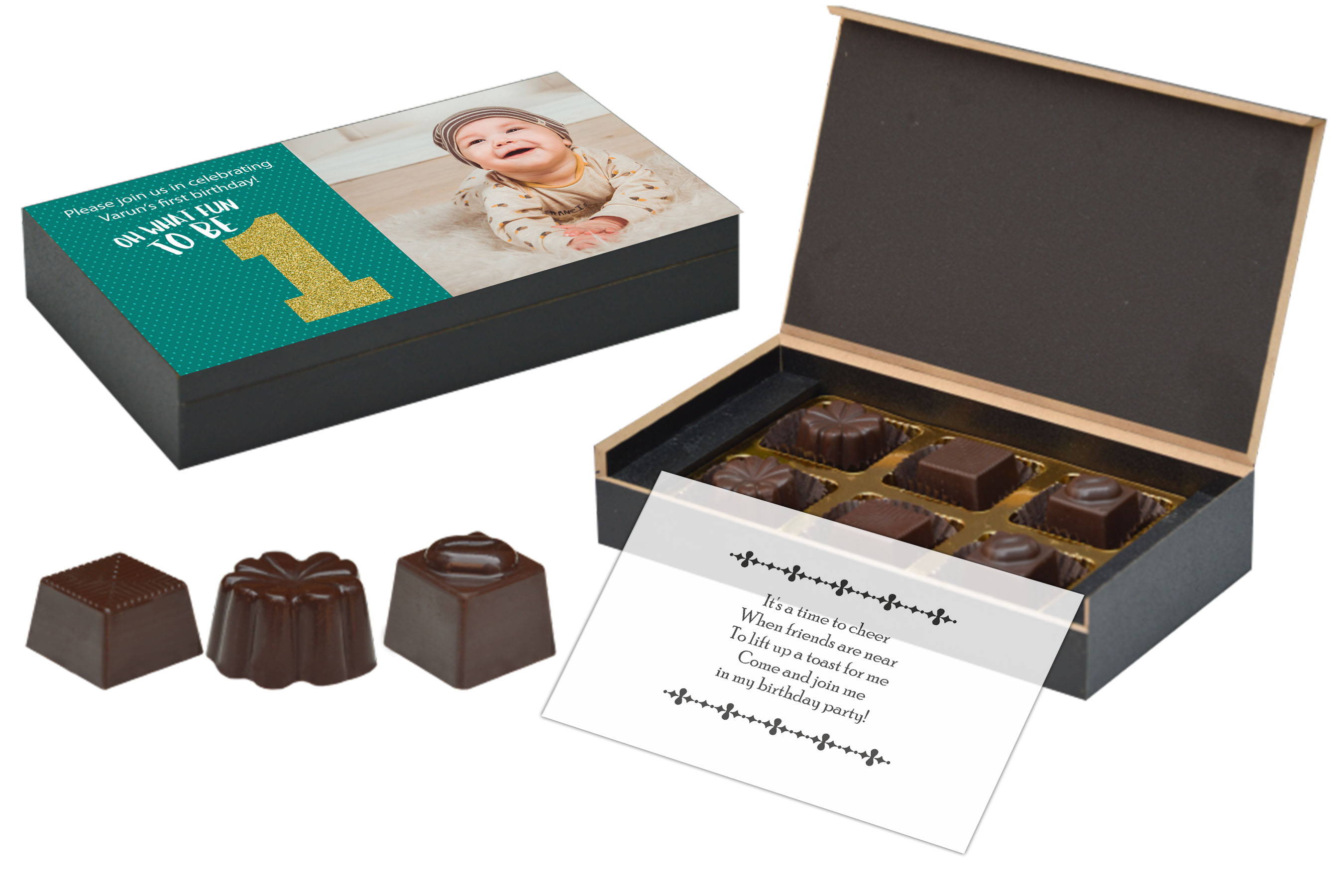 Assorted Candies, Customised Wooden Box , Message on Butter Paper.
---
---
Birthday Invitation - 6 Chocolate Box by Chococraft
---

Unique Birthday Invitation
Every human on the planet waits for their birthday. After all it is the day they came into this world. Birthdays are celebrated with a bang and right from planning the parties, everything is done with a lot of enthusiasm. The venue, the theme, people to be invited and what not! A lot of effort is put in all these aspects of the party. Birthday party invites are planned and created for the same. And boys being the lazy characters that they are, do not waste time and efforts to do all these. They generally create these invitations by referring to editable birthday invitation templates and boy birthday invitation ideas which are easily available online. These days a lot of ready to use boy birthday invitation templates, boy birthday invitation quotes are available at hand's disposal. Birthday party invitation cards are sent to everyone expected at the party. We at ChocoCraft make your tasks easier by offering you a wide variety of personalised invitations for birthday. Our 6 Chocolate box is one such product. It consists of 6 chocolates in a wooden box. In this product, you get to choose the configuration and customise the design. The chocolate configuration options include 4 choices. They are, all printed candies, 3 printed and 3 assorted candies, 1 printed and 5 assorted and all assorted candies.
There's nothing better than sending your invitations with chocolates with messages upon them. The all printed candies option consists of 6 printed candies , a customised wooden box and a message on the butter paper. Messages are printed on all these candies or they can even contain pictures. You also get to customise your box design by choosing from the various options available on our website which has options for 1st birthday invitations, special boy birthday party invitations etc. Then there is the option of 3 printed and 3 assorted candies with your own chosen box design and 1 printed candies with a relevant message and 5 assorted one's. The option of 6 assorted candies is also available with all the other aspects remaining the same as mentioned before. All you need to do is follow 3 simple steps, choose your selection, then the configuration and lastly customise. You can customise the design of the box, select from various chocolate designs available and also choose the message you wish to send. These messages are written on a butter paper .The best part is ChocoCraft provides you edible invitation templates . All you need to do is go to our website, select your choices and we do everything for you!

Birthday Invitation - 6 Chocolate Box by Chococraft
Gift Categories
Gifting Ideas
Our Speciality
Beautiful Birthday party invites formats
Boy birthday invitation ideas
Doorstep delivery across India
Boy birthday invitation quotes
Unique Ideas with a personalised message
Design / Make your own Birthday party invites / favors
Personalised invitations for birthday
Products in a wide price range
Boy birthday party invitations

Birthday themes for Boys
Men have always loved all boy parties. Be it school going boys or adult men, the idea of an all boy party never fails to fascinate them. Boys have been celebrating bachelor parties for decades and it is one celebration every guy looks forward too. Similarly, they also prefer to celebrate their birthdays in such style. They say that different sense of freedom can't be matched. Hence, boy birthday party invitations are made with a lot of zest. Theme parties have become increasing popular amongst the guys. Here are some of the most taken up boy birthday party themes. Superheroes have always captivated young boys and every one dreams of becoming the one to save his people as done by them superheroes. Spiderman , Superman , Batman are popular boys birthday party themes.   A lot of guys are fascinated by Star trek and Star Wars and these too are common themes for parties. These themes are also depicted in birthday party invitation cards which are generally made by referring to websites which give boys birthday invitation ideas. These days, a lot of boy birthday party invitations templates are readily available. The pair of Ash and Pikachu from Pokémon also inspires a lot of themes . The idea of becoming Power Rangers and saving the world is heavenly to many small boys. So is the idea of being powerful and being capable to smack down almost anybody. Thus, Power Rangers and WWE are one amongst the most chosen themes for party. Other most popular boys birthday party themes are Justice League, Super Mario etc. Everything at the party is arranged in accordance with the theme. Birthday party invitation cards are sent with respect to these themes. Costumes too are arranged accordingly. The birthday cake too is theme based. The party is celebrated with great pomp and show and the birthday invitation cards are sent online.

Birthday invitations for teenage boy
Teenage is one period where one's likings and whom to look upto change almost instantaneously . This is a period of obsession with music, following different bands, trying to imitate them and in some cases the super hero obsession continues. Every guy in this age waits for college. Teenager guys particularly prefer sleepovers and movie nights for bringing in their birthdays. The list is made after a lot of deliberation and the teenage birthday invitation wording generally comprises of phrases and words only the group understands. For making birthday invitations for teenage boys , editable birthday invitation templates are used.

Birthday invitation for 1st birthday for baby boy
We all know that first birthday events are the ones that are praised with the best energy. From grandparents , aunties and guardians, everybody does their best to make this occasion a memorable one. The invitee list is made, the birthday party invitation cards are sent in style and at times, even customized invitations are sent for the birthday. Birthday invitations in India are mostly sent in form of cards ,presents , messages and birthday invitation cards are also sent online .These days, invitations also incorporate the photo of the infant young baby boy and a message containing the necessary details of the gathering.

Personalized Birthday Party Invites for Boys
Giving an individual touch through and through changes the effect of the welcome. Almost everyone gets inspired with anything that isn't commonplace. It's an era of customisation. So why even leave invitations? Thus, these have become a trend for the birthday invitations in India especially in the major cities like Delhi, Chennai, Mumbai and Bangalore. A ton of exertion is placed in these birthday party welcome cards. We at ChocoCraft enable make your customised birthday party invites. All you need to do is purchase and choose online. We create it all for you. Boys, we know every second counts and we value your time. All are shipments are always delivered in time.

For more information, please get in touch with us.