Birthday Invitations - 4 Chocolate Box

---
Chocolates configuration options
---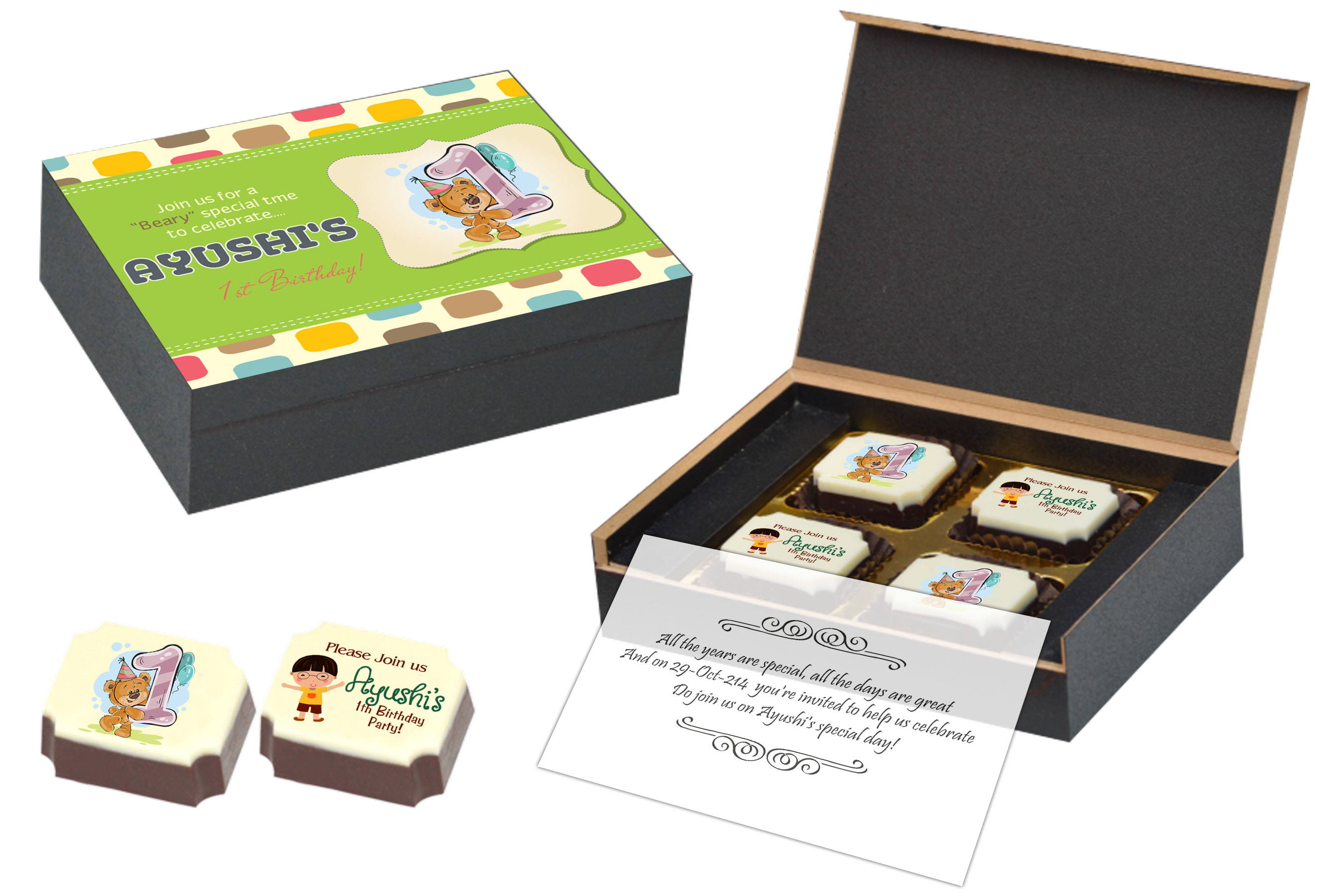 All Printed Candies, Customised Wooden Box , Message on Butter Paper.
---
2 Printed & 2 Assorted Candies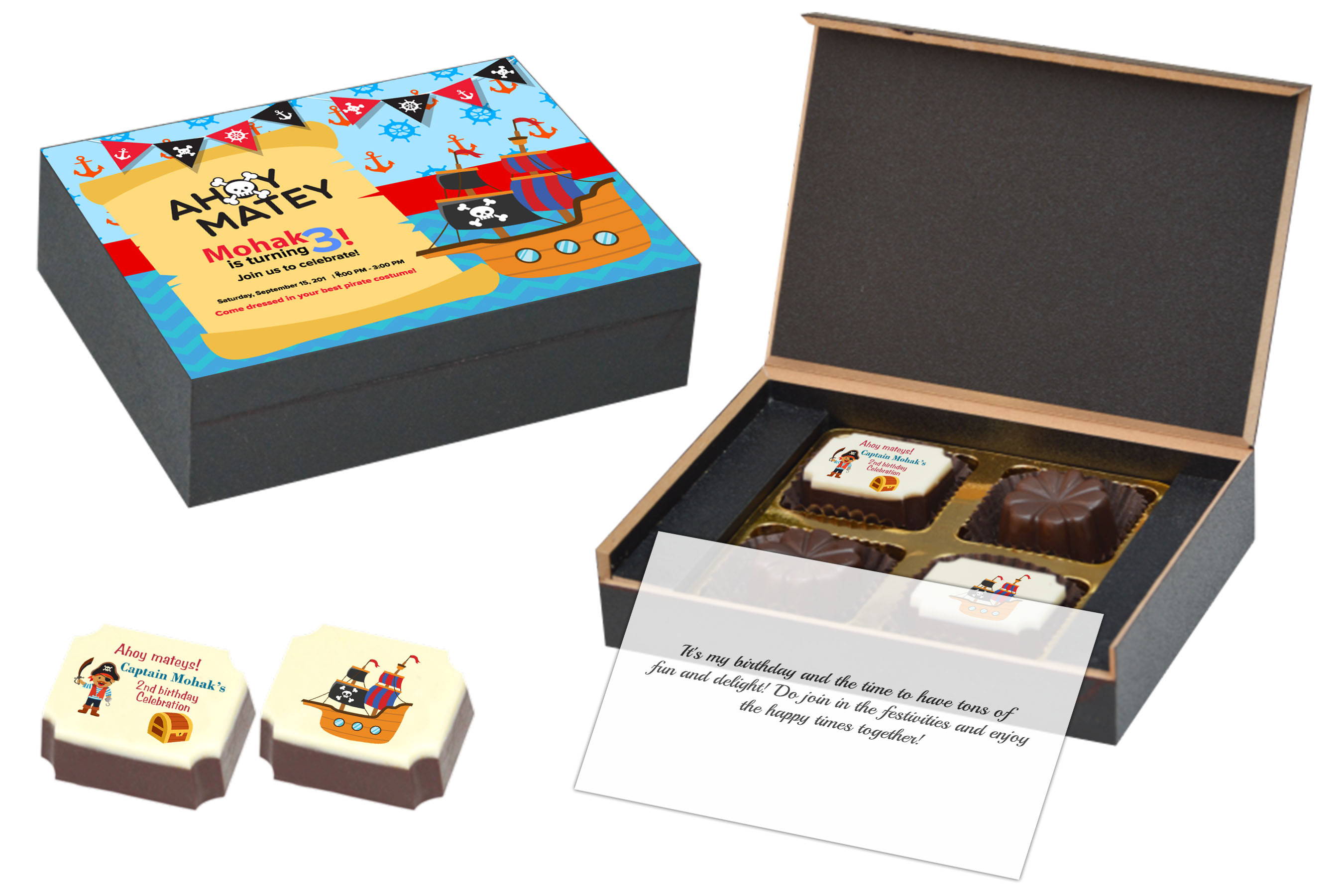 Alternate Printed Candies, Customised Wooden Box, Message on Butter Paper.
---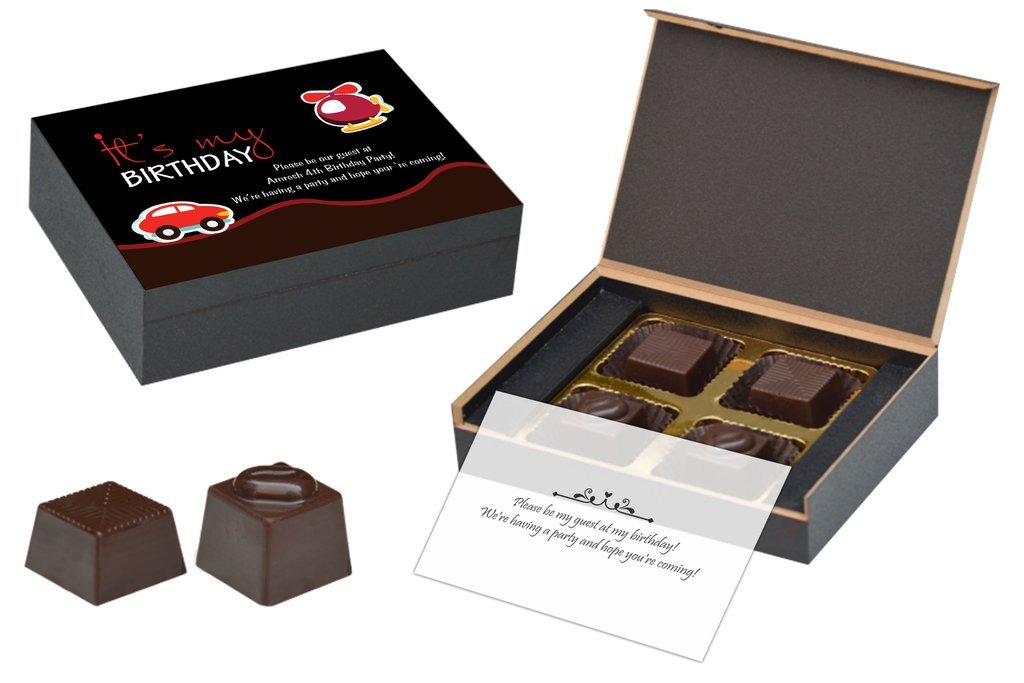 Assorted Candies, Customised Wooden Box, Message on Butter Paper.
---
---
Birthday Invitations – 4 Chocolate Box by Chococraft
---

Unique Birthday Invitations
Birthday is one annual celebration everyone awaits. Growing a year older is celebrated with great enthusiasm and one of the most important aspect in these celebrations is sending invitations. Making these Birthday party invites is a big task which involves designing them, finalising the birthday invitation wordings. The most basic form of sending these is simply sending birthday invitation cards online. However, lately the trend of celebrating birthdays in style has gained momentum in the west and in India too. Hence, birthday invitations in India have become an important factor in these parties. We at ChocoCraft help you make personalised invitations for birthday. We provide these with various products and one of them is the 4 Chocolate box which consists of 4 chocolates in a wooden box. In this product, you get to choose the configuration and customise the design. The chocolate configuration options include 3 choices. They are all printed candies, 2 printed and 2 assorted candies and all assorted candies. There's nothing better than sending your invitations with chocolates with messages upon them. The all printed candies option consists of 4 printed candies, a customised wooden box and a message on the butter paper. Messages are printed on all these candies or they can even contain pictures.
You also get to customise your box design by choosing from the various options available on our website which has options for 1st birthday invitations, special girl birthday party invitations etc. You can go for special invitations like themed designs for boxes as well as chocolates, boxes with photographs and messages, customised chocolates and messages on the butter paper inside. Then there is the option of 2 printed and 2 assorted candies with your own chosen box design, 2 printed candies with a relevant message and 2 assorted ones. The option of 4 assorted candies is also available with all the other aspects remaining the same as mentioned before. All you need to do is follow 3 simple steps, choose your selection, then the configuration and lastly customise. You can customise the design of the box, select from various chocolate designs available and also choose the message you wish to send. These messages are written on a butter paper .The best part is ChocoCraft provides you edible invitation templates. All you need to do is go to our website, select your choices and we do everything for you!

Birthday Invitations Box - 4 Chocolate Box
Gift Categories
Gifting Ideas
Our Speciality
Beautiful Birthday Party formats
Birthday invitation wordings
Doorstep delivery across India
Birthday invitations in India
Unique Ideas with a personalised message
Design / Make your own Birthday Invitations Party Invites / favors
Personalised invitations for birthday
Products in a wide price range
Girl birthday party invitations

Birthday themes for girls
With the increasing empowerment of women and them stepping out of their conventional chores, the idea of a grand party is no more limited to an all-boys party. Girl parties are no more celebrated by school going girls in the age which they are shy and their friend circle is limited to a gang of girls. These days, girl parties are enthusiastically celebrated by women of all ages. Girl birthday party invitations are also made creatively. Multiple ideas for girl birthday party invitations are available today. One of them is the theme party and the idea of a themed party has become increasingly popular and special efforts are taken to choose the theme for the party and implement it in almost every aspect of the party. There are multiple favourite girl birthday party themes and here we list a few of them.
As pink has been a representative colour for the female gender, all pink is a popular theme among young girls. Barbie's have always fascinated baby girls and a hence a Barbie has been a common favourite as   a girl birthday party theme. Ballerina is another well liked theme. Right from the props used for decorating the venue, costumes to the cake everything is in accordance with these themes. Some of the common themes include Hello Kitty, Rapunzel, Disney princesses, Mermaid, unicorn theme, Cinderella party etc. With the girls becoming powerful too, a DC super-hero themed party is also in demand. A Pajama party is another well received and celebrated party amongst teenagers and girls in their twenties. Retro or back to 70's is another theme which is generally adopted by a little older women where they enthusiastically dress up like popular heroines from that era. A lot of themes are inspired by the Disney characters and Disneyland is another popular theme. Frozen is another theme that is chosen for girl parties. The theme is depicted right from girl birthday invitation quotes to birthday invitation cards available online. ChocoCraft provides you edible birthday invitation templates you can choose in accordance with your theme and needs.

Birthday invitation for teenage girls
Teenage girls are particularly fascinated by sitcoms like Hanna-Montana, High school musical and Friends. These are well accepted themes for teenage girl birthday parties. Girls being the creative ones prepare invitations for these parties with great enthusiasm and refer to various girl Birthday invitation ideas available through various sources. They also decide teenage birthday invitation wordings generally using the language with which they communicate amongst themselves. Teenagers particularly enjoy their birthdays by having sleepovers. Teenage birthday invitations wordings generally include invitations for a sleepovers and movie nights. Pool parties have also become a trend these days. Since girls in this age are obsessed with models and look up to them, spa parties are also organised. Dancing being another favourite hobby, sleepover parties are clubbed with dance parties for girls.

Birthday invitation for 1st birthday for baby girl
We all know that first birthdays are the ones that are celebrated with the greatest enthusiasm. From grandparents, aunts, uncles, friends and parents, everyone does their best to make this event a memorable one. The invitee list is made, the girl birthday party invitations are sent out in style and in some cases, even personalised invitations are sent for the birthday. The invitations are generally sent in the form of birthday party invitation cards or in the form of gifts and messages. These include the photograph of the baby girl and a message containing the details of the party. Themes include Disney princess themes, Barbie themes etc.

Personalised birthday invites for girls
Giving a personal touch altogether changes the impact of the invitation. Girls get impressed with anything that's not common. So personalised birthday invitations are extremely popular for girl parties and they never fail to impress. A lot of effort is put in these birthday party invitation cards. Customised girl birthday invitation cards are thus made and sent to the invitees. We at ChocoCraft help you customise your invitations with our products. You simply need to buy online. We help you make birthday invitation in India easy. We provide shipment in all major cities like Delhi, Mumbai, Chennai, and Bangalore.

For more information, please get in touch with us.