Birthday Invitations - 2 Chocolate Box
---
Chocolates configuration options
---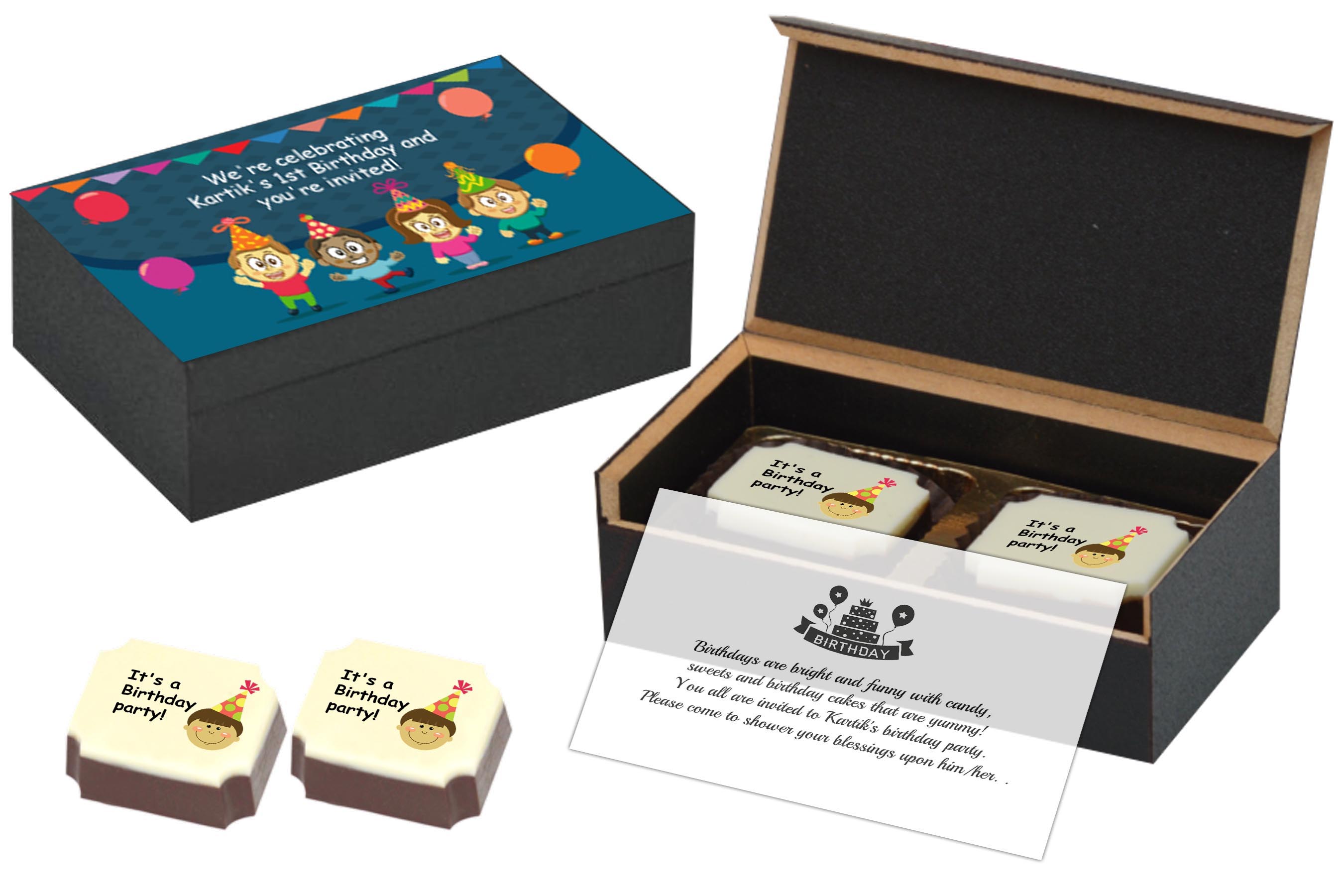 All Printed Candies, Customised Wooden Box , Message on Butter Paper.
---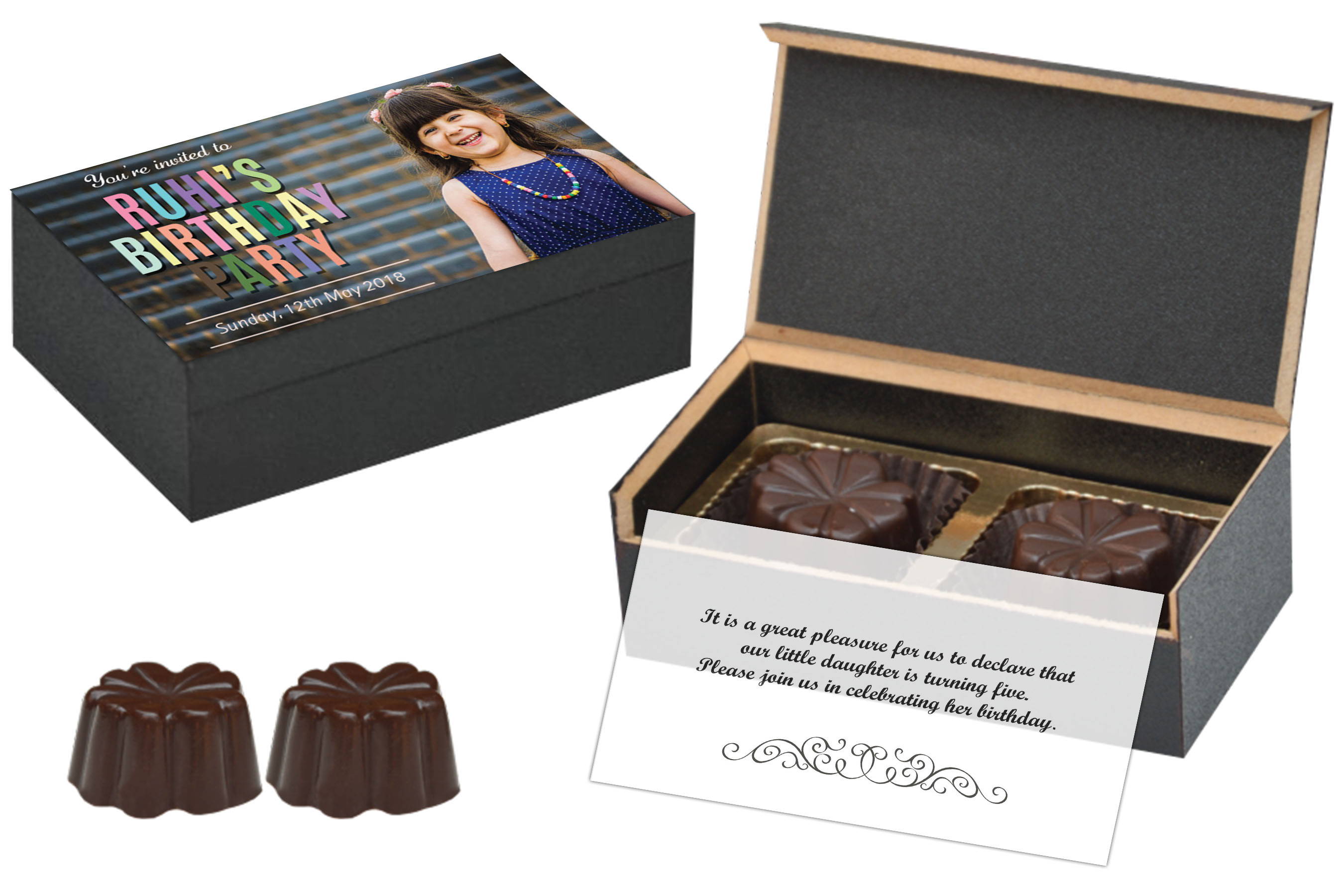 Assorted Candies, Customised Wooden Box , Message on Butter Paper.
---
---
Birthday Invitation - 2 Chocolate Box by Chococraft
---

2 Chocolate box – Kids Birthday Party invitations
Round the globe, right from a toddler to a man in his 80's, everyone waits for their Birthdays. Birthdays are celebrated with great enthusiasm on varied scales ranging from a private affair along with closed loved ones to grand celebration with numerous attendees. Sending invitations for these parties is a task. Right from making the invitee list, planning the party, to making the birthday party invitation, drafting the birthday invitation templates everything needs to be planned and implemented properly. These days, there's a trend to send online birthday invitations which are easy to create with ready available options like using the birthday invitation maker , using the birthday invitation templates available online.
First birthdays are celebrated in style with big parties thrown at exotic venues. 1 year birthday invitations are sent in various ways which include online invitations via social media and emails, invitation cards and also sending birthday invitation gifts. We at ChocoCraft make your tasks easier by making invitations in the form of 2 Chocolate Box which is a small box of chocolates with a message inside. We make customised chocolate invitation boxes for you where all we ask you to do is choose your configuration and customise the details. We offer 2 configurations, an all printed and a non-printed one. The all printed options consist of a customised wooden box, 2 printed candies and a message on butter paper. You get to choose the design of the wooden box from the various design templates available. You also get to choose your own chocolate design and the message on the candy in this option. In the assorted candies pack, the candies will have no message; however you can still customise the design of the box and the chocolates.
We also provide theme invitations for birthdays. The various options in the chocolate design include printed bar designs, birthday wishes with name design, date based birthday design etc. We offer the designs which are in trend and match up latest birthday invitations and yet are unique in their own way. You can also send personalised messages which are written on a butter paper. Thus, this small box of chocolates is an elegant gift where you get to choose everything as per your choice thereby ensuring it suits your needs completely and also saving you from the hassle of doing everything.

Birthday Invitations - 2 Chocolate Box by Chococraft
Gift Categories
Gifting Ideas
Our Speciality
Birthday party invitation
Beautiful Birthday Party formats
Birthday invitation templates
Doorstep delivery across India
Online birthday invitations
Unique Ideas with a personalised message
Design / Make your own Birthday Party Invites / favors
Birthday invitation maker
Products in a wide price range
Birthday invitation templates

Kids birthday themes
Kid's birthdays are celebrated with great zest and vigour and are generally the one's celebrated on a large scale, especially the 1st birthdays. Different forms of sending kids birthday invitations include sending birthday cards for kids, messages via social media, sending birthday invitation gifts in form of chocolates and goodies. Sending such invitations has become a trend in India recently and various ideas for birthday invitations for kids are available. However, it's difficult to implement these at home and doesn't turn out like the one depicted.
ChocoCraft offers one of the best invitations in India. The trend of sending birthday invitations online has recently gained popularity in India. These days, themed parties and celebrations are on the go. A theme party is one where everything including the décor, cake and attendees are made up and dressed with respect to the theme. Kids birthday themes are generally inspired by their favourite cartoons or movie characters. The most common one's include Disneyland, Barbie, and own superheroes like Spiderman, Superman, Batman etc. Thus special birthday invitations for children are specially made.   We, at ChocoCraft make invitations for you in accordance with these themes and also offer gifts that go along with them. All these designs are made meticulously with lots of love making use of finest quality materials.

Special Invites for 1st Birthday Party
As mentioned earlier, first birthdays are celebrated with great grandeur. A child would always prefer an invitation with a gift rather than just a simple message. There's nothing that lures a child better than chocolate does. Printed chocolates make it memorable and we can print almost anything on them. Be it photographs, names or messages, we provide you with everything. First year birthday invitations are sent in form of messages and chocolates and ChocoCraft offers you unique birthday invitations for girls and boys. We offer you novel and beautiful themes for first birthdays of boy or girl. You can choose from a range of designs for the wooden box. Some of them include a photo of the baby birthday invitation wording that you choose. You can check out all the designs on our website. We also offer theme special invitation. Even the candies in the box have messages and shapes which go along with the theme.
For 1 year birthday invitation, the word 'one' can be styled uniquely with the baby's photo inside the 'O' saying so and so is turning one. We make it all for you. We also write messages you want to send on a butter paper which will be inserted inside the box. Furthermore, our unique offerings include photo birthday invitations, Birthday invitations which have special designs and colour schemes along with the message you want on the top of the box and the most unique Birthday theme invitation box as mentioned.

Birthday invitation online
With the increasing trend of sending birthday invitations online, you also get various ideas for the same. However, you don't want your invitation to be common. It is a tedious task to design and implement the various birthday invitation ideas. With increasing professional and personal commitments, it becomes difficult to give time to all of this. ChocoCraft values your time. The best part of choosing ChocoCraft for making your invitations is that you can buy these online. Sit at home, relax, go to our website and all we ask you to do is choose what you want. With so many options available on our website, select what you need and buy online. You will be provided with all the assistance you need while ordering and also until the time the product gets delivered. Don't worry on the quality of the product as we use the best of materials available and never compromise on quality. ChocoCraft delivers shipment in all the major cities in India. Since we are based in Delhi, orders for birthday invitations from Delhi can be provided at the go. The most important thing is that these should be delivered in time. We understand and value your time and always ensure your deliveries reach you on the date specified.

For more information, please get in touch with us.