Baby Boy Announcement - 9 Chocolate Box


Chocolates configuration options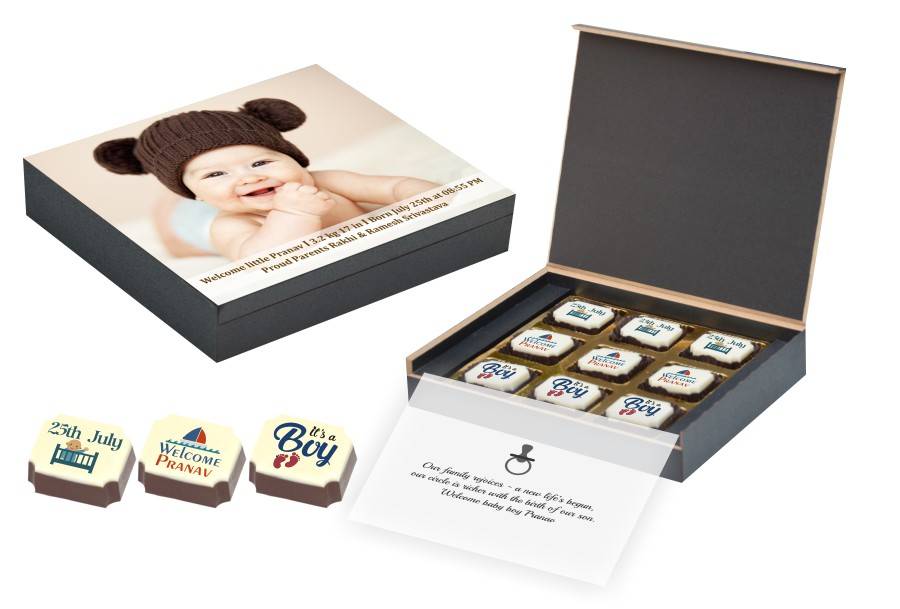 All Printed Candies, Customised Wooden Box, Message on Butter Paper

5 Printed & 4 Assorted Candies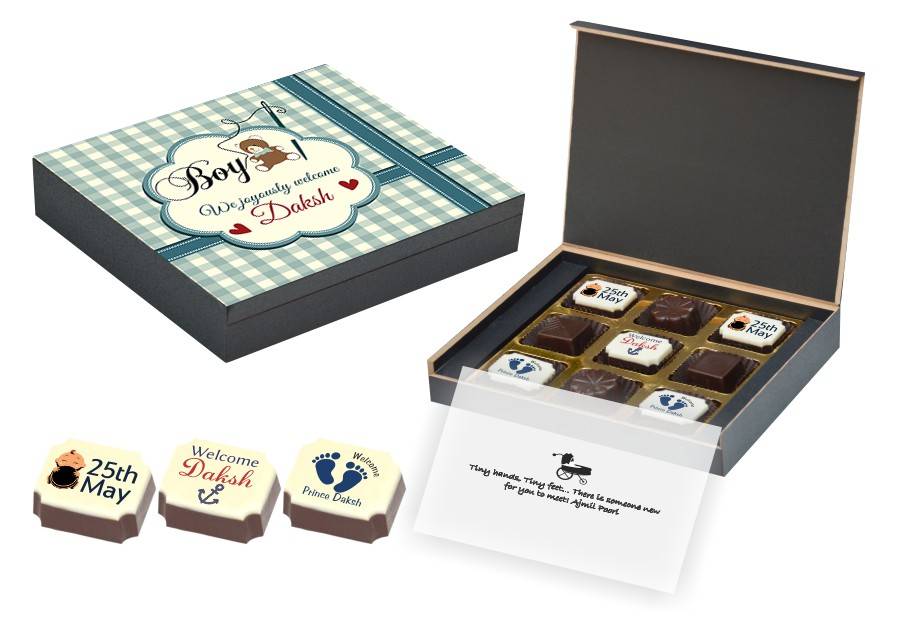 Alternate Printed Candies, Customised Wooden Box, Message on Butter Paper

1 Printed & 8 Assorted Candies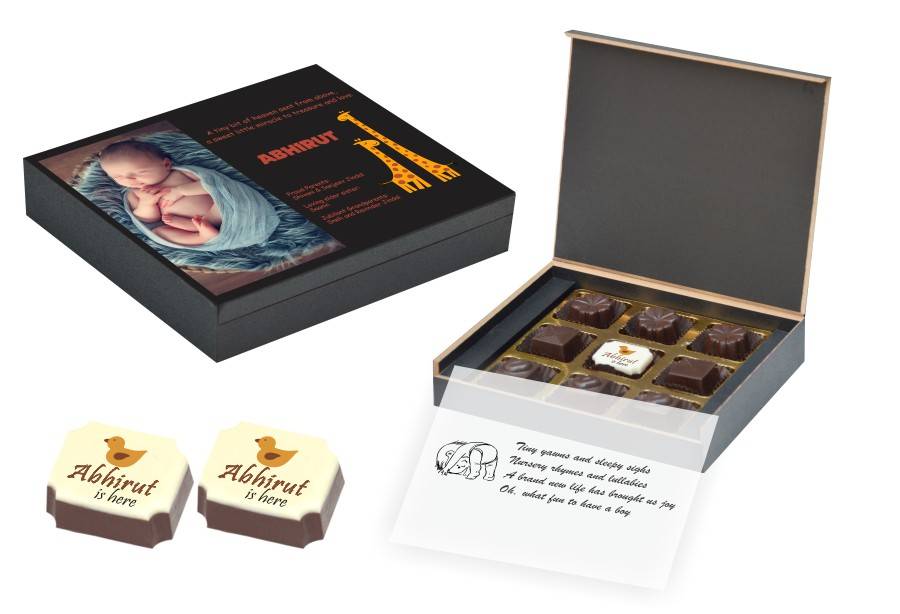 Single Printed Candy, Customised Wooden Box, Message on Butter Paper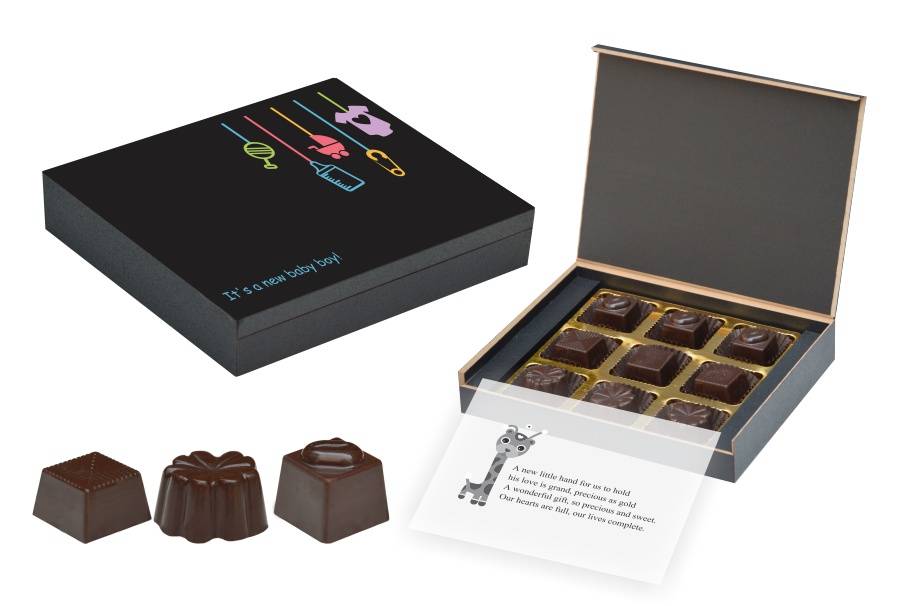 Assorted Candies, Customised Wooden Box, Message on Butter Paper

Baby Boy Announcement - 9 Chocolate Box by Chococraft
---

"Having a baby is a life-changer. It gives you a whole other perspective on why you wake up every day."-Taylor Hanson

Baby Announcement with Chocolates
Giving birth to new life is one of life's most precious joys. A baby brings happiness and warmth to the family and touches upon the lives of everyone around. For the parents, there is no greater joy than to hold the little life they have created in their hands.
It is undoubtedly one of the most memorable moments in any parent's life and one that demands to be celebrated. Babies are little bundles of happiness, toothless giggles and a whole lot of love. It is the greatest gift, be it the first or second child.And if it's a baby boy, the happiness is still greater.
And it is only natural that a baby's arrival into our lives should be announced to friends and family members so that they may come and be a part of the celebration. Baby announcements have always been a beacon of hope, happiness and all that is good in this world. It is also a nice way to let your concerned friends know that the mother and baby are hale and hearty and that you would love the rest of the world to catch a glimpse of your baby as well.
You can never know how sweet and incredibly precious life is unless you've held a baby in your hands. That little creature in your hands holds infinite possibilities and an unlimited capacity to make the lives of those around, better. The experience is truly life changing and one that, words fail to do justice in expressing.

Baby Boy Announcement - 9 Chocolate Box by Chococraft
Gift Categories
Gifting Ideas
Our Speciality
Beautiful Baby announcements formats
Unique baby announcements
Doorstep delivery across India
Baby birth announcement ideas
Unique Ideas with a personalised message
Design / Make your own Baby announcements Invites / favors
Cute baby boy announcements
Products in a wide price range
Creative baby announcements

Custom Birth Announcement by Chococraft
Today we take a look at the various options available for you when it comes to cute baby announcements.And if it's a baby boy all the merrier. Chococraft makes your baby's birth more special by our unique baby announcements. With Chococraft you can send your announcement of a newborn baby boy with a box of chocolates and beautiful birth announcement cards bearing a special message.
Now, of course, there are a number of options when it comes to ideas for birth announcements, but really is there anything better than chocolate? Who doesn't love chocolates! On this auspicious occasion, invite your friends and family members over with a box of our best chocolates.We have a range of options for baby birth announcement ideas but we'd like to suggest the 9-chocolate box which has been made specifically for the purpose of welcoming the newest addition to your family.
But these are no ordinary chocolates and nor are the boxes ordinary.No, all of them come with total customization options so that you may design and order as per your tastes.You can personalize it to have a beautiful photo of the baby on the box and a message from the elder sibling or elders of the house on a slice of butter paper.
The designs are made from a 100% edible grade ink and the chocolates and candies, each with different options can be ordered individually too.You can also have the photo or the message imprinted on the chocolates.
And also, we offer deliveries to all the major cities of India like Kolkata, Mumbai, Delhi, etc.So just sit back, find the template that you like and press the order button.All this at the convenience of being on a couch at home.And as for the pricing, we have a range of options carefully curated just for you.We have a large number of templates of cute baby boy announcements but if you don't find what you are looking for, just contact us and we'll make sure that the idea you had in mind comes to fruition.

Clever Birth Announcement Wording
What must be realized is that giving just a box of chocolates and a card is nice, but we could do much better. It is after all the birthday of a baby boy we are talking about. There has been a growing trend which basically comprises of giving funny aliases to the babies and having nice, funny and adorable baby birth announcements. More and more parents are ditching the normal ways and coming up with unique baby announcements that go beyond the traditional notions of it's a boy announcement. These creative baby announcements come with funny messages and newborn baby quotes, welcoming the newborn to this world.
Often, these personalized baby birth announcements come with cards and gifts with the photo of the baby boy that is baby boy photo announcements, so that the guests might get to see the star of the affairs beforehand. It is all about making it an unforgettable keepsake that guests might want to Instagram. Any such custom baby announcements should come with the name of the baby, his date and time of birth and in some cases, weight. The wording will add that tinge of humour. If there is a sibling, there can be small poems written by him or her to welcome the newest kid on the block!
Baby boy poems are all the rage nowadays, but it should be kept short and simple. Use wordings "like The force awakens (at all hours of the night). Meet our new little Jedi..." if you are a dad who loves Star Wars and is likely to convert your baby into one pretty soon! And if you are the thinker type, on a much serious note something like," We wished upon a star—and our dreams came true. She's finally here to say hello! Introducing…(baby's name)" will do the trick.And if you are aiming for funnier wordings," The true meaning of #blessed: Sleepless nights and nonstop poop…but look at that little face! (Swoon.) Introducing…" would be just perfect.
Best baby announcements are the ones done from heart and it is all about spreading the love and joy around. Use props available around the house, if need be. Whether you're tickled pink or if the little league should be on the lookout, your friends and family will go goo-goo-gah-gah over your newborn's details. While coming up with baby boy arrival quotes, keep in mind that brevity is the way. The birth announcement isn't the place for you to exercise your poetry muscles with your long baby boy poems. Also, etiquette states that you have up to six months after the baby is born to send out your formal announcements.
Funny baby announcement wording add that extra spark to the monotonous same old photo baby boy announcement. Use wording like "Or little man has arrived.." or "Free at last, after 9 months we welcome (baby boy's name) to our household" and you'll have a cool baby boy announcement on your hands.
Your customized birth announcement will be able to capture this perfect moment for forever with the proper wording that fits both etiquette rules and your family's personality. Finally to cap it off, from everyone here at Chococraft we'd like to wish your baby boy all the happiness and success in this world.Thank you for shopping with us.

For more information, please get in touch with us.