Baby Boy Announcement - 6 Chocolate Box


Chocolates configuration options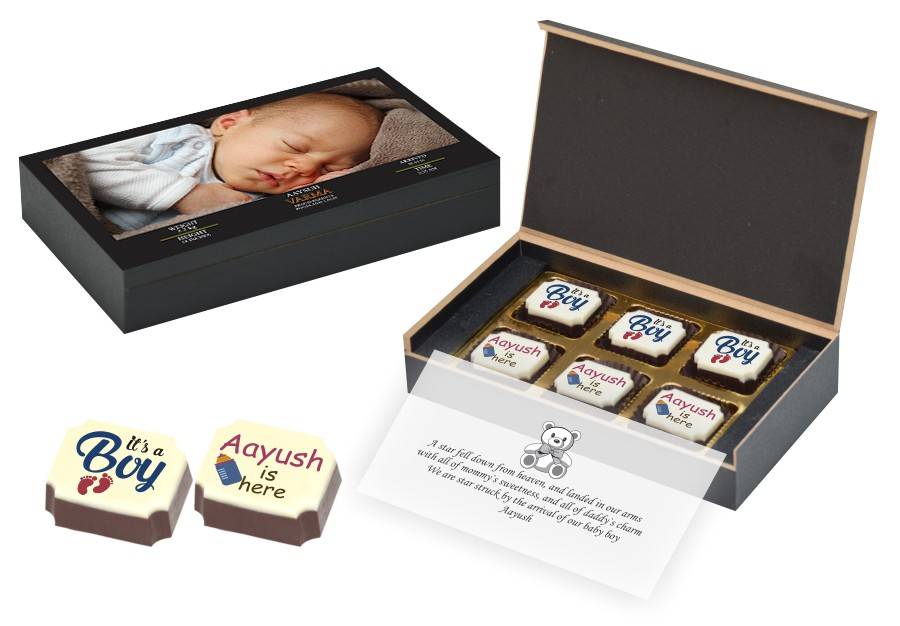 All Printed Candies, Customised Wooden Box, Message on Butter Paper

3 Printed & 3 Assorted Candies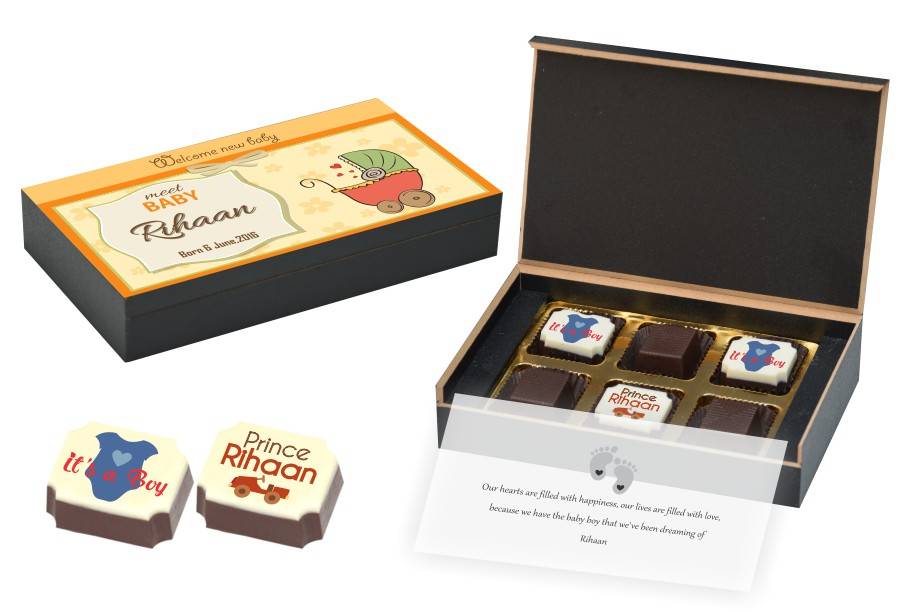 Alternate Printed Candies, Customised Wooden Box, Message on Butter Paper

1 Printed & 5 Assorted Candies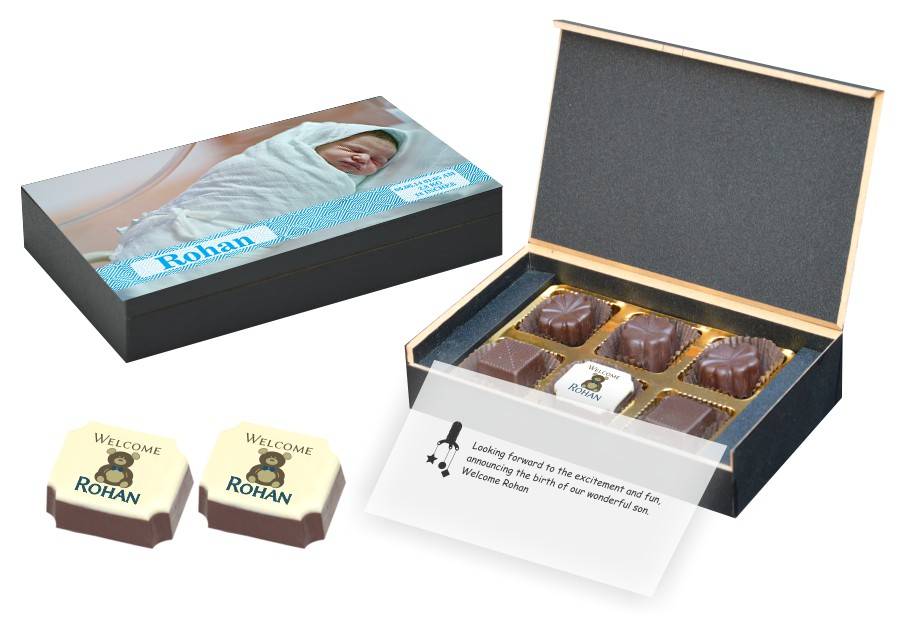 Single Printed Candies, Customised Wooden Box, Message on Butter Paper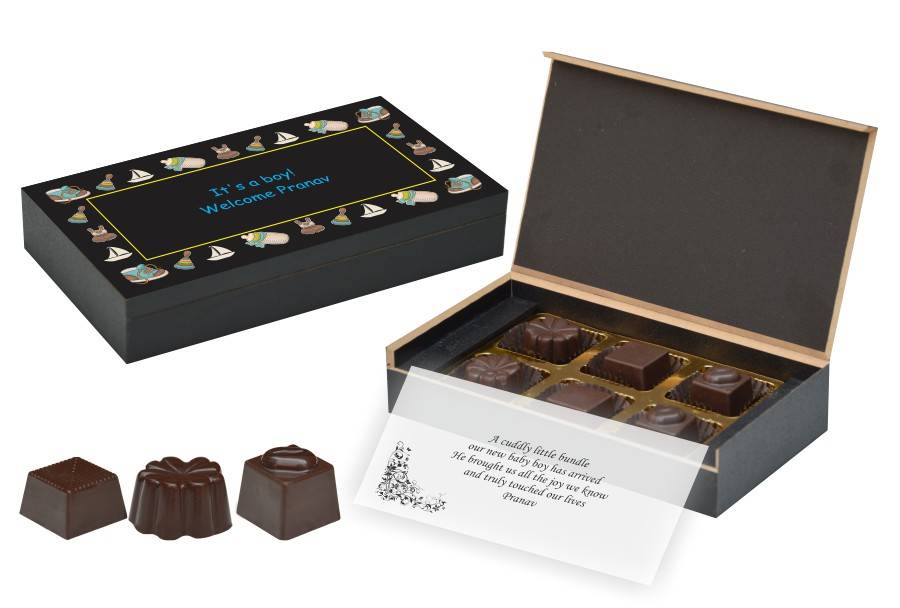 Assorted Candies, Customised Wooden Box, Message on Butter Paper

Baby Boy Announcement - 6 Chocolate Box
---

Unique Baby Announcements by ChocoCraft
Well, congratulations! If you clicked on this article then surely there is some really good news to share with your loved one! I get it! A baby boy announcement is what you are planning and you are screening through articles looking for creative baby announcements or in general birth announcement ideas. Your worries end here! ChocoCraft is here for you!
ChocoCraft offers the best in class chocolates with customizations to your liking! Everyone wants their baby's birth announcements to be as sweet as possible. And ChocoCraft gives you just that.
ChocoCraft offer you a host of options to select from with the 6 chocolate box being the most liked one! All you have to do is select, choose the configuration and customize. ChocoCraft handles the rest.
Candies in the box can be customized with messages like 'It's a Boy' or 'New Baby Boy' or one can even print the name of the new born the candies. ChocoCraft also provides you with an option to write a personalized birth announcements or newborn baby boy quotes which will be printed on butter paper and placed inside the box of chocolates!
ChocoCraft also gives you the option of going for assorted candies. These assorted delights are sure to enhance the unique birth announcement experience. Instead of messages on the candies, one can also opt for printed candies with a picture of your baby boy on the candy! The entire cool baby announcement comes in sturdy wooden boxes with a well-designed layout which is treat to the eyes!
So what are you waiting for? Go! Shop on ChocoCraft and make this baby boy arrival announcement a memorable one!

Baby Boy Announcement - 6 Chocolate Box
Gift Categories
Gifting Ideas
Our Speciality
Personalized birth announcements
Beautiful Birth announcement formats
Doorstep delivery across India
Unique birth announcement
Unique Ideas with a personalised message
Design / Make your own Birth announcement Invites / favors
Products in a wide price range
Custom baby announcements

Things to Keep in Mind While Creating Your Baby Announcement
Childbirth is a very auspicious moment in any family. And everyone wants to share this happiness with their dear ones. Custom baby announcements are a trend now.
But there are certain things that need to be kept in mind while creating your baby announcements.
The parents of the new born or who so ever is responsible for the baby arrival announcements needs to make sure the gender of the baby along with the names of the baby's parents, siblings and grandparents are included in the announcement. It is also a good practice to include the name of the doctor who delivered the baby and the baby's weight and birth location.
Another dilemma faced by many is whether to go for paper announcements or electronic announcements. This is personal preference and might vary from person to person. The extent of electronic connectivity is one thing that needs to be taken into account here. Now a days it's the paper based creative birth announcements that are being preferred.
When it comes to the question of whom to send these personalized baby announcement tokens to, there is no hard and fast rule. One can go for as many or as few people as they want. But one needs to make sure that the announcements reache the person you feel might be hurt if they don't receive one!
Choosing the perfect set of words is essential to convey the message in a short and sweet manner! But let your imagination take over to create a creative baby announcement hamper!

Rising Popularity of birth announcements in India
With more and more creative and funny birth announcement ideas available to everyone now a days, the popularity of 'baby born' announcements is on the rise in India. People want to exclaim to the world – "We are blessed with a baby boy!" or "We are blessed with a baby girl!" and hence the rising popularity!
Child birth brings with it joy and happiness to the entire family! Celebrations start even before the child birth. So it is clearly not shocking to watch this tradition of sort rise in popularity! A host of baby announcement ideas are available online. And people want be as unique and as creative as possible.
More and more online as well as offline businesses are now focusing on this rising trend and trying to capture this new and emerging market. From creative welcome baby messages to it's a girl or it's a boy announcements, they are providing ideas and options in each domain. So don't worry if you have birth announcements to make. Everything is covered!
Maternity and new born photoshoots have also seen a rise with many opting for this! People also prefer sending out baby born announcements written behind these photographs to close family members and friends so that they can be part of this journey as well.
Whether you're a first-time parent, second- or third-time parent, adoptive parent, or a parent of multiples, you want to share your happiness with everyone! And why not! It's a time to celebrate with everyone!

Ordering your baby boy announcements online
The demand for unique boy birth announcements are on a rise! Every parent wants their child to have a special entry into this world, an entry filled with glee and happiness. And they want to leave no stones unturned when it comes to announcing to the whole world that they have been blessed with a baby boy!
The online space provides us with scores of baby announcement ideas and offers. With the growing demand for baby boy announcement ideas, many online businesses have made a special online birth announcements category. From personalized mugs to invitations cards to chocolates the options are innumerable!
One can opt for customized chocolates with personalized messages and pictures on the chocolates. ChocoCraft is one website which has a special section for online baby announcement ideas with chocolates.
Other alternatives for the announcements are also available online for you to order. Personalized cards are one such alternative. You have the option to select the pictures on the card as well have a personal message on each card. These cards can then directly to be delivered to the intended place without any hassle, all online! Personalized greeting cards online also come with the option of adding a combo of sweets with them.
So expecting a baby soon, start prepping up for the special moment now! Many baby born announcements to be made! No mistakes can be afforded! And yes, don't worry, the online market is there for you with great offers and ideas, just a tap away! Go on, share the joy!

For more information, please get in touch with us.