Baby Boy Announcement - 4 Chocolate Box


Chocolates configuration options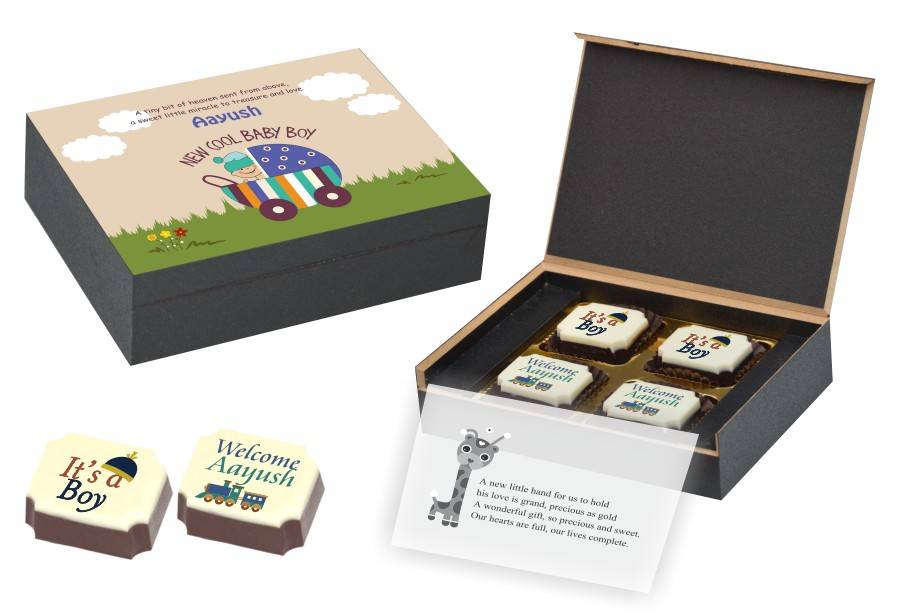 All Printed Candies, Customised Wooden Box, Message on Butter Paper

2 Printed & 2 Assorted Candies
Alternate Candies, Customised Wooden Box, Message on Butter Paper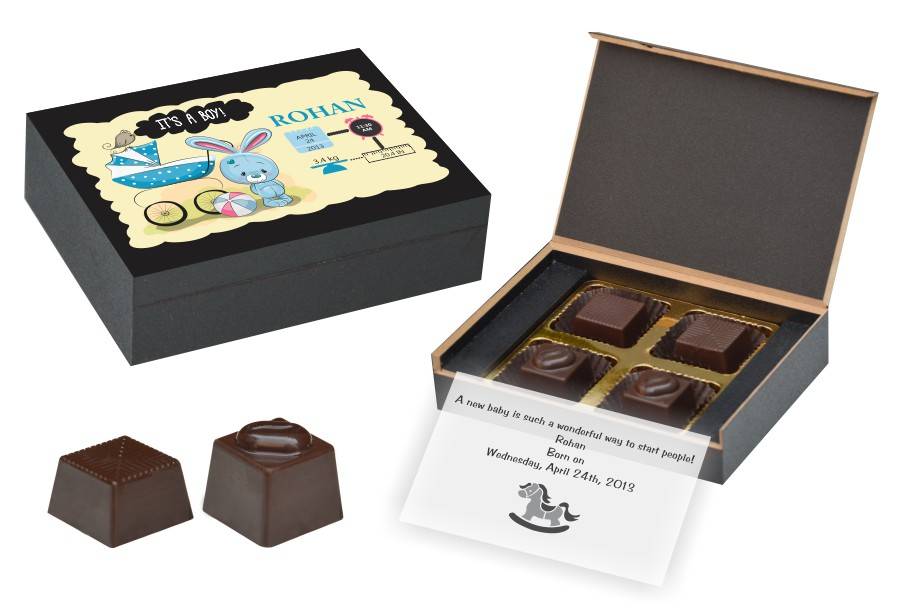 Assorted Candies, Customised Wooden Box, Message on Butter Paper

Baby Boy Announcement - 4 Chocolate Box by Chococraft
---

Unique Birth Announcements by Chococraft
After all the excitement and the stress, your baby boy is finally here! But the excitement and the immense love you have for your boy doesn't end. Your whole world now lay safe in your arms, and you finally belong to someone. Make your happiness greater by sharing it.
You are not the only one who is happy to have the new addition to the family. Your family and friends would be equally delighted to know about your baby so be sure to send baby announcements. Birth announcements are sent to tell your loved ones that the baby and mother are both safe and sound. You can also use this opportunity to show pictures of your baby.
You can increase your loved one's happiness by sending the newborn announcement with sweets. Chococraft provides the best baby announcement you can ask for. With Chococraft, you can send a creative baby announcement which is like no other. Chococraft sends a baby announcement with a box full of chocolates! And these chocolates would be nothing like ordinary.
With Chococraft you can customize the chocolates any way you want. These chocolates would bear any design you want. You can have a picture of your baby boy on these chocolates. Not only this, you can even select the fillings you want in these chocolates.
Chococraft's 4 chocolate box is the perfect way to send unique baby announcements. You can even customize the chocolate box. Include pictures of your baby all over the chocolate box to show the world your adorable boy. Chococraft website has a lot of birth announcement templates, and you can choose from them.  

Baby Boy Announcement - 4 Chocolate Box by Chococraft
Gift Categories
Gifting Ideas
Our Speciality
Beautiful Baby announcements formats
Doorstep delivery across India

Creative baby announcement
Unique Ideas with a personalised message
Design / Make your own Baby announcements Invites / favors
Unique baby announcements
Products in a wide price range

Birth Announcement Etiquette
You are blessed with a baby boy, and you want to show off your boy to the world through announcement cards. But what should be written on the announcement cards? Your creative ideas for the birth announcement cards can go downhill if you don't have baby announcement wordings right.
You should consider what style of announcement you want to have. It could be a classic, traditional or modern announcement. As you are sending these announcements to friends and family, make sure it is something they won't be offended by.
There are some things which are always included in an announcement like the name of the baby, the name of the parents, date of birth, and weight of the baby. Sometimes the name of grandparents is also included in the announcement.
Newborn baby messages from parents are written on the announcement card. Baby boy messages from siblings are also included. Elders write their blessings and quotes on the announcement to show their feelings for the newborn. Baby announcement quotes should be original and creative that would make people smile.
Consider whether you want to send a printed announcement or an announcement via electronic means. Send whichever way comfortable to you, and also something that your friends and family would appreciate. An electronic announcement is cost-efficient, but the paper announcement is the one which would be with you forever. You can also use social media sites to share your baby's announcement cards.

Baby Announcement for Second Baby
When you have a second baby, you know that now your world will be filled with double happiness. Now you have two parts of your heart, and one more addition to your family. Your first child now has a companion with whom he/she could share his/her experiences and spend life with.
Now your child could have a sibling bond which would help them in growing up to a full sensible adult. Share your double happiness with the world through a second baby announcement. Second baby boy birth announcements are always important as they will be the continuation of the first baby announcement.
Look for creative 2nd baby announcement ideas that would make your announcement look adorable as well as memorable. Mostly sibling baby announcements are used for the announcement. Your children in one announcement would make the announcement look irresistible.
Use pictures of your children on the invitation. Take pictures in a creative way that would make people smile seeing the bond between the siblings. It could be the elder sibling holding the baby, or they could be wearing matching clothes.
Sibling birth announcements are liked by everyone as they show the sibling bond which makes people nostalgic. But you should make the announcement respective to your audience. Some people tend to get easily offended. So make sure to make announcements which are cute and something that would touch their heart.
If the baby has a sister, then a big sister birth announcement is a must. Nothing is better than the brother-sister bond, and it is one of the beautiful relations in the world.

Announcement for Baby Boy Adoption
When you adopt a child, you welcome a member to your family. This baby boy needs to be properly introduced to the family members, and what's better than sending adoption announcement cards? Introduce this new addition to the family with creative adoption birth announcements.
Your loved ones need to know about your new baby, and your baby boy needs to be introduced properly. In the announcement, do mention the full name of the baby along with his date of birth. Also, mention the date when the baby joined your family. This way, your family can know when you welcomed a baby to your family.
Name of parents and siblings are also written on the announcement. Most of your family and friends might already know about your decision to adopt a baby so you can make a simple adoption announcement. Select the theme of your announcement which your loved ones would appreciate. Select an announcement which would make them smile with pride.  
Chococraft gives you the perfect way to introduce your baby to the world. Chococraft is the best birth announcement idea. With Chococraft you can send your announcement with a box full of chocolates. You can even personalize the chocolates. Print picture of your baby on the chocolates to make your baby announcement unique and one of a kind.
---
For more information, please get in touch with us.