Baby Boy Announcement - 18 Chocolate Box


Chocolates configuration options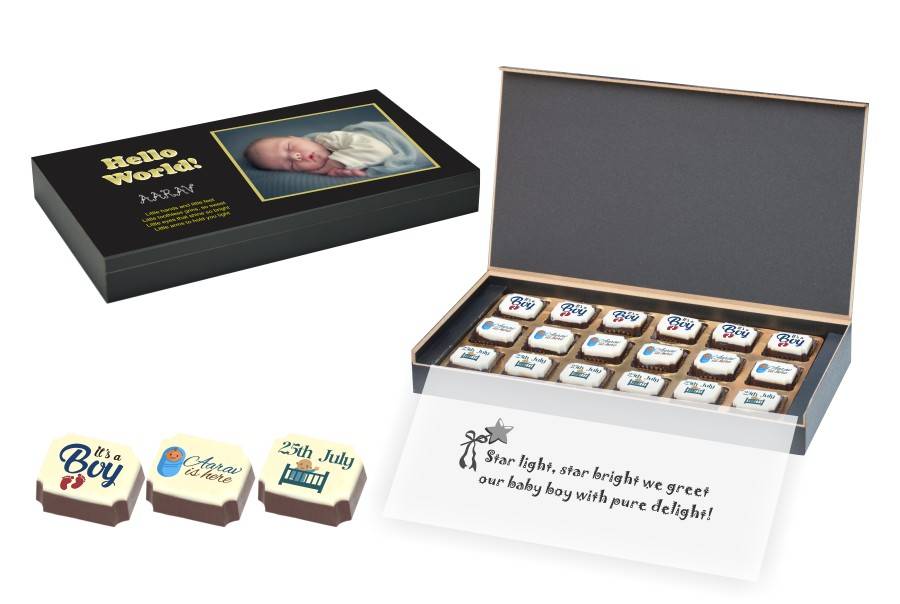 All Printed Candies, Customised Wooden Box, Message on Butter Paper
9 Printed & 9 Assorted Candies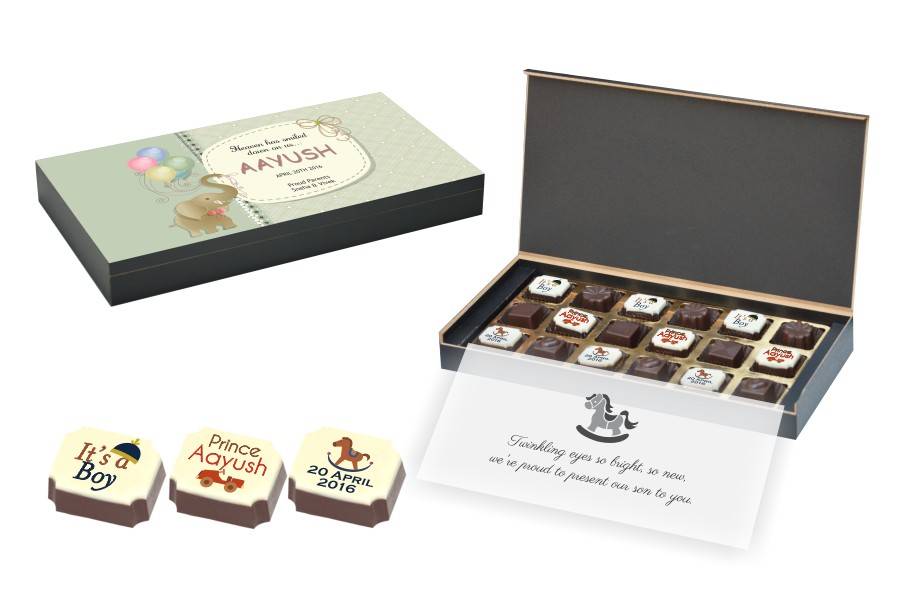 Alternate Printed Candies, Customised Wooden Box, Message on Butter Paper

Printed Bar & 16 Assorted Candies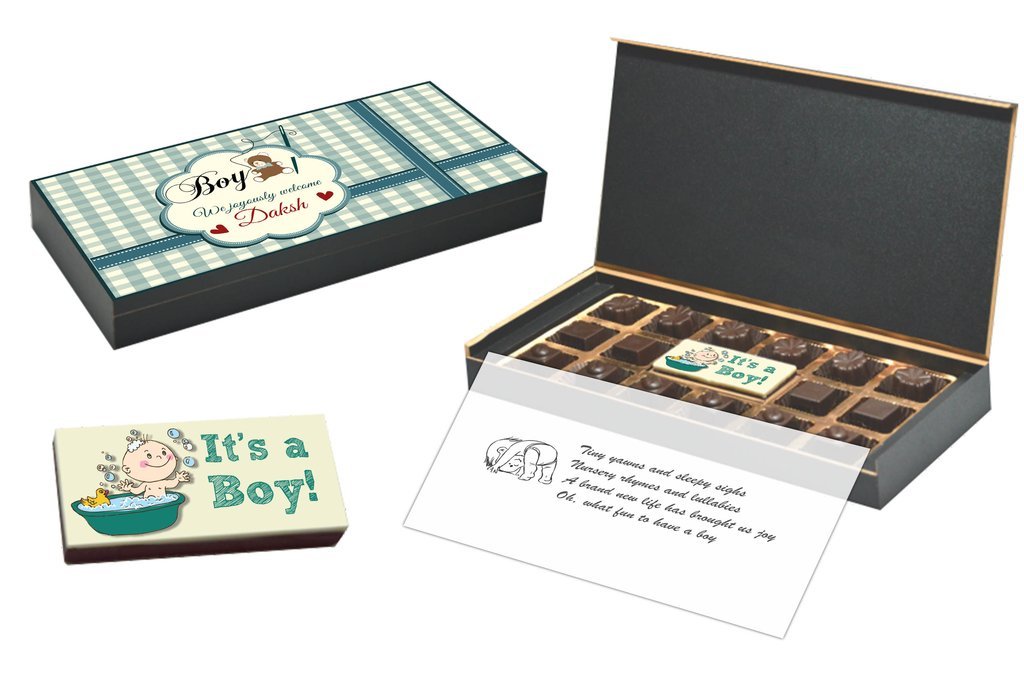 16 Assorted candies with Printed Bar, Customised Wooden Box, Message on Butter Paper

4 Printed & 14 Assorted Candies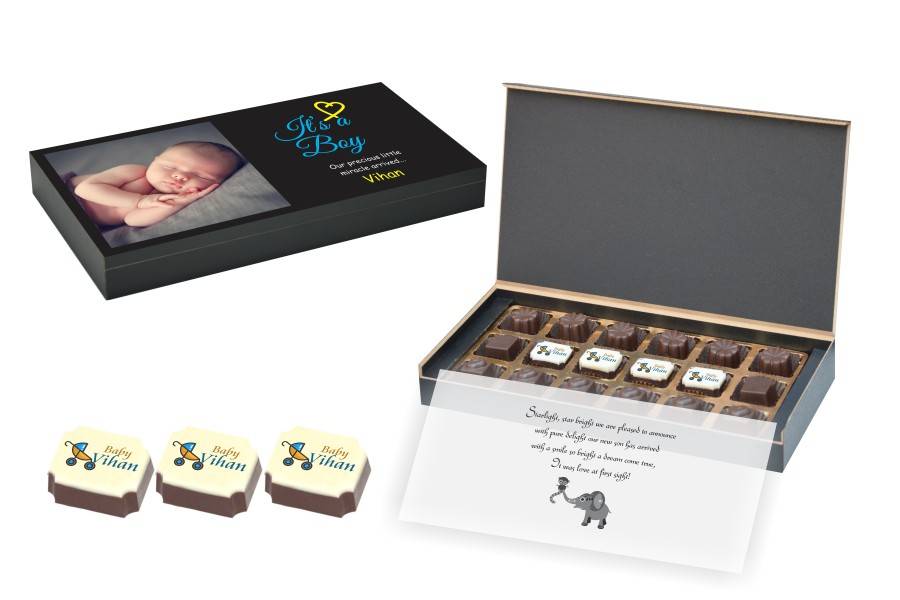 Middle 4 Printed Candies, Customised Wooden Box, Message on Butter Paper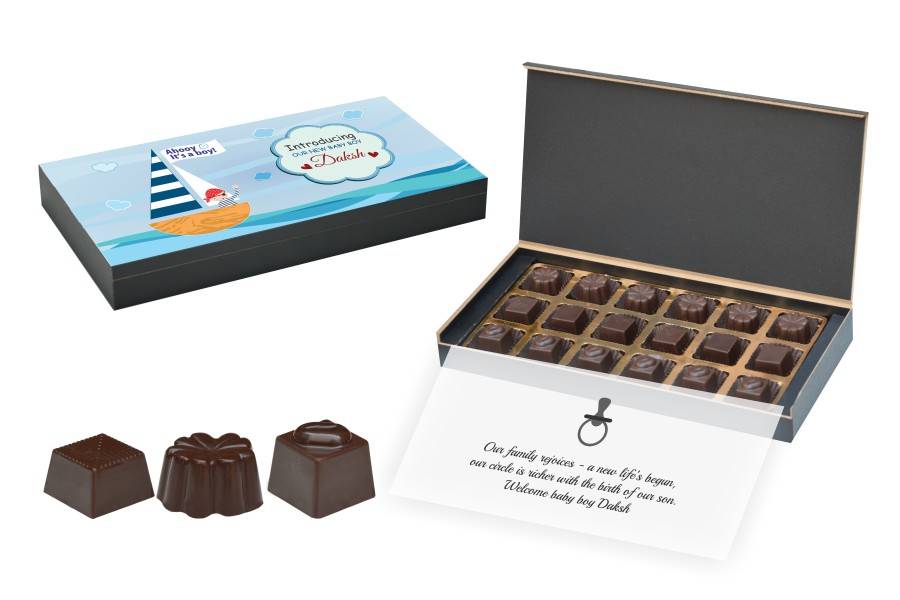 Assorted Candies, Customised Wooden Box, Message on Butter Paper

---
Baby Boy Announcement – 18 Chocolate Boxes by Chococraft
---

Baby Boy Announcement
That heavenly feeling of having a tiny version of yourself right in your arms is something only the fortunate get to experience. That 9 month long anticipation and the many emotions that builds up is what makes the arrival of your baby boy even more special. And those "It's a boy announcements" that the doctor makes to you definitely gives you the adrenaline rushes and you cannot wait to break the news of having been blessed with a baby boy to your near and dear ones. But breaking the news over text messages or over mail is so clichéd. So why not make these baby boy birth announcement extraordinary and unique by sending out baby boy announcement cards or little souvenirs to go along with it?
Not sure what could be the best baby birth announcement gifts? Well rest assured as that is what we are here for- to help you with creative baby announcement ideas.
Chococraft understands the significance of your baby boy announcement for you, so we bring to you our very finely crafted delicious chocolates made especially for the announcement of your new born baby boy. That's right!! 18 Chocolate Box is one of the most unique ways to announce the birth of your baby boy. Brace yourselves for we offer you these wonderful boxes which contain 18 chocolates, both printed as well as assorted, bar as well as cubes of chocolate, middle printed as well as non-printed, according to your choice of configuration. These chocolates are freshly made right after your order has been placed. And the printed candies are made with edible colours which make it safe for consumption. You can also customize the design of the chocolates to suit your requirements. You can even customize the design of these classic wooden chocolate boxes and get various designs printed on them according to your preference. You can even add a picture of your baby girl on the wooden box and make it one of the most creative and unique baby boy announcements. And not only that, you can even write your own cute baby birth announcement on butter papers. These cute little birth announcement wordings will be inserted inside the box.

Baby Boy Announcement – 18 Chocolate Boxes by Chococraft
Gift Categories
Gifting Ideas
Our Speciality
Baby boy birth announcement
Beautiful Classic birth announcements formats
Baby birth announcement gifts
Doorstep delivery across India
Unique Ideas with a personalised message
Design / Make your own Classic birth announcements / favors
Cute baby birth announcement
Products in a wide price range
Classic birth announcements

Classic Birth Announcements
Be ready to be spoilt for choice as we bring to you a variety of deals to choose from. And to name a few-
•   All Printed Candies: This box comes at an affordable price of INR 13,950/- for 10 boxes. Each box contains 2 Printed Candies in beautifully designed wooden boxes with classic birth announcements written on butter paper. Chocolate designs can be altered according to the preference of your birth announcement ideas. Even the wooden boxes can be customized according to your preference. You can order a sample now at INR 1,895 only.
•   9 Printed & 9 Assorted Candies: This wonderful gift box comes at a reasonable price of INR 11,500/- for 10 boxes. Each of these boxes contains 9 printed and 9 assorted candies contained in ornate wooden boxes with sweet birth announcement wordings written on a butter paper. You can even choose the chocolate design according to your preference. You can order your very own sample box at INR 1725 only.
•   Printed Bar & 16 Assorted Candies: This lovely bundle of joy costs INR 10,350/- for a set of 10 boxes. It has one beautifully printed bar chocolate along with 16 assorted candies contained in a customized wooden box with customized and unique birth announcements written on a butter paper which is one of the best baby announcement ideas. You can order your sample box at INR 1495 only
•   4 Printed & 14 Assorted Candies: This delightful box comes at a very affordable price of INR 9950/- for 10 boxes. These contain 4 printed and 14 assorted candies beautifully placed in a customized wooden box with classic birth announcements written on a butter paper. You can order a sample box at INR 1495 only.
•   Assorted Candies: This lovely box costs INR 8950/- for 10 boxes and contains 18 assorted candies which comes in different shapes and sizes. These drops of love are contained in a beautifully designed customized wooden box with new born announcements written on a butter paper. You can grab your very own sample box at INR 1,345 only.

Baby Announcement Chocolate Boxes
We also design baby announcement chocolate boxes based on the themes decided by you for your baby boy announcement. A few famous baby boy announcement themes could include baby animals theme, Pokémon theme, Superheroes theme, Cars themes, Cartoon characters theme etc. So we customize the chocolate box accordingly by printing a picture of the theme on the top of the box. For instance, if the theme is that of baby animals, then we design the wooden box that goes with the theme and paste a picture related to the theme on top of the box along with cute welcome quotes for the new-born baby boy. From Twinkling Stars to Vrooming Cars, Flying broomsticks to Superhoes lifting buildings and bricks, Beyblade to Power Rangers, you can pick any theme under the blue sky and we will strive hard to design the most Creative Birth Announcement gift boxes for you in India.
We can even design the chocolates and candies according to the theme and the printed chocolate will have pictures related to the theme printed on them. There are a variety of templates available for baby boy birth announcements. We could craft little blocks of chocolates with cute baby quotes such as "It's a boy" or "It's a prince" or "Welcome Advay!!" etc. along with his date of birth and cute little graphics printed on the candies. You can even get these cute birth announcements printed on the bars of chocolate. You can check out these templates at our site and browse through variety of options that are available.
These welcome baby announcement gift boxes can be ordered online and delivered to all the major cities in India. For more queries you can visit our site www.chococraft.in and check out these classic baby boy birth announcement gifts for yourself.
No matter if it's the birth announcement for your son or your grandson, 18 Chocolate Box is exactly the kind of birthday boy announcement gifts that you need to break the wonderful news to your friends and family. If it is for your grandson, then you can get cute grandson birth announcement templates printed on the candies such as "Blessed with a Grandson", "Welcoming my Prince", "It's a boy" etc. Whatever may the bond be, adding sweetness and joy to it is what we are here for. No matter if it's a baby boy or a girl, let your family and friends rejoice the arrival of the new born and celebrate it with sweet candies of love's.

For more information, please get in touch with us.