Baby Boy Announcement - 12 Chocolate Box


Chocolates configuration options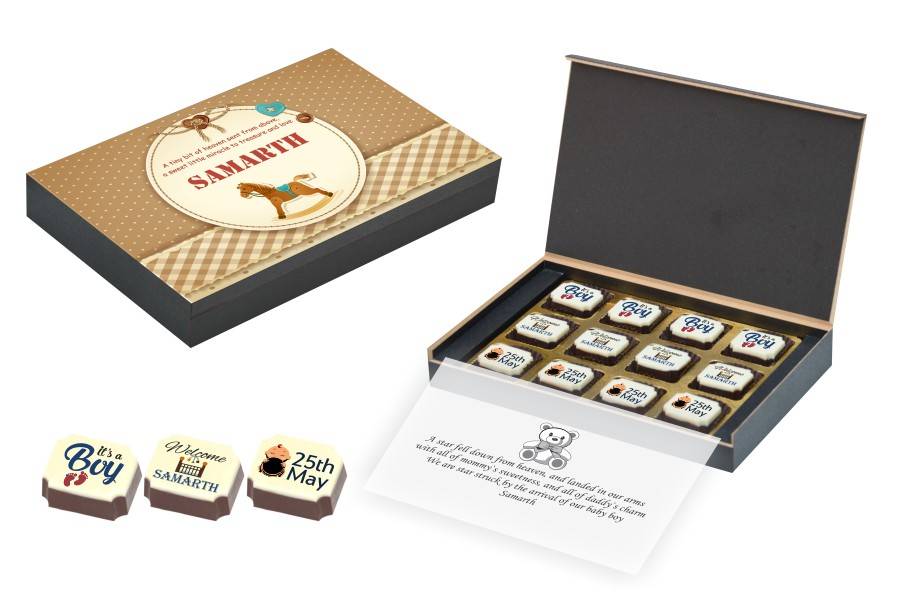 All Printed Candies, Customised Wooden Box, Message on Butter Paper

6 Printed & 6 Assorted Candies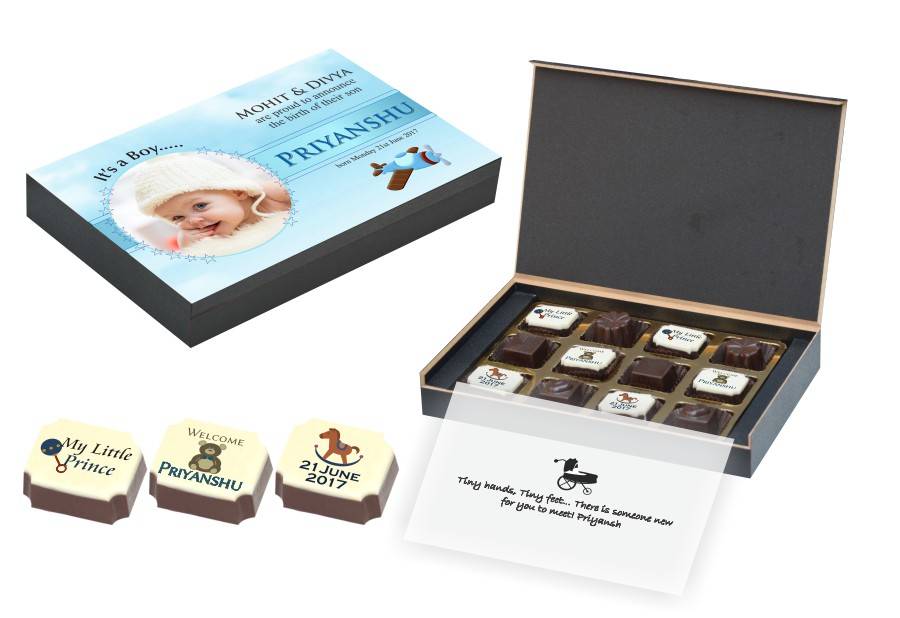 Alternate Printed Candies, Customised Wooden Box, Message on Butter Paper

Printed Bar & 10 Assorted Candies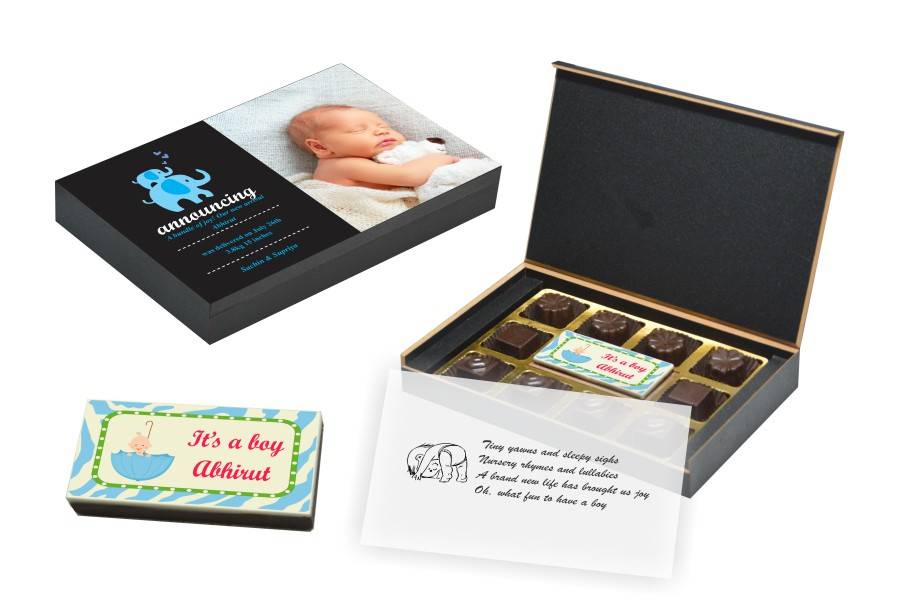 10 Assorted candies with Printed Bar, Customised Wooden Box, Message on Butter Paper

2 Printed & 10 Assorted Candies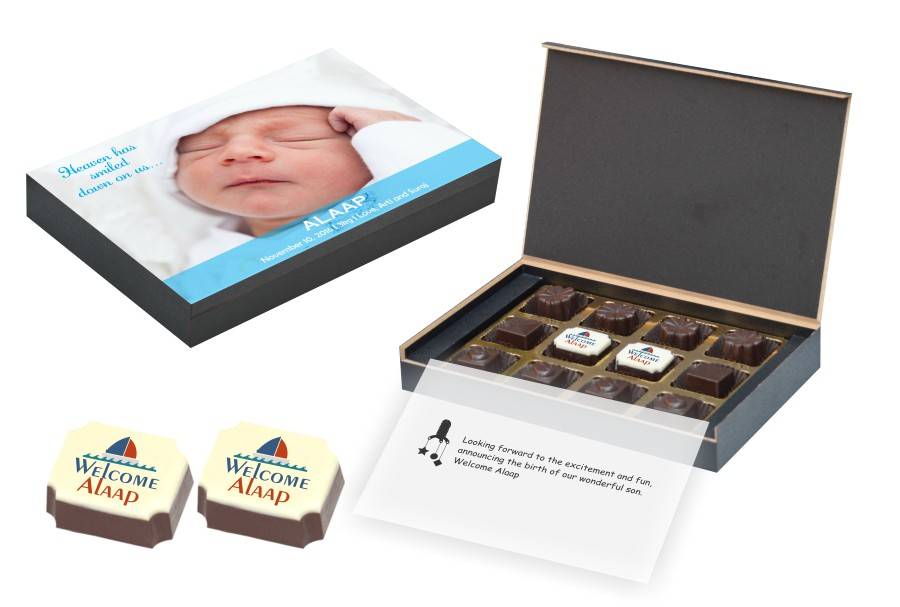 Middle 2 Printed Candies, Customised Wooden Box, Message on Butter Paper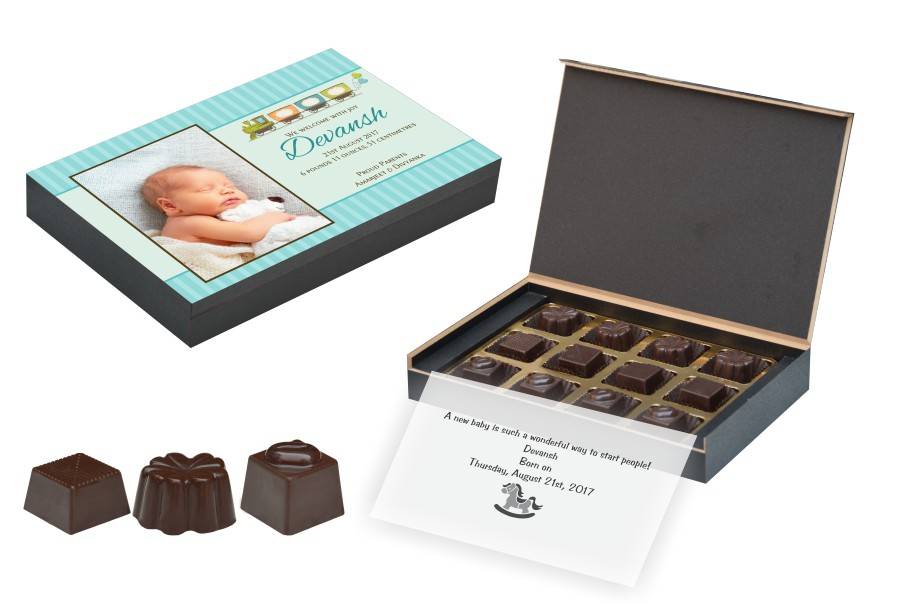 Assorted Candies, Customised Wooden Box, Message on Butter Paper

Baby Boy Announcement - 12 Chocolate Boxes by Chococraft
---

"Babies are such a joy;
we're excited to welcome our new baby boy!"

Unique Baby Boy Announcements by ChocoCraft
Looking for solutions for your baby boy's announcement? You have reached the right place! ChocoCraft brings to you unique solutions and crafty baby announcement ideas, with chocolate gift boxes to accompany them. Our chocolates are made with the finest of ingredients, freshly prepared as and when you place an order for them. They can be customized with images and text printed on them, with absolutely edible, safe, and vibrant ink palettes. You can add special quotes, DOB, and name of the baby to be printed on the chocolates, in addition to his initials or even pictures of the couple embracing the baby.
These chocolates come packed in beautiful and sophisticated wooden boxes which too can be personalized with logos, designs and pictures from the baby's post-birth photo shoot. Inside this unique birth announcement gift, comes a well-designed birth announcement card. You can customize your template from a wide range of samples and selections in our offerings.
In addition to announcements of the most creative kind, unique in their own charm, for more convenience of our customers, we offer our solutions across all major cities in India. Just visit our website, browse through our selections and order your baby announcements online.
Select the configuration of the printed and non-printed chocolates to be placed inside your 12-chocolate box. It could be all printed, all non-printed, alternately printed, or all non-printed assorted candies with one printed middle bar. Customize every element of your announcement box, be it shape, design or flavor, all sitting at home. Finally, ChocoCraft executes on your commands and brings to you exclusive announcements of new born baby boy, all prepared especially for you.

Baby Boy Announcement - 12 Chocolate Box by Chococraft
Gift Categories
Gifting Ideas
Our Speciality
Beautiful Baby boy's announcement
Doorstep delivery across India
Unique Ideas with a personalised message
Design / Make your own Baby boy's announcement / favors
Unique birth announcement
Products in a wide price range
Announcements of new born baby boy

Traditional Birth Announcements
Traditional "it's a boy!" birth announcements are very classy and minimalistic in nature. They are usually written in simple fonts, on minimal bordered light pastel sheets with dark fonts and almost no explicit designs and logos. They keep their content structured in rigid formats, stating basic details of the newborn, like the name of the baby, date of birth, weight (or even height if you may) and the place of birth. At the end we have the complete names of both the parents.
Even though very simple, efficient and containing all the required information of the newborn, they miss out a whole lot on the celebration to go around at the birth of a baby. The point to ponder upon is that this occasion is a moment of joy for everyone associated to the young, even remotely. And to do justice to this euphoric event, the classic birth announcements need to be made with due respect to the grand affair.
For people keeping the announcement of the baby boy's arrival very low-key, and looking for a simple statement without a party to go with it, it certainly does seem justified. They are also very cost effective and don't require a lot of craftsmanship. But again, this celebration, if to be cherished to the fullest, in the most extravagant way, can only be justified with some extra zing added to the traditional birth announcement procedures.

Personalized Birth Announcements
Personalized birth announcement is the choice to go for in today's day and age. Customized invitation cards and special goodie hampers to go with them have gained popularity throughout the world. In the recent past, the announcements of a newborn have come to be more of a social obligation and a symbol of status too. But even irrespective of all these, the young couple would like to showcase the amount of joy this gift from Almighty has blessed them with. One would really wish to go all big and all out with the birth announcements. Hence, personalized invitation cards are a must, making cute as well as creative birth announcement ideas.
You can send special goodie bags, baby clothes or a sophisticated case of well-crafted custom made chocolates along with it too. Personalize your baby boy birth announcement ideas to justify the essence of this event, with even added footprints or initials of the baby, or pictures from the post-maternity photo-shoots.

How to Write a Birth Announcement
Writing a baby announcement is something which seems very simple but there are a few guidelines that you must follow to indeed keep it crisp and simple, yet informative. Here are some tips that you need to look into to prepare a good announcement;
•   The announcement card should be very subtle with the color schemes, patterns and designs. We are not suggesting that you restrain your creativity. But keep with the tone down, since it needs to showcase the innocence of the newborn. It cannot have loud elements from a formal adult party, nor should it have vibrant colors like for young kids' birthday party.
•   Baby birth announcement wording must include basic details like the name, date of birth, place of birth, time of birth, and weight of the baby.
•   Include complete names of both the parents, and also names of all the siblings (if any).
•   Go with signing-off the announcement with the immediate sibling's name. For example, if your newborn is your third baby, sign-off the invitation/announcement by the second-born's name, and if it is second born, sign-off with your firstborn's name.
•   Don't include welcoming paragraphs, or excessively long newborn baby boy quotes from any religious scripture or prose, even if you're going for religious birth announcements
•   Keep the structure as skeletal as possible. Even if you include more such elements, make sure to highlight the basic details of name and date of birth et cetera.
•   Don't use gender-neutral colors if the name of the baby is gender-neutral. If you are still opting for a gender-neutral color tones, make sure that the gender is revealed clearly.
•   Announcements need to be made very close to the event of occurrence. So when your baby is born, we understand you must be preoccupied with so many responsibilities. It is understandable for you to take up to 2 to 3 weeks for the "it's a boy" announcement cards to go out, but don't delay more than that.
•   If the child is adopted and you wish to make it public, also mention the date of adoption and the date of birth separately. It would be rather obvious addition if the child is, say a toddler or older kid. In that case you can also mention the city of birth of the baby and even a special vote of thanks directed towards the adoption agency for making this day come true for you.

Welcome your son into your world, and celebrate the euphoria with all near and dear ones. Cute baby announcements, filled with the love of chocolates, crafted exclusively for you, by none other than ChocoCraft.

"Tiny yawns and sleepy sighs,
cries, coos and lullabies.
A brand new life has just begun,
we're happy to announce we have a son!"

For more information, please get in touch with us.