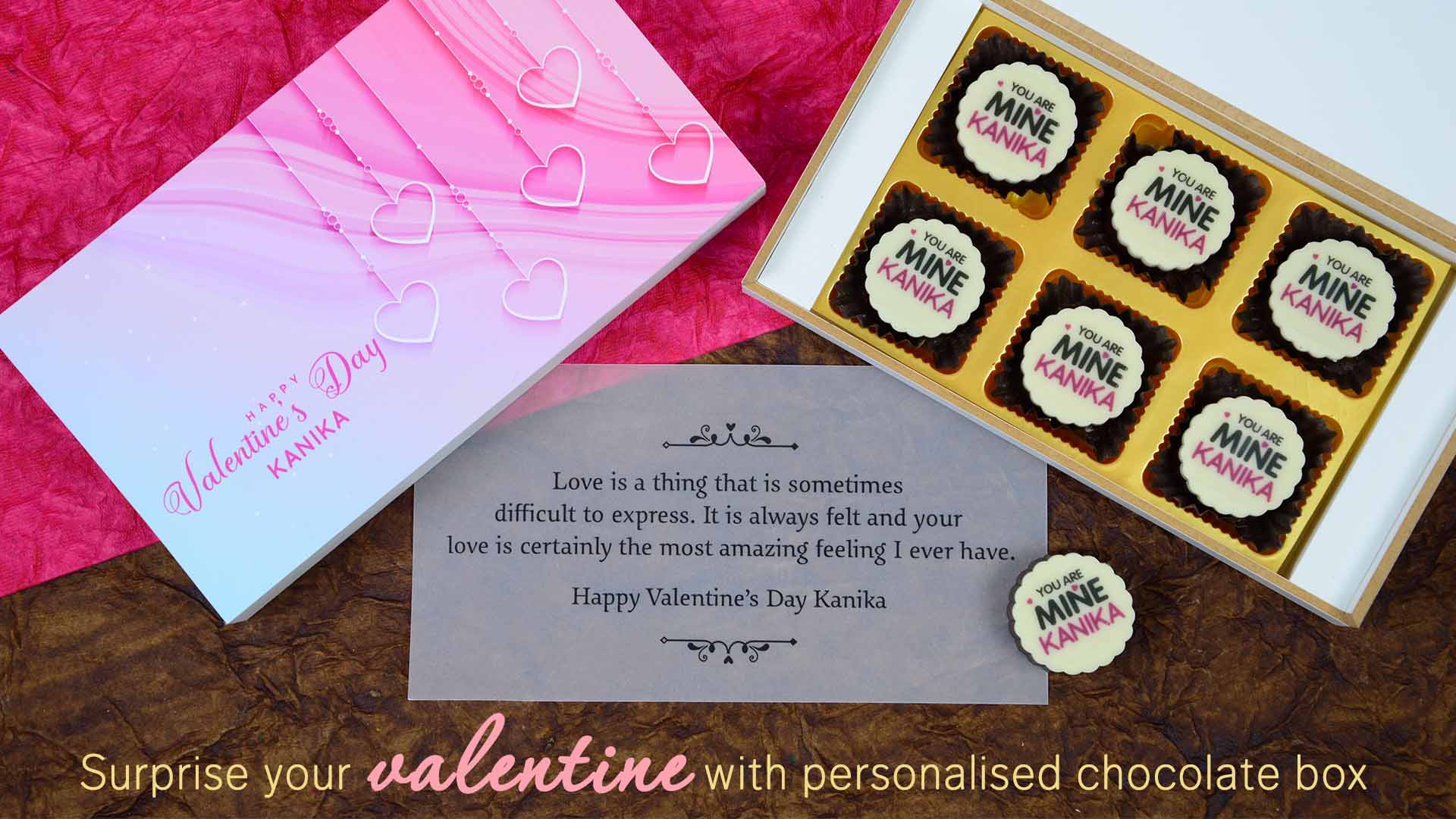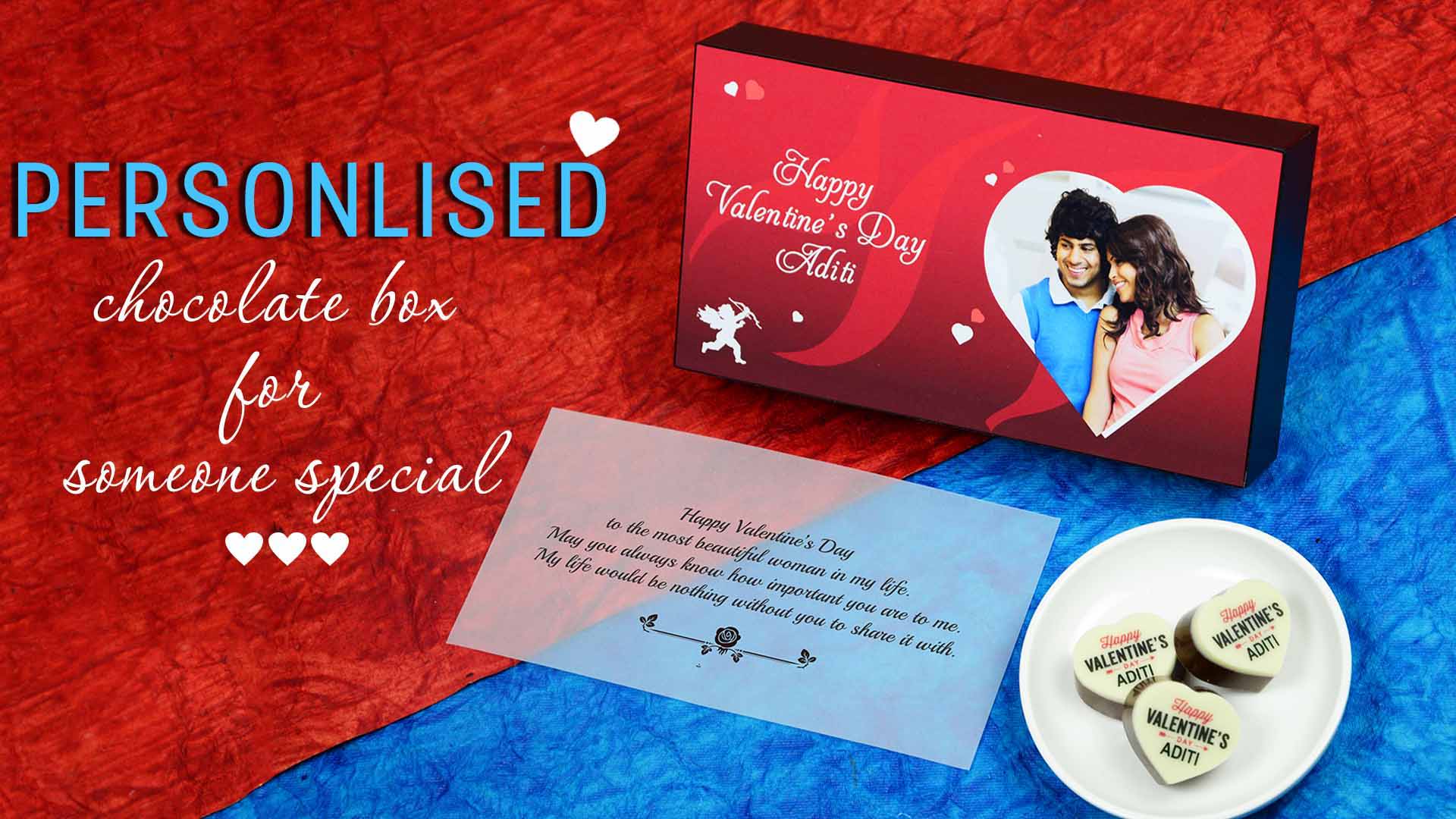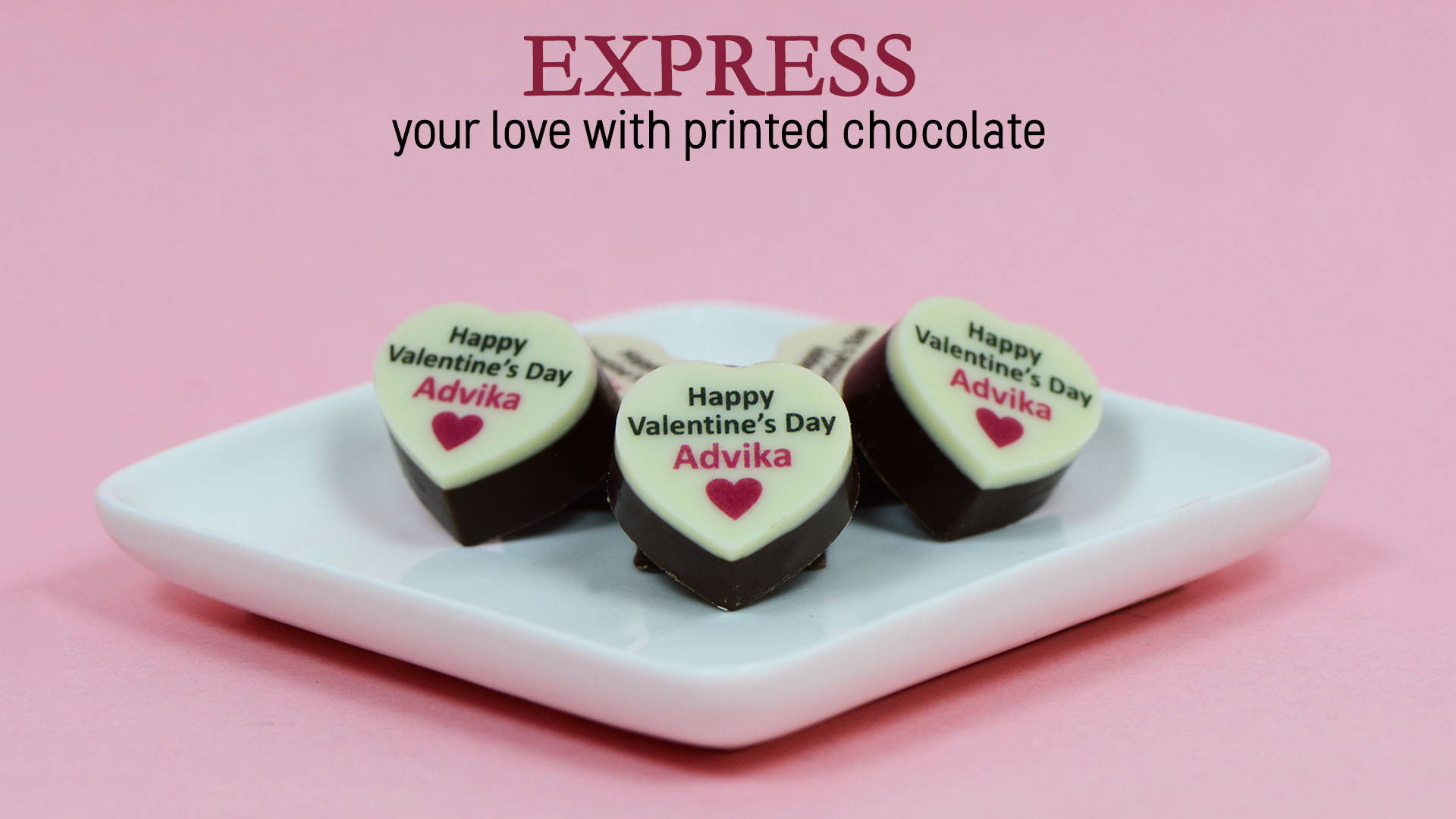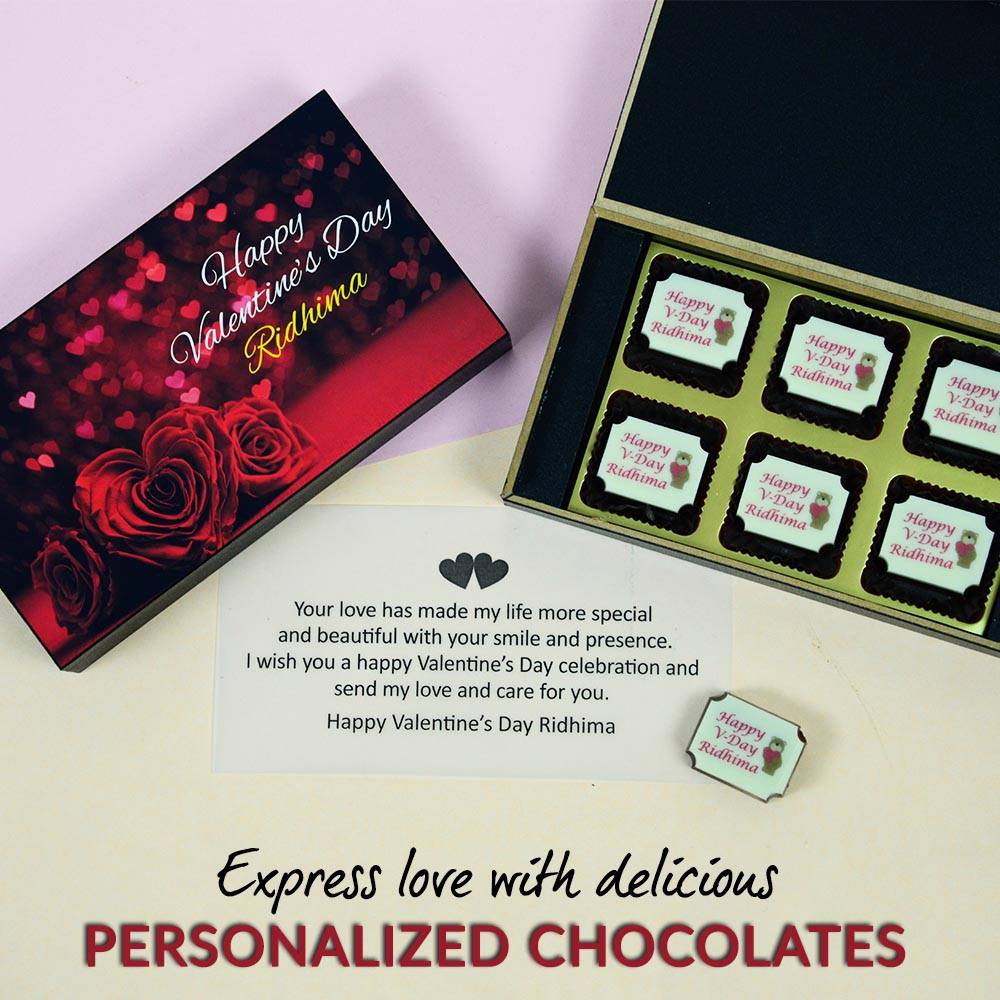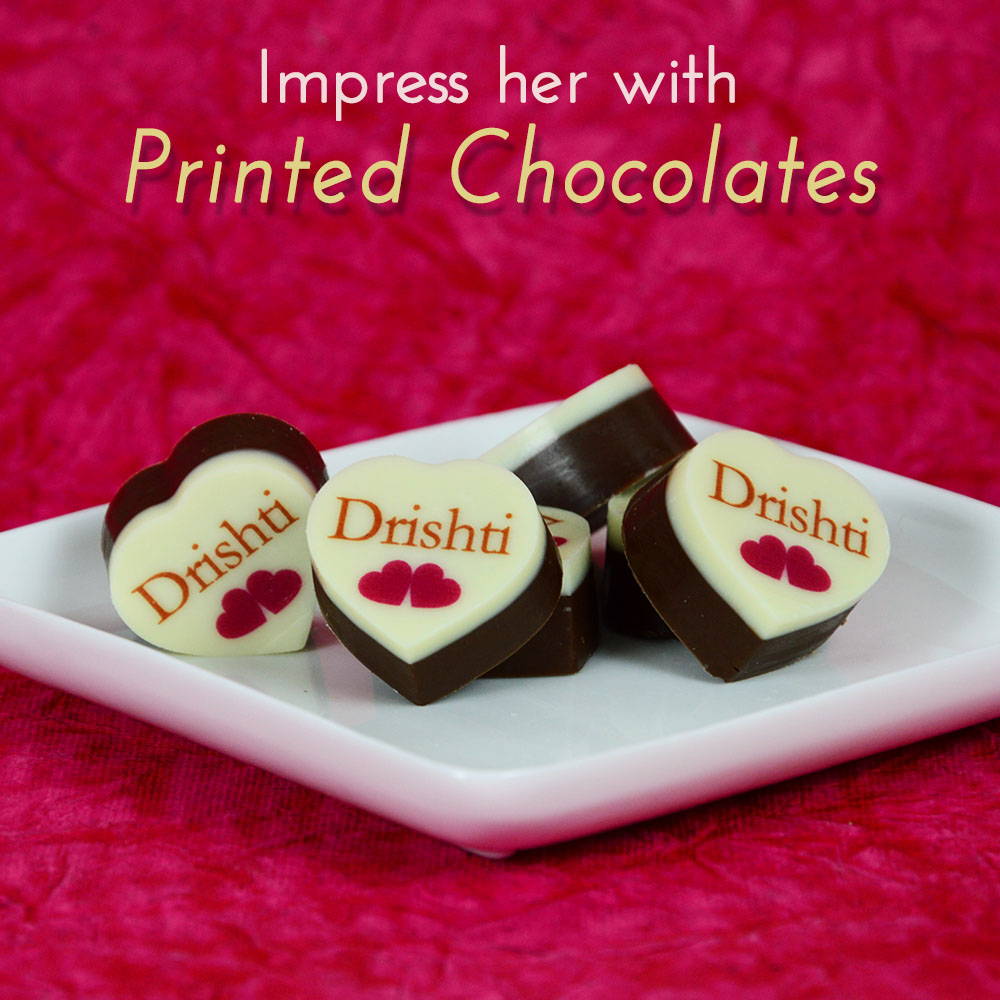 Create your own personalised chocolate gift!
The Concept
PERSONALISED GIFT BOX
+
PRINTED CHOCOLATES
+
MESSAGE
PERSONALISED GIFT BOX                    +                     PRINTED CHOCOLATES                    +                     MESSAGE



Free Delivery Across India
---
---
---
Teddy Day Gifts
Who reminds you that it's time for a good cuddle? Celebrate the warmth and comfort this Teddy Day!
"Teddy bears don't need hearts as they are already stuffed with love"
What is Day? Why is It Important?
Lovers all around the world eagerly look forward to celebrating together Valentine's Day, observed on February 14. The season of love brings together a season of celebration of joy, passion, affection, and admiration. This celebration commences a whole week before the grand event with each day boasting in itself a mood of celebration of a particular symbol of love. The fourth day of this euphoric week, February 10 is celebrated as Teddy Day.
These cuddly balls of fluffiness are largely concerned with love. They symbolize warmth and comfort. They are by large gifted as tokens of affection, sympathy, congratulations and many such unspoken feelings. "A teddy is worth a thousand hugs." They are stuffed animals, yes indeed, with love and most importantly child-like innocence. Very appropriately a day of Valentine's Week is dedicated to this bundle of joy, more importantly, to embrace the underlying qualities and values it represents. This charming day is celebrated familiarly worldwide by gifting a huge and tender teddy bear to remind the receiver of his/her softness and how they have always been there to provide comfort and strength, being calm, composed and supportive all at the same time. These cute teddies add their flavor to the relationships making them eternal.
Teddy Day Gifts from ChocoCraft
| | | |
| --- | --- | --- |
| For Recipients | Gift Types | Our Speciality |
| Unique Gifts for Teddy Day | 6 Chocolate Box | Photo Chocolates |
| Love Gifts for Teddy Day | 9 Chocolate Box | Printed Chocolate Bars |
| Customized Gifts for Teddy Day | 12 Chocolate Box | Personalised Box |
| Personalized Gifts for Teddy Day | 18 Chocolate Box | All India Delivery |
| Gifts for Teddy Day | Gift with Photo | Beautiful Designs |
| Best Gifts for Teddy Day | Gift with Message | Unique Gifts |
This day is especially dedicated to this symbol of joy and it can't do without gifting a Teddy Day Gift. It is dedicated to all those who are very much in love and adore each other's company to the fullest. It is very much a necessity of this occasion to gift your significant other such a tender teddy. This day gives a rest to all misters by for once knowing for sure what to bring as Teddy Day Gifts for her. Gifting one huge pretty and lovely teddy bear to your Valentine gives your relationship a better prospect. In an obvious manner, they make excellent Teddy Day Gifts for gf since there are hardly any women out there who wouldn't decorate one of them in their bedrooms, preserving sweet memories.
Order Special Teddy Day Gifts Online!
Gifts for Teddy Day are obvious but also a bare necessity. To convey a message of more thoughtfulness through the gifts, one needs to put in more effort. You need to think out of the box but to simplify things for you, think about what can be inside the box! Chocolates are the go-to-gifts for all occasions, especially the ones falling on this week's calendar. This day in some manner is only cherished by those who are very much fond of the charm of soft toys. Chocolates, on the other hand, being universally relished and cherished and can be gifted as Teddy Day Gift for bf too and provide a way in which this day can be celebrated by all.
But an ordinary box of chocolates it not just boring but also impersonal. Chocolates can be bought from retail and gifted on any day of the year and not just of Valentine's. The thing which must be kept in mind is that we must offer a gift which in addition to being simple and standard, needs to depict the significance of the gift being given on that particular day. To make the chocolates appropriate according to this charming day, we need to capture the essence of the teddies into the chocolates. You can customized chocolates to make perfect the Teddy Day Special Gift.
We at ChocoCraft do the work for you. We offer customized chocolates as per your choice and decorate them into beautiful packaging as per the occasion. Our special offering is of chocolates with texts and images printed on them. If you not 100% positive if your partner will cherish a stuffed playmate, you can play safe and gift a box of customized Teddy Day chocolates, because you can never go wrong with chocolates! And especially is you are looking for Teddy Day Gifts for boyfriend, chocolates make very lovable Teddy Day Gifts for him too.
You may make it personal with their names printed on them or may even get them customized with personal Teddy Day wishes printed on them. If you wish to step a level up, gift your lover chocolates with your images on them. You may have pictures of you both or to be very cautious, even images of teddies! They shall remind them of their significance in your life and portray how much thought you have put in to make the gifts worth a pleasant memory. ChocoCraft makes your gifts unique, and since you have put in so much work into the relationship, we are to give you some rest too! You can simply order your Teddy Day Gifts Online! For even more convenience of our customers, gifts can be ordered from and delivered to all major cities in India for free!
Some Teddy Day Gift Ideas
It is rightly said by Pam Brown, "A teddy bear is your childhood wrapped up in faded yellow fur, and as such, he commands affection long after he is outgrown." After all who doesn't love to cuddle with a huge ball of fur? Teddy bears can lift any one's mood to be a happy one and in addition to that they can carry several memories with them. Most importantly this day can be enjoyed by kids alike. Teddy bears have traditionally been gifts for kids, both boys and girls before it found a special place in lovers' relationships. Parents can very affectionately gift Teddy Bear Day Gift to their little kids and spread a euphoria of amusement and joy in their hearts.
You can also carry forward your love and messages with some exclusive gifts in addition to the teddies and make adorable gift combos. You can buy gifts to provide the same pamper like the teddies. Some Teddy Day Gift Ideas could be of bouquet of flowers and confectioners, something very compatible with any Valentine's celebration. To make this day's celebration very fitting, you can engage in a cuddle-worthy home stay planned out, watching movies, cooking and sharing all the love. Just like the teddies, a day spent at home provides an escape in our daily hectic lives and provides the much needed quality time with the people who mean the most to us, reminding us to engage in plentiful cuddles!
Enchant your special-someone this Teddy Day. Make your comfort and warmth felt with love and thoughtful gifts from ChocoCraft!
"A teddy bear is a faithful friend you can pick him up at either end, his fur is the color of breakfast toast, and he's always there when you need him most. Happy Teddy Bear Day! "
More Gifts for Valentine's Week by ChocoCraft
Teddy Day Gifts Online
Teddy Day is a special day of love when you celebrate with the cutest gift there is, and that is a teddy. Teddy bears are not just cute, but they also symbolize tenderness of the heart and are the best Teddy Day gifts. Teddy bears are most typically given by guys to their lady loves, in order to charm them and show off how cute they can be. And as for the ladies, they love teddy bears, no matter what age they are, they will always be delighted by this sweetest gift of love.
To make it even more special, you can send them a box of customized chocolates as Teddy Day gifts online. It will be like the icing on the cake. Just when your girl thinks as to how romantic you can get, surprise her with a box of customized chocolates and sweep them off their feet.
When you come to think of it, there are several ways in which you can make a box of chocolates even more special for the one you love. There are lots of options when it comes to customizing. Here are some tips that you can follow to make Teddy Day gifts even more special for her.
The best way to express your love is with a sweet message on your Teddy Day gift for boyfriend or Teddy Day gift for girlfriend. Chocolates and teddies are in fact a girl's favorite gifts, no matter how much she denies or appears to not like them. Girls love these mushy gifts and you have to shower her with such pleasant surprises from time to time in order to make her feel like your princess.
Teddy Day is one such occasion when you can gift your girl as what might appear to be inappropriate one the other days of the year. After all, you are not going to give her a teddy every other day.
When it comes to teddy bears, there is not much option to customize those. However, with chocolates, you can go as much over the board on being romantic as you want. This is the one day you shouldn't mind to be a little cheesy and rather do something that your girlfriend would adore.
Another thing that you can do in your pursuit to appear romantic on this very special day is to get your pictures printed on the chocolates. Getting your pictures printed on chocolates is a delightful gesture for her and makes for a gift that is going to melt her heart. If you want to know how to make your girlfriend happy and give her something that she will absolutely love, you know the answer, its teddy bears and chocolates.
Teddy Day is especially loved by the ladies out there and they look forward to their boyfriends being a little more romantic than usual on this day. Sweep them off their feet with this special gesture and they will love you even more for your effort and care.