Create your own personalised Rakhi gift for your sister!
She is your support, she is your mother when mom is not around, and she is your sister! Its Rakhshabandhan and its time for you to make her feel special and thank her for the endless support and love she has showered upon you for all these years! Gift her a ChocoCraft special and make her day!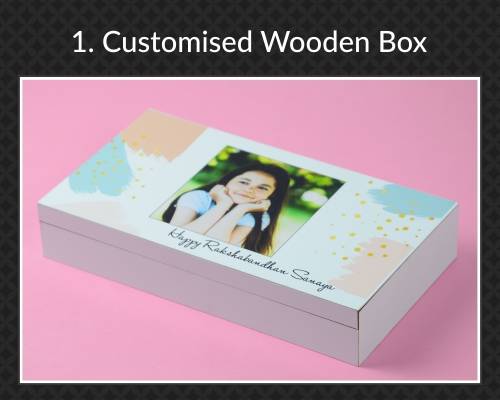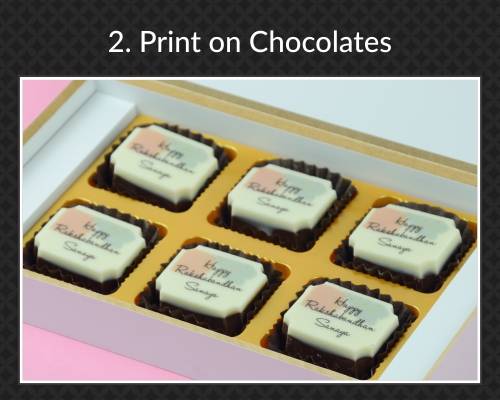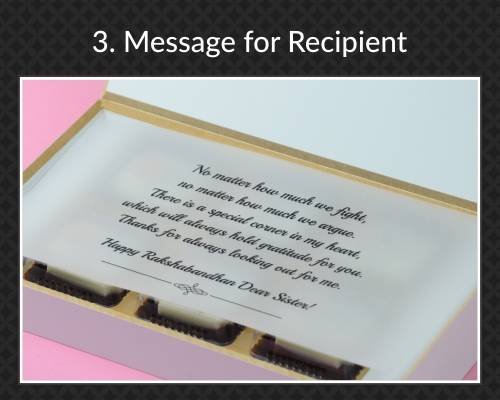 Free Delivery Across India
---
---
---
---
---
Rakhi Gift For Sisters
Of the many bonds that exist in our society, the bond shared between a brother and a sister is the most special one. This love hate relationship entails faultless fights, innocent bickering, unguarded laughters and innumerable sweet memories. And somewhere amidst all those fights over that last piece of cake and arguments over the ownership of the remote control, they unknowingly make a promise to each other to always have each other's back, come what may. Somewhere between standing up against each other to standing up for each other, their relationship blossoms into a beautiful bond. And Raksha bandhan is the day that is solely dedicated to all the sisters and brothers and the many memories that they have shared together. Also, this is the day when the sisters tie a gift on the wrists of their brothers and have the authority to ask their brothers for the best Raksha bandhan gifts
If you want to cherish this special bond with your loved ones or are looking for a last minute gifting ideas for your sister or are confused about the choice of gifts for Raksha bandhan, then you have come to the right place. We earnestly understand how special this day is for you. So, in order to add a bit more sweetness to your bitter-sweet relationship, Chococraft brings to you some of the most unique Raksha bandhan gifts for sisters. "How is it unique and different than the other rakhi gifts available online", one might wonder. Well, we at Chococraft design customized Raksha bandhan gifts for brothers as well as sisters.
Rakhi Gifts for Sister
from ChocoCraft
| | | |
| --- | --- | --- |
| For Recipients | Gift Types | Our Speciality |
| Customised Chocolate Gift for Sister on Rakhi | 6 Chocolate Box | Photo Chocolates |
| Personalised Chocolate Gift for Sister on Rakhi | 9 Chocolate Box | Printed Chocolate Bars |
| Photo Chocolate Gift for Sister on Rakhi | 12 Chocolate Box | Personalised Box |
| Chocolate Gift for Sister on Rakhi | 18 Chocolate Box | All India Delivery |
| Gift for Sister on Rakshabandhan | Gift with Photo | Beautiful Designs |
Customized Chocolate Gifts for Your Sister
Chocolates are a girl's best friend. It is a gift that a girl would never say no to. Chocolates make for a great choice as rakhi gifts for sisters. So the team of Chococraft raked their brains and came up with personalized chocolate ideas that your sister would absolutely love. If you want to convey a sweet yet playful message along with a special raksha bandhan gift for your sister then you can add a sweet message inside the wrapper of every chocolate so that every time she unwraps a chocolate, she is reminded of the beautiful childhood memories that you have shared with each other. In addition to the chocolate cubes, there are also bars of chocolates available. The bars can have a unique message or a quirky one liners engraved on them. These bars can be wrapped in a variety of beautifully customized gift wrappers that is sure to turn out as the best surprise rakhi gift for your sister. The chocolates are also available in other different shapes and sizes according to your requirement. These customized rakhi gifts for your sister along with cute little Raksha Bandhan messages are sure to give her an emotional roller coaster ride down the lane.
Brace yourselves, for, the surprise does not just end here!!! The chocolates come in personalized wooden boxes. The boxes can be designed the way you want them to be and can come in all shapes and sizes. The boxes can also have a picture of your sister or a photo of you along with your sister, any childhood photo that can bring back those sublime memories of those tender days of childhood. These pictures are printed on the chocolate in edible ink which is totally safe for consumption. And the chocolates are made after your order has been placed in order to ensure that the freshest and the best quality of chocolates are sent to you.
If you are in a different city as that of your sister or couldn't go home for Rakshabandhan then worry not because you can order these rakhi gifts for your sister online and get the gift delivered to her anywhere in India. You can also gift these chocolates as a Raksha bandhan gift for your brother and can have his picture printed on the box. These assorted chocolates along with a cute message and a rakhi by you will turn out to be the best gift idea for Rakshabandhan for your brother
Then what are you waiting for??? Hurry up and order your very own customized gift box for rakhi right now!!! This Rakshabandhan, do your rakhi shopping with Chococraft and add a dash of sweetness to your bond.
You can order these sweet little boxes of love online by visiting our website. These little tokens of love come in affordable prices and you are sure to get a good value for your money. There are no delivery charges and these unique raksha bandhan gifts for your sister can be ordered online and delivered to all the major cities in India. For more queries you can visit our site.
Buy Sister Gifts Online India
There are various ideas for Raksha bandhan gift for your sister, apart from our exotic box of chocolates that are sure to take her by surprise. You can also get her a rakhi gift hamper that could contain little things such as customized chocolates by Chococraft, cute little teddy bears, her favourite brand of cosmetics, a bracelet, a coffee mug etc. You can also order various other Raksha bandhan gifts online for your sister such as a beautiful watch, or a lovely dress that has been in her wish list for months or a cool hand bag.
Since, Raksha bandhan is a festival of brothers and sisters, so sisters, in turn, can buy thank you gifts for their brothers or can order Raksha bandhan gifts for their brothers online in order to express their love and affection towards them. You can buy some of the best rakhis online and there are special deals that offer a return rakhi gift for your brother along with the rakhi. Imagine that smile on your brother's face when he opens the box and finds more than rakhi, when he finds love. You can also gift him a rakhi gift hamper as a return gift that would contain your rakhi, our box of assorted chocolates, a t-shirt, a tie etc.
No matter how far you are from your sister, no matter what you choice of gift for Rakshabandhan is, make us a part of your special day by sending your sister more than a gift. By sending her love wrapped up in sweet little chunks of chocolates made especially for her.
Rakhi Gift for Sister
Sisters are special friends that make our childhood all fun and awesome. A sister is always there to help you out, to give you advice, to lend an ear, to support you in need and the one to believe in you. Raksha Bandhan is one occasion, to relive the moments with your sister, to let her know that she is an important part of your life. Raksha Bandhan is a promise to your sister that you will always protect her, love her and be there for her through thick and thin.
The best way to let your sister know how much you love her is by giving her a beautiful and heart touching gift on Raksha Bandhan. Choices of Rakhi gifts for sister are plenty and it can be quite confusing to settle on a gift that will be the best for your sister. Personalized gifts go a long way in conveying your feelings to your sister. Personalized gifts have the ability to express love and appreciation in a beautiful manner. Gifting on any occasion strengthens the relationship. Giving gifts is a way of expressing love and showering affection.
Best Chocolates Gifts for Your Sister
Chocolates make for a great choice as Rakhi gifts for sisters. Chocolates are delicious and loved by all. At ChocoCraft, we understand the beautiful bond you share with your sister and we have created exclusive printed chocolates that make for unique and personalized Rakhi gift for sister.
The best part about our chocolates is that we can print on the chocolates in edible ink. The prints can be anything from a beautiful photo of you and your sister or a simple Happy Raksha Bandhan message. We can even print a Rakhi on the chocolate. You can have an option of giving a mix of assorted and printed chocolates which will definitely delight your sister. The prints on the chocolates are done in edible ink.
The chocolates are packaged in beautiful wooden boxes with Happy Raksha Bandhan printed on them. The elegant boxes augment the beauty of the chocolates further. All the chocolates are made from premium quality ingredients and are delicious to the last bite. All our chocolates are made from premium quality ingredients and delicious till the last bite. The chocolate preparation is undertaken only after you place the order. This ensures that the freshest pieces are sent to you.
Select your flavour from a range of options, send us the picture you want printed and we will do the rest for you. You can even print your heartfelt messages on the chocolate box itself. There is something about chocolates that make it the most endearing and irresistible Raksha Bandhan gifts for sisters. Browse through a variety of designs and flavours and select the one that is best for your loved ones. Chocolates can be delivered to any address in India.
This Raksha Bandhan, send a bond of love to your sister.