Create your own personalised Rakhi gift for your brother!
He has always been there for you, through thick and thin. When you were alone you found him by your side comforting you. So now it's your time to thank him for all his love and affection! And a gift from ChocoCraft is all you need!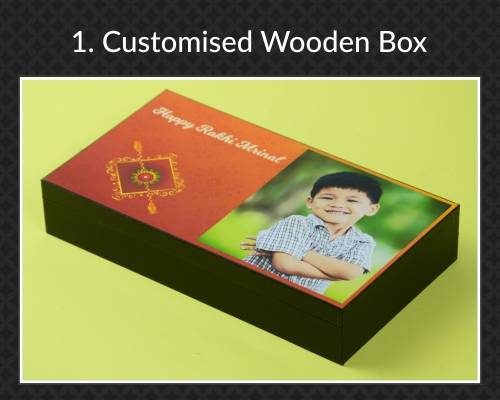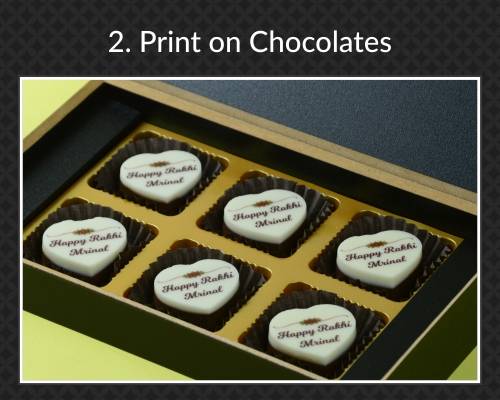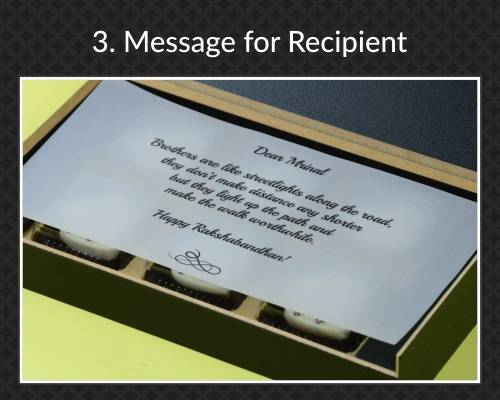 Free Delivery Across India
---
---
---
---
---
Rakhi Gift for Brother
He always vowed to protect you and support you in all stages of life. Return the love and thank him well this Rakshabandhan.
"There's no other love like the love for a brother.
There's no other love like the love from a brother." – Terri Guillemets
Personalised Rakshabandhan Gifts for Brother
It's that time of the year when all the whining, cribbing, and fighting goes up locked into the closet. No matter how often you get to meet or talk, the occasion of Rakshabandhan unites all family and siblings and fills the air with ecstasy and bliss.
This day is dedicated to the special bond shared by brothers and sisters. 'Raksha-Bandhan,' loosely translates to "bond of protection." On this occasion, sisters tie a colourful Rakhi on their brothers' wrists and in return the brothers vow to protect her forever.
It's common to see brothers pampering their sisters on this day, flooding them with gifts in cash and kind. But for a change, it would be very cute if sisters too would shower their brother's with all affection and admiration, for the protective roles they've played in their sisters' lives.
We come across a lot of rakhi with sweets and other gifts in Indian markets, which are 'Rakhi special' in as much as they just have "Rakhi" printed on them. But if you truly wish to felicitate your brother on this auspicious occasion, bring him rakhi gifts which in true terms celebrate the essence of this day, and also embrace his presence in your life.
Personalised gifts make the best choices this season, since they prompt the recipient that special care of taken in preparing the gift for him, even if it was brought and not hand-made. More so, they can never be mass produced unlike the other rakshabandhan gifts available in the market. Hence they show that the receiver's individuality was taken into account.
Rakhi Gifts for Brother
from ChocoCraft
For Recipients
Gift Types
Our Speciality
Raksha Bandhan Chocolate Gift for Brother
6 Chocolate Box
Photo Chocolates
Rakhi Gift for Brother
9 Chocolate Box
Printed Chocolate Bars
Gift for Brother

on Rakhi

12 Chocolate Box
Personalised Box
Gift with Rakhi for Brother
18 Chocolate Box
All India Delivery
Rakhi Gift for Brother
Gift with Photo
Beautiful Designs
Send Rakhi with Chocolates
Traditional sweet-boxes are obviously classic and loved by most. But in many ways, it is the same old same-old. It might not be surprising to hear if the younger generations would rather barter the 'mithayis' for a good heavy box of chocolates.
Rakhi with chocolates make the ideal way of sweetening this occasion, and there is every reason to believe so too. First and foremost, they have a longer shelf life. After a festive day, there usually is a huge stock of ghee-filled sweets left untouched. Chocolates, in the first place, never end up 'being excess,' but still they can be cherished for a longer time, and are easier to be sent across locations a gifts. Chocolates are also a healthier choice when compared to traditional sweets. They have many health benefits intrinsic to them, more so contain a lesser fat and sugar content, especially if you go for healthier variants. Better to not have traditional sweets at all, than going for bland sugar-free sweets, please.
Rakshabandhan Gifts for Brother
by ChocoCraft
ChocoCraft has levelled up the conventional rakhi gift ideas for brothers. We present to you the perfect combination of craft, taste, customised gifts, elegant and sturdy gift boxes, all-favourite chocolates and personalised gestures of affection. Our speciality of chocolates printed with edible ink is sure to make the best gift for rakshabandhan and an absolute head-turner this season. All our offerings are freshly prepared as and when you place an order for them. They are exclusively made for the rightful customer as per their selections and preferences only.
Our gift boxes are made steady in beautiful earthy wooden tones. You can customise them with your pictures, wordings, logos and rakhi designs from our wide offerings and choices. Inside the wooden boxes are our scrumptious and matchless chocolates, which too can be personalised with images are texts printed on them. Personalise the gift with yours and your brother's childhood pictures printed on the chocolates. Also, add a personalised greeting card inside the box, with your preferred template, decorated with your own thoughts and wishes. All our rakhi special gifts for brothers come with a beautiful rakhi inside as well.
Send Rakhi Gifts Online
In today's time and age, nuclear families are up for a rise. With more people managing to shift their base, in prospects of better careers and education, no wonder we see most siblings drifted apart into different cities and counties in their adulthood. But no matter how much you fight, or not get to see each other that often, all mistakes are forgiven when it's time for a hearty celebration of the Rakshabandhan festival.
We often see heavy parcels of sweet boxes and gifts being sent out on this occasion. But rakhi shopping doesn't seem very convenient when you have to take time out from your busy schedules and shop in the overcrowded marts in festive seasons and parcel every item one by one.
Thankfully, we enjoy the option of sending rakhi for brother online, along with gifts for rakshabandhan, all available on our mouse-click. It is more convenient when we want to send gifts across locations. More so, it gives us the option of purchasing something not available at our accessibility, and enables us to search and compare more rakhi gift ideas and options, being more cost effective.
Therefore we at ChocoCraft provide all our solutions to be delivered across all major cities in India. So if you're looking to purchase or send Rakhi gifts online, say to Delhi, Mumbai, Bangalore, Chennai or Ahmadabad, online rakhi shopping from ChocoCraft is the best option for you.
Best Gift for Brother on Rakshabandhan in India
Here are some more rakshabandhan gift ideas to choose from;
Take your brother to a match of his favourite sports team.
Long drives followed by a heavy lunch at a dhaba!
His favourite jersey or shoes autographed by his ideal.
Rakhi hampers with new faux leather wallet, watch and belt set.
Cuff links-tie pin-pocket square and broche set for your little bro to grow into!
Rakhi Gift for Brother
Raksha Bandhan is a festival that celebrates the bond between brother and sister. The word "Bandhan" itself signifies a bond that is filled with love, memories and a promise of protection by the brother towards his sister. Raksha Bandhan is special as strengthens the bond between siblings. You may fight for the whole year, be in different cities or even countries, but Raksha Bandhan is one day where you strive to see the smile on the face of your sibling. Gifting on any occasion strengthens the relationship. Giving gifts is a way of expressing love and showering affection. While there are a lot of gift options, the most beautiful Raksha Bandhan gifts for brother can only be the time taken out for your sibling.
Brothers are our closest friends during childhood. We share all out secrets with them, have some of the best memories with them and have been each other's guide and support system as well. Chocolates are the best Rakhi gifts for brother. Chocolates are something that you always associate with childhood, the sharing of chocolates, the fight for chocolates and Raksha Bandhan is the best day to shower your brother with love and happiness
With ChocoCraft, we manufacture chocolates with a twist. The chocolates are personalized with printing done on them in edible ink. You can choose from a whole variety of chocolate flavours and designs or even customize your own. Printed chocolates are very unique Rakhi gifts for brother as they signify the efforts you have taken to make the day special for your sibling.
We can have the image of a Rakhi printed on the chocolate or a cute childhood photo of you both printed on the chocolate in edible ink. With every rakhi gift for your brother we also send a rakhi.
This Rakshabandhan, pledge to be his shield of protection. Present him with beautiful expressions of sisterly love, only from ChocoCraft.
"It was nice growing up with someone like you – someone to lean on, someone to count on… someone to tell on!"