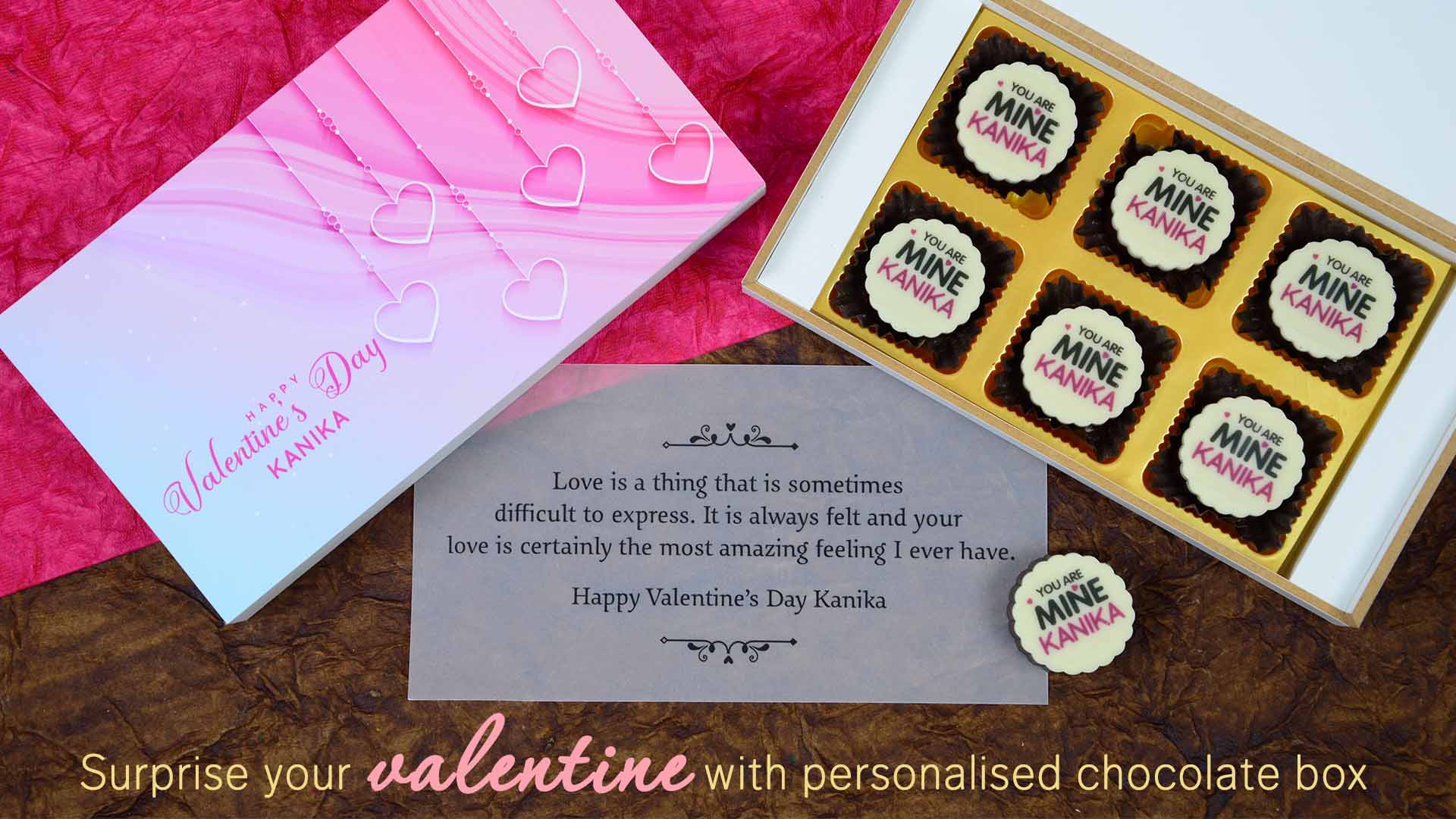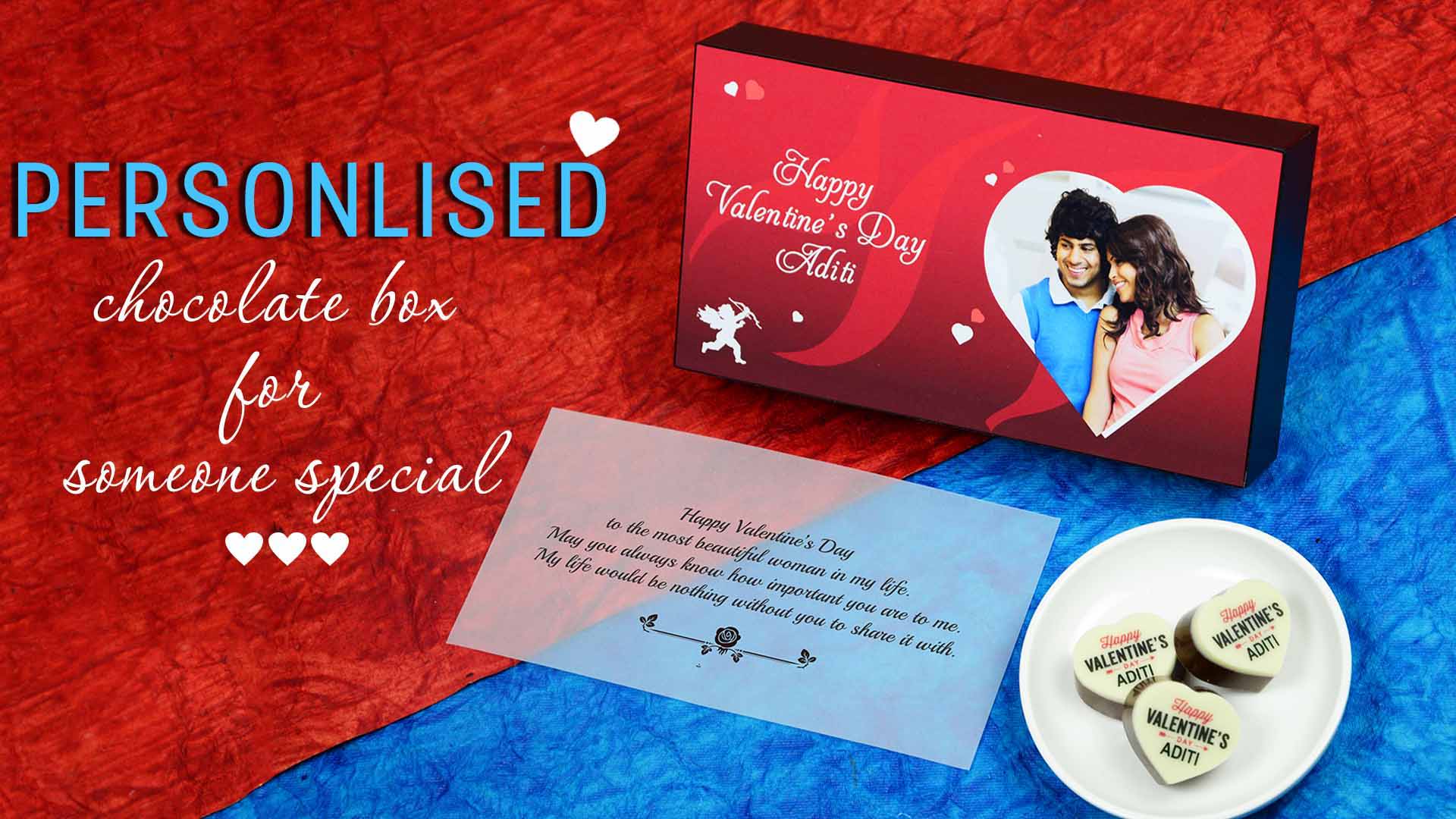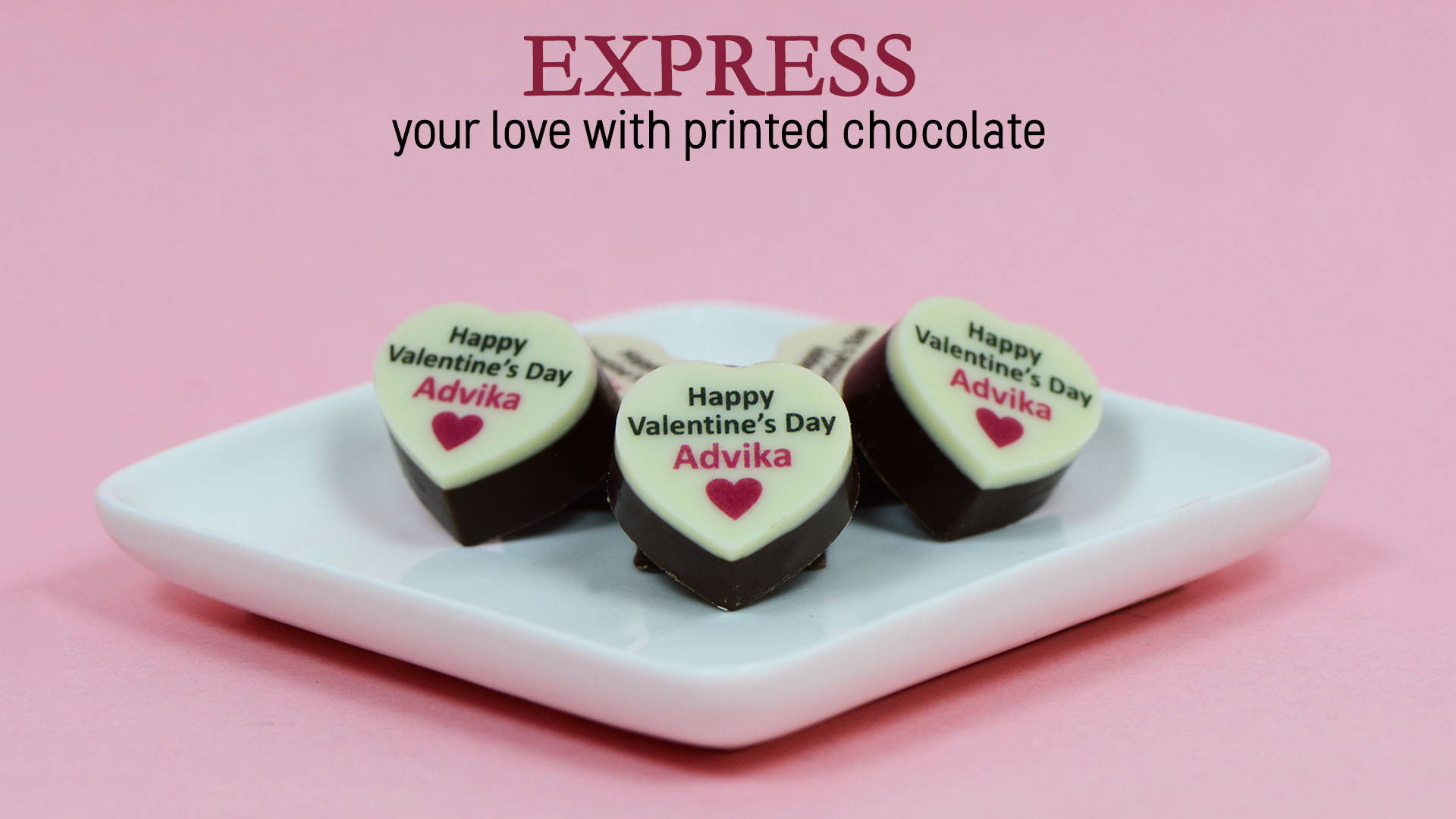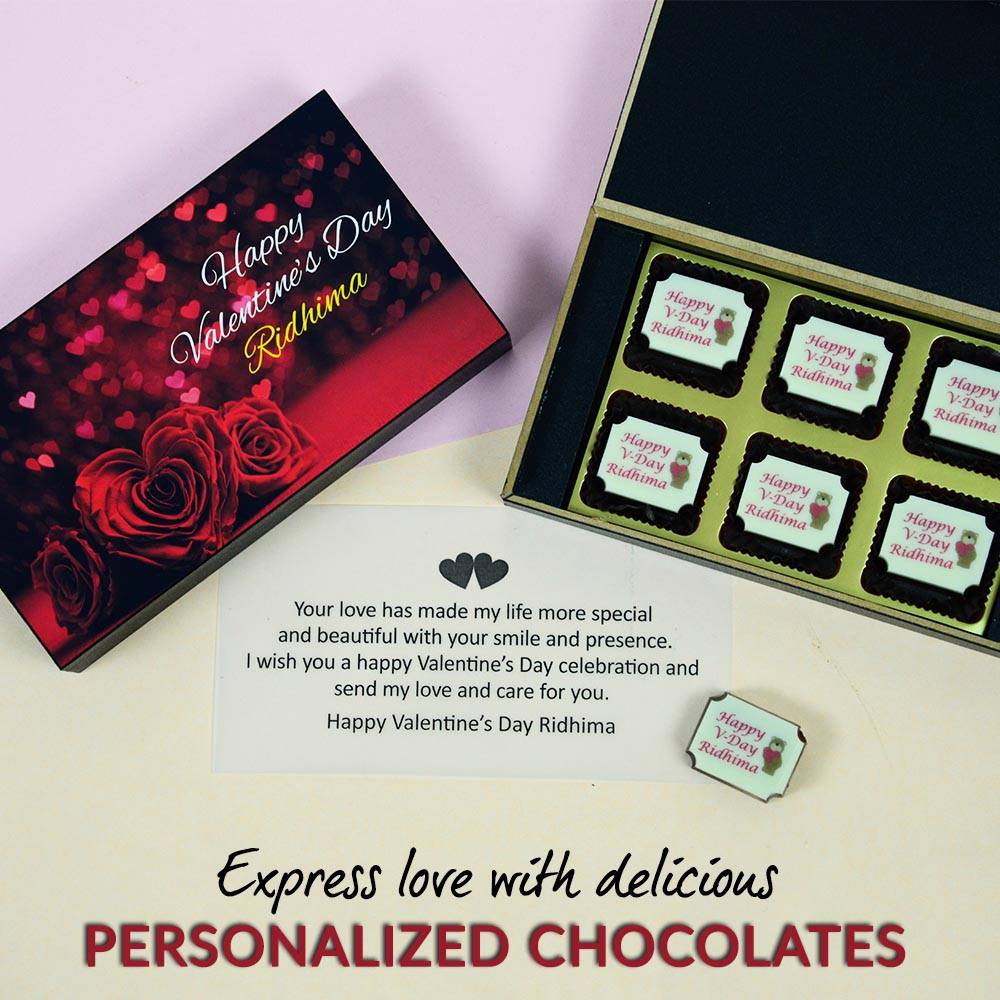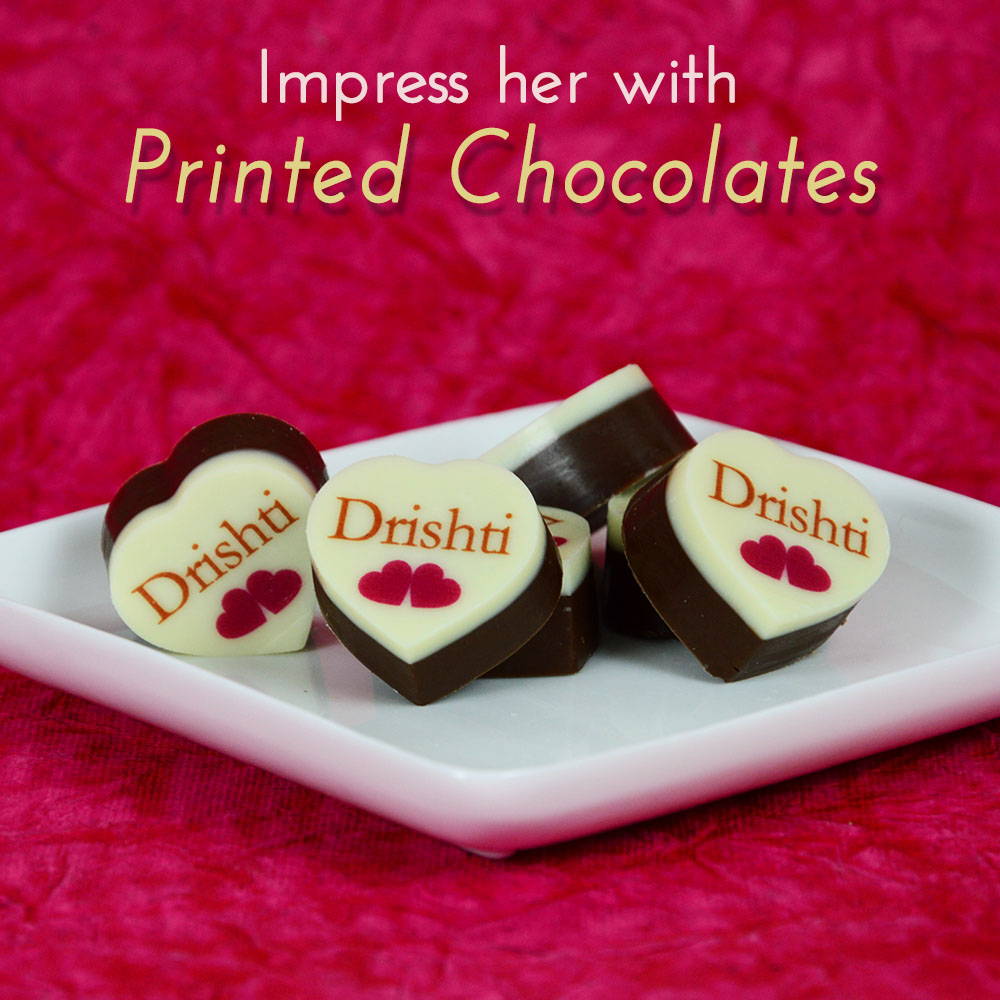 Create your own personalised chocolate gift!
PERSONALISED GIFT BOX                    +                     PRINTED CHOCOLATES                    +                     MESSAGE
The Concept
PERSONALISED GIFT BOX
+
PRINTED CHOCOLATES
+
MESSAGE



Free Delivery Across India
---
---
---
Ideas for Propose Day Gifts
Been thinking of popping the question but waited too long? Take the plunge this Propose Day!
What is the Meaning of Propose Day? Why is It Important?
Couples all over the world look forward to celebrating their togetherness on February 14, the day of love. But the celebrations commence a whole week prior to the Valentine's Day. Each of the seven days is of some great significance and contribute equally in setting up the premises leading to the special occasion. The second day of the week, February 8 is celebrated as Propose Day. You may express your feelings and pop up the question any day of the year and that would be just fine as well. But how about doing it on a day solely dedicated to that?
Unlike the popular notion, 1 out of every 4 women strongly believe getting hitched on Valentine's Day is ideal. Some think it might be too cliché. Well, so be it! Since it is because of this very reason that women anticipate something big about to happen, and certainly might be left disappointed if their expectations are not met. The key to making a successful proposal is preparedness. We don't want our partners to be all frozen at the moment and come up with an impromptu "I need to think about it." Oh no, definitely not! Dropping hints are essential to the perfect proposal for the perfect response. Your partner might be looking forward to the much awaited question 'popping out of nowhere.' You never know, he/she might even be crossing out Valentine dates off the calendar! Propose Day offers the perfect setting and honestly, making it a bit difficult to decline as well!
Any special occasion requires special gifts. And it definitely need not be explicitly stated how special would the day be when you propose to your partner. You may disagree to it but is it completely your choice? Well, to put it into simple words, if somebody is willing to spend the rest of his/her life with someone, expecting a gift in return isn't too much to ask. Gifts are not about promising a comfortable and satisfying life but about portraying your emotions in the form of symbolic gestures. A well thought and appropriate Propose Day Gift considering the situation, location and receiver can seal the deal and ensure a happy memory.
Propose Day Gifts from ChocoCraft
| | | |
| --- | --- | --- |
| For Recipients | Gift Types | Our Specialty |
| Propose Day Gifts for Girlfriend | 6 Chocolate Box | Photo Chocolates |
| Propose Day Gift for Boyfriend | 9 Chocolate Box | Printed Chocolate Bars |
| Customized Gifts for Propose Day | 12 Chocolate Box | Personalised Box |
| Unique Gifts for Propose Day | 18 Chocolate Box | All India Delivery |
| Chocolate Gifts for Propose Day | Gift with Photo | Beautiful Designs |
| Gifts for Propose Day | Personalised Gift | Unique Gifts |
Order Unique Propose Day Gifts Online!
Be it any year of any age, Valentine's Week is guaranteed to come every February. And with Valentine's Week the one inseparable must-have? Chocolates! Chocolates make ideal Propose Day Gifts for her not just because they are simple, neat, and sophisticated but also because they remind the lovers of the deep sweetness in their relationship. And if, say you've long been anticipating the proposal coming your way all along and decide to gift something in return after saying "Yes" but don't know what to go for. Buying gifts can become tedious and stressing but not to forget, chocolates always come to the rescue. No one can ever go wrong with chocolates and they would made very kind and thoughtful Propose Day Gifts for him too. It is very rightly put by John Q. Tuillius, "Nine out of ten people like Chocolate. The tenth person always lies."
You promise to provide your partner with the absolute best and wish to convey how special they are to you. But buying the same old retail box from the mart? Nothing seems so special about that now, does it? Not to worry because this is where we come into the picture. We at ChocoCraft believe every customer deserves a little bit of something extra, a little bit of something unique, simply because each individual is beautiful in a unique way. Every lover, henceforth, must be facilitated with a unique expression of love too.
Customized gifts provide a lot of scope to play around. You may browse our website and choose your options from a wide range. It can also be a chance to get your creative side out. Gifting special chocolates with your partner's name can be very simple and classy. To top up the notch, you may even print your proposal on chocolates and send them to your significant other. No one says no to a box of chocolates. And when they open the box, a beautiful surprise and a (pretty much hard to refuse now) proposal await! We at ChocoCraft specialize in providing chocolates with images print on them. For the already knotted couples, if you're looking for a Propose Day Gifts for wife, remembering old memories of the moment which changed both your lives forever you may relish the idea of chocolates with pictures of those nine yards printed on them. Or for instance if a woman wishes to relive the moment where her husband went down on his knees and boldly wish to revert that back today for him, to make him experience what she did years ago, such chocolates would make perfect Propose Day Gifts for husbands too. Simply order your preferred Propose Day Gifts Online. Gifts can be ordered from and delivered to all major cities in India for free! So stop thinking and get shopping!
Innovative Ideas for Propose Day Gifts
Chocolates have been a must-have for ages. But one may feel the need to gift something along with that too. Coming at proposals, rings are something obvious. Engagement rings can't be counted are gifts so if you wish to do something special, here are some Propose Day Gift Ideas;
Prepare a scrap book following a timeline, stating how you met, where the love brew and depicting how far you've come along together. A trip down memory lane is the absolute Propose Day Gift for girlfriends and will prompt her how finally officiating this special bond is only fitting and the only thing left missing from the timeline.
You may get a bit crafty and prepare a chit-jar containing task coupons, promising you're your partner if he/she agrees to grow old with you, he/she may any day pick out a coupon, requiring you to do that particular task without any complaints and negotiations.
Presuming a proposal coming all along, you may plan a long drive and carry a picnic with your partner's favorite foods. A spontaneous trip out of the city with dinner under the stars and your best efforts with home cooked food - the perfect recipe for an improve Propose Day Gift for boyfriends. An innocent smile and a lot of love is 100% assured to being spotted.
Finally here is the day of sweaty palms and long practices for the perfect speech. It's time to confess your feelings of undying love and a special propose day gift is what the day demands! So at your service are we, ChocoCraft, to help you achieve that perfect day… let your dream one say "Yes!"
"Being deeply loved by someone gives you strength, while loving someone deeply gives you courage" – Lao Tzu
More Gifts for Valentine's week by ChocoCraft
Propose Day Gifts Online
This day is probably the most special day of all the days in the valentine's week. It is the day when some of you will pluck up the courage of finally telling someone that you love them. As for the couples who are already past that phase, you will be reviving the romance and living up all the moments again. On this day, you cannot afford to let anything go wrong and try to make every effort to get that special someone to like you back.
One of the best things that you can do to make sure everything goes according to your plan is by getting a nice gift for the one you love. Be it a Propose Day gift for boyfriend or Propose Day gift for girlfriend, or be it for someone you want to propose, the gift has to be perfect. What is better than a box of chocolates to make sure of that? You can never go wrong with chocolates and they are also one of the best Propose Days gifts for your special someone. There is nobody who is going to say to say no to a box full of chocolates, more so when it has been customized according to their tastes and likes.
The one thing that you want on Propose Day is everything to go just right and your loved one to reciprocate your feelings. Well, give them a box of their favorite treats and you will have at least something they won't be saying no to. Here are a few ways in which you can make Propose Day even more special with chocolates.
The best thing that you can do to sweep your partner off their feet is getting them a gift that they won't be able to say no to. Chocolates are one such thing, that everybody loves. To make sure that your love interest can't deny your gift, get them chocolates, and if it's a lady, get flowers too. Chocolates make the best gift and are an absolute favorite of the ladies. The flowers would be like the icing on the cake.
A great way to propose would be to surprise the opposite person with a chocolate that says what you want to say but cannot pluck up the courage to or feel delightfully shy. Get your personal message printed on a piece of chocolate and present it to your loved one. They will not only be utterly surprised but also melt with the sweetness of your gesture.
You can also go ahead and get your pictures printed on the chocolates, if you have any, and as you give it to your lady love, watch them brighten up with joy. Chocolates make everything better and are therefore rightfully considered to be the perfect gifting option.
Follow these steps and get your significant other Propose Day gifts online to make their day even more memorable and beautiful. Get your romantic side on with these delightful gestures.