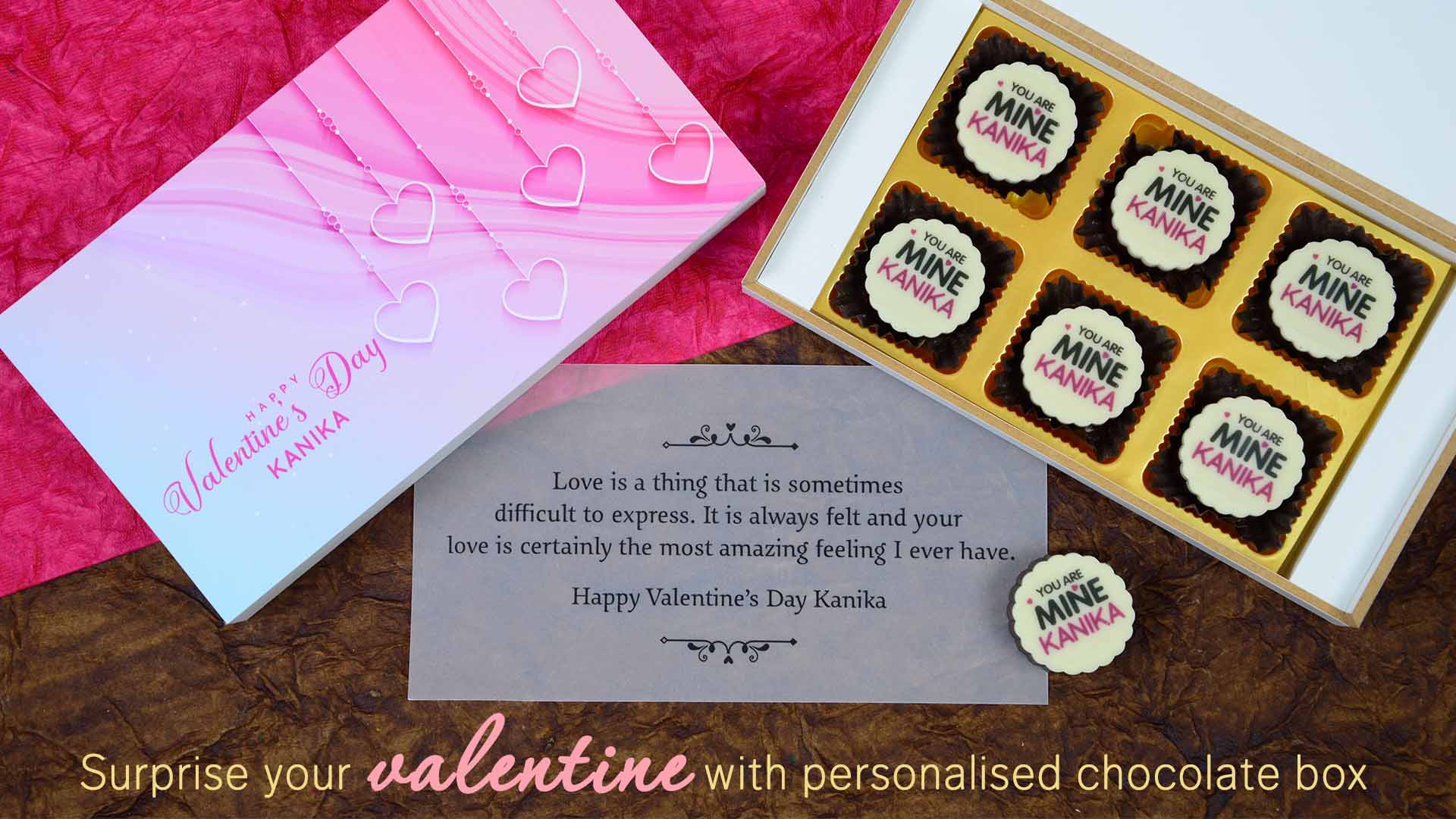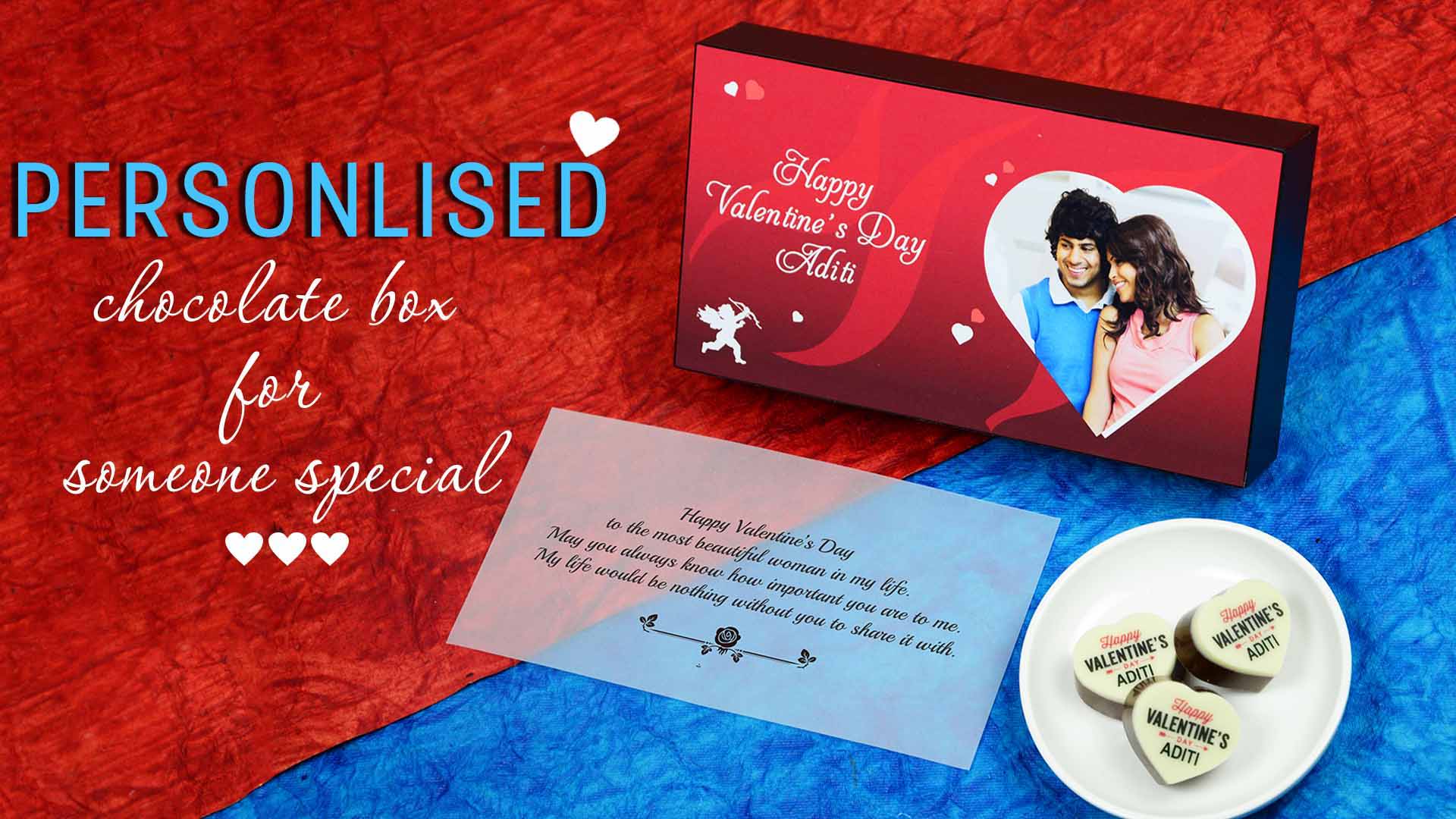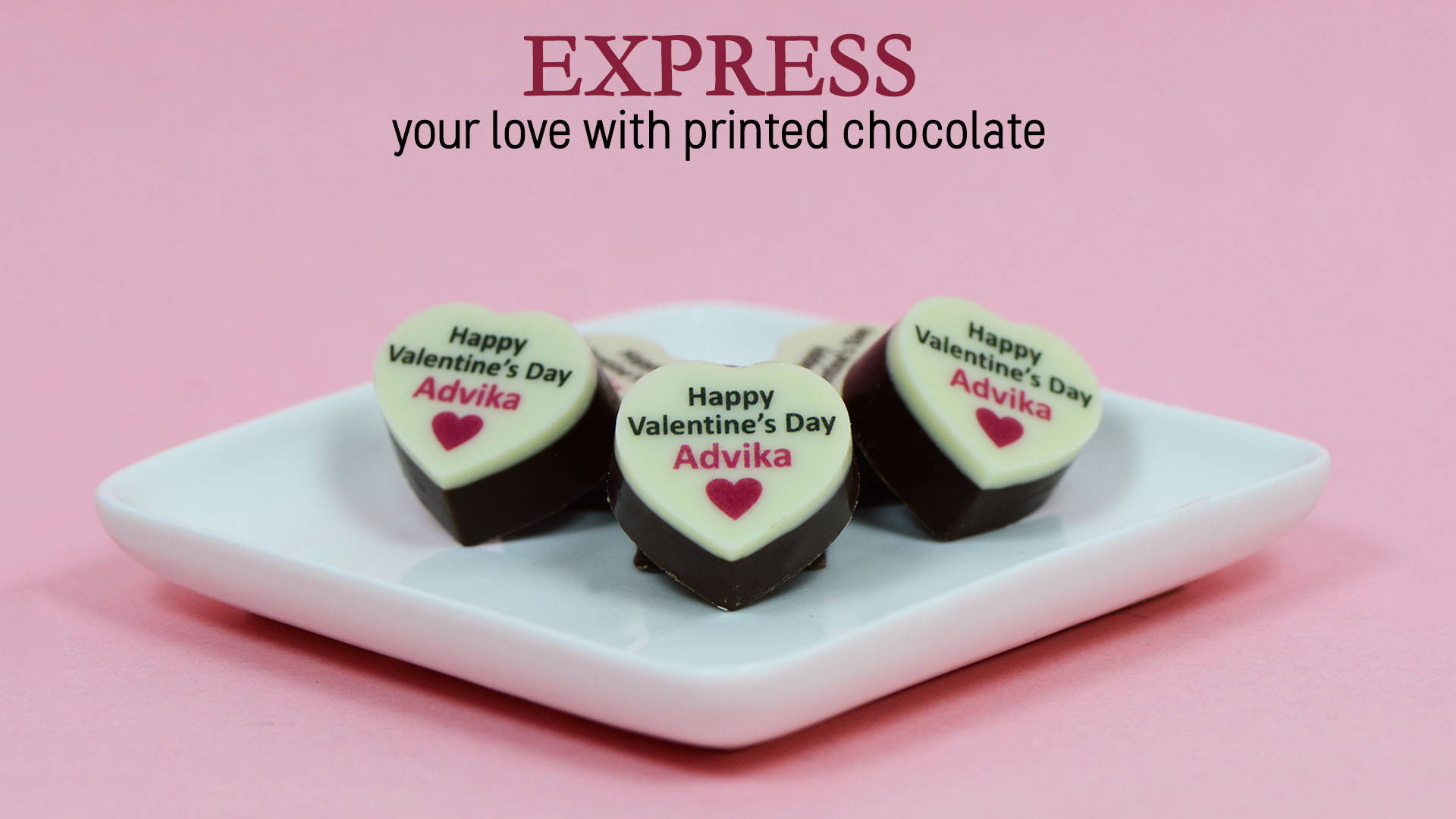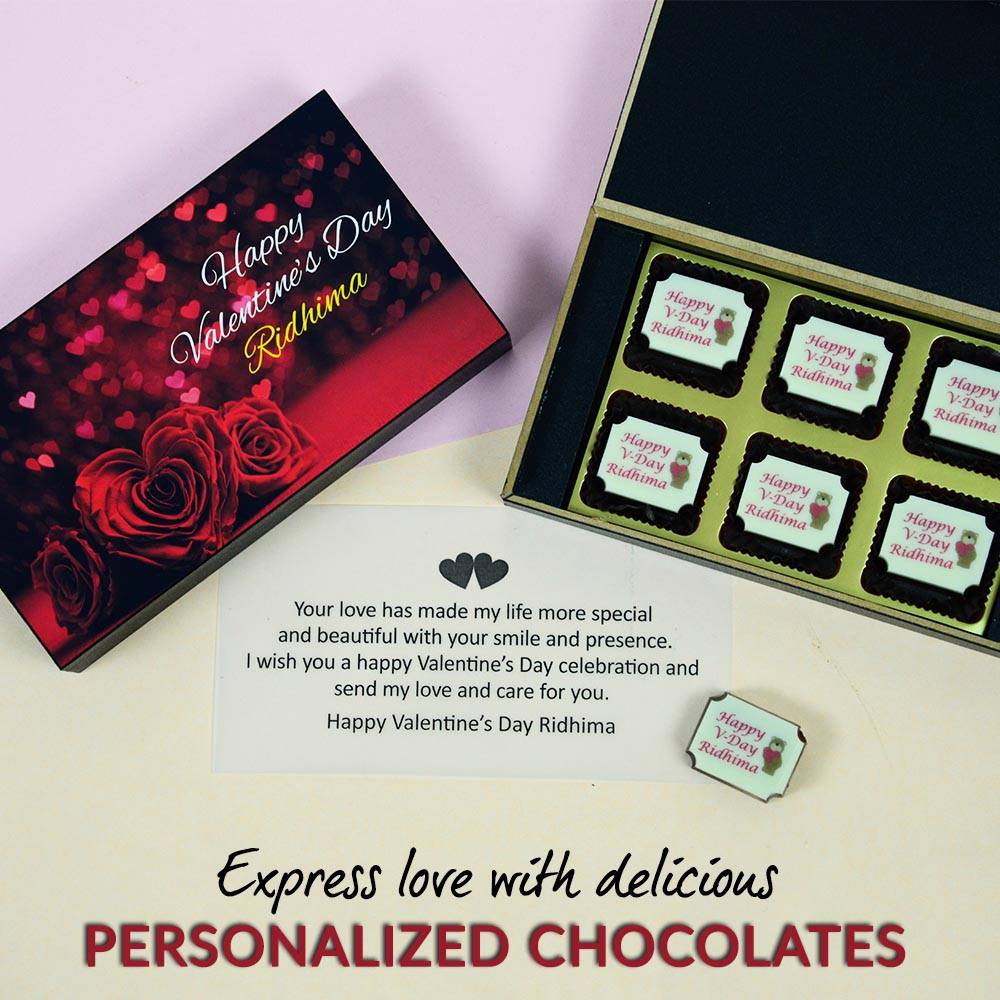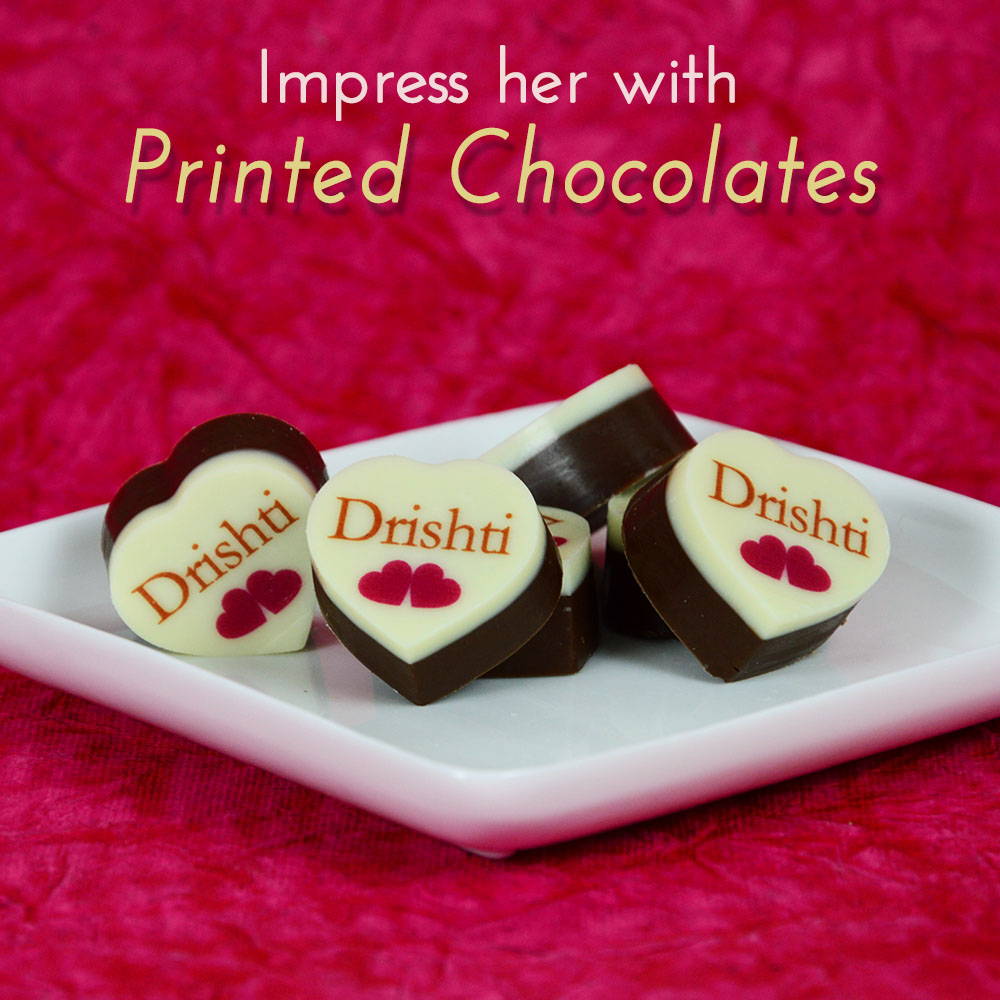 Create your own personalised chocolate gift!
The Concept
PERSONALISED GIFT BOX
+
PRINTED CHOCOLATES
+
MESSAGE
PERSONALISED GIFT BOX                    +                     PRINTED CHOCOLATES                    +                     MESSAGE



Free Delivery Across India
---
---
---
Gifts for Promise Day
How can love be marked eternal without a commitment? Make your vows this Promise Day!
"A true promise is spoken by the heart, neither given by pledge nor written"
What is Promise Day? Why is it important?
St. Valentine's birthday, shortened and celebrated worldwide as Valentine's Day on February 14 is a significant day for most couples. It is celebrated as an expression for love and passion. Be it your better half, special friend, close family member or even your kids- any significant person in your life can be your Valentine whom you wish to show how special they are to you. We see people gifting one another chocolates and confectioneries, teddies or may be even flowers to expression their love, passion and sense of gratitude for each other.
Valentine's Day in today's day and age isn't limited to celebrating love on just one singular day. On the 7th day of February we see Valentine's Week commencing, simply because maybe a week of celebration might do justice to the passion you have for your special-someone! Each day of the week is of great significance. The fifth day is marked as Promise Day and celebrated on February 11 of every year.
Promise Day is one of the most beautiful days because it is not just about Promise Day Gifts like teddy bears and chocolates or embracing love by hugs and kisses. It is about celebrating the eternal bond between the two, promising to keep up the love for the rest of their lives. Making a promise on this day makes it much more enduring and significant in addition to providing an expression of seriousness to the relationship. By making a true promise to ensure to give the best and most satisfying life to your loved one, one can build a true and healthy connection for life, in any relation. And in order to express this idea, a Promise Day Special Gift is essential. How beautiful is it when a father promises his daughter to be her friend, philosopher and guide for life? He may gift her a promise ring which she may embrace every day and be constantly reminded about her father's presence in her life. This is so because gifts are not about materialistic pleasures but more about symbolic expressions.
Order special Promise Day Gifts Online!
Surely a gift received brings a lot of joy, but for the buyer it may be a tedious job. Well, we at ChocoCraft try to simplify it for you by breaking down the most appropriate gifting solutions. We bring to you a host of customized gifts for occasions like weddings, birthdays, Diwali and even corporate greetings.
But now on the occasion of Valentine's week, according to tradition and history, nothing says "I Love You" better than chocolates but gifting the same old box from retail is possibly the most impersonal way you may present something. Not to worry, since we at ChocoCraft have merged exquisite chocolates and beautiful customized packages because we believe every customer is unique and they deserve nothing less than something exclusively crafted just for them.
Our special offering is chocolates with prints on them. We make chocolates with designs, logos or messages printed on them. These are elegantly packed in boxes which are also customized according to the occasion. On the occasion of Promise Day, a box of well-crafted chocolates with customized promissory messages would be as appropriate as it could be. Log on to www.chococraft.in and for yourself decide if we can satisfactorily deliver what we promise! You may simply visit the mentioned website and browse through the various categories and order Promise Day Gifts Online. For more convenience, gifts can be ordered from and delivered to all major cities in India for free!
Promise Day Gifts from ChocoCraft
| | | |
| --- | --- | --- |
| For Recipients | Gift Types | Our Speciality |
| Promise Day Gift for Girlfriend | 6 Chocolate Box | Photo Chocolates |
| Promise Day Gift for Boyfriend | 9 Chocolate Box | Printed Chocolate Bars |
| Promise Day Gifts for Husband | 12 Chocolate Box | Personalised Box |
| Promise Day Gift for Wife | 18 Chocolate Box | All India Delivery |
| Gifts for Promise Day | Gift with Photo | Beautiful Designs |
| Personalized Gifts for Promise Day | Personalised Gift | Unique Gifts |
Some Promise Day Gift Ideas
Chocolates make the 'sweetest' gifts for any Valentine's Week day and put the 'happy' in 'Happy Promise Day Gifts'. They are symbols of love and friendship. And the most appropriate gifts are the ones which truly capture the essence of the relationship and of the receiver. This is the reason why customized gifts make neat, simple and elegant Promise Day Gifts for him as well as Promise Day Gifts for her, and are the most sought after. Traditionally, flowers like roses are Valentine's favorite. Red being a symbol of love, red roses are even dubbed 'Valentine's roses'. Cakes, like the people's favorite chocolate cake (because it is chocolate!) are highly appreciated. Teddies make very cute Promise Day Gifts for Girlfriends.
Other Promise Day Gift Ideas may include a private vacation for just them two to experience some much needed lone time which is often missed out in the busy metropolitan lives which we lead. Couple gifts like matching T-shirts, customized coffee mugs, photo frames and pillows can be truly adorable. Or even couple's Spa therapy appointment can also be a good Promise Day Gift where the lovers can enjoy themselves away from the worries of the empirical world and relax their way into solitude promising to provide each other a life of comfort and warmth. Rings are symbols of commitment. Ideally we see men proposing their women with fancy solitaire rings. But people underestimate how fitting are rings as Promise Day Gifts for Boyfriends too! After all even men wish for a little bit commitment! The woman must be classy and intimidating who presents her man with a ring with a diamond as strong as their relationship. Fancy dinners are very common so to up the passion quotient, a passionate surprise candle light dinner at home can be truly win one's heart. A caring husband himself preparing dinner and surprising his wife when she comes back home from work, promising to stand by her and not before her; promising to share the load forever… a Promise Day Gift for her which speaks volumes.
Shower your love and express your true selves this Promise Day. Make your special someone feel they truly are someone special to you with elegant gifts and expressions of love from ChocoCraft!
"Promises are the uniquely human way of ordering the future, making it predictable and reliable to the extent that this is humanly possible.Hannah Arendt"
More Gifts for Valentine's week by ChocoCraft
Promise Day Gifts Online
The Promise Day is a little extra special among all the other days of the valentine's week. On Promise Day, you make a promise to your loved one and vow to fulfill it. You could make just any promise, it could be a big one, or a small one, but you would obviously want to mark it with a 'sweet' gesture. One of the best ways to celebrate this particular day of love is with chocolates, which will be even better if you get them customized.
Customized chocolates are one of the best ways to express your love for your special someone. They will not just remember your promise but will also have something to mark a new beginning with. After all, when it comes to love, every moment is reason to celebrate, and what better way than with chocolates to do it? Make your promise is valued with the most lovable Promise Day gifts online, and that is chocolates.
There are a lot of reasons why chocolates make the best Promise Day gifts. Here are some of the reasons why you should consider a box of customized chocolates to your loved one while making a selection for gifts.
You Can Never Go Wrong With Chocolates
One of the main reasons why chocolates make the best gift for your special someone is because you can literally never go wrong with chocolates. Your partner might not be in the mood for some other gift, but they will surely never say no to a box of beautifully customized chocolates.
To make it even more special, you can get their names or picture printed on the chocolates, or better yet, write up a short note on your own and get that on a heart shaped bar of chocolate. While you might not know what type of jewelry your girlfriend likes or what the favorite color of shirt of your boyfriend is, you will most certainty know that they love chocolates and so you are never going to go wrong with it.
Chocolates Spell Luxury and Indulgence
Another reason why chocolates are the best way to mark a celebration is because they are pure luxury and indulgence. They are sinful yet irresistible. Giving chocolate to someone means that you not just love them but also care about them and their happiness. Give your loved one a sweet box of surprise and see how their heart melts at the sweet gesture.
Chocolate Are Everybody's Favorite
This is also one of the many obvious reasons why chocolates make the best Promise Day gift for boyfriend or Promise Day gift for girlfriend. Your partner can be a picky person and choosing a gift for them can sometimes be a little daunting task for you. However, with chocolates, you can be sure that they will not only love the gift, but also appreciate the effort made by you. It's an even better option when you get them customized according to your loved one's preference.
Here are the reasons why chocolates make the best gifts for Promise Day. Get a box these delightful treats for your loved ones and sweep them off their feet as you make a promise of lifelong love.