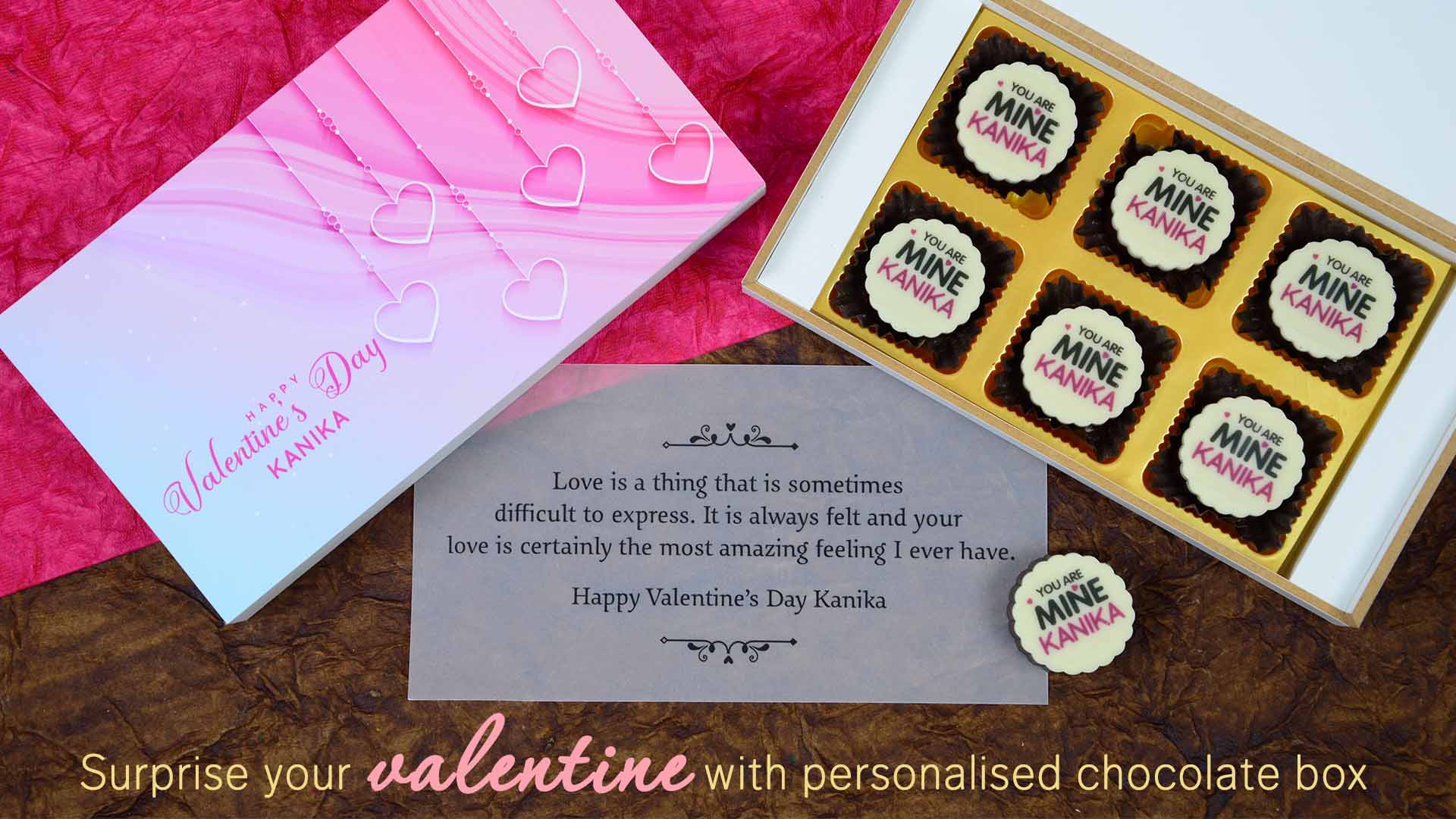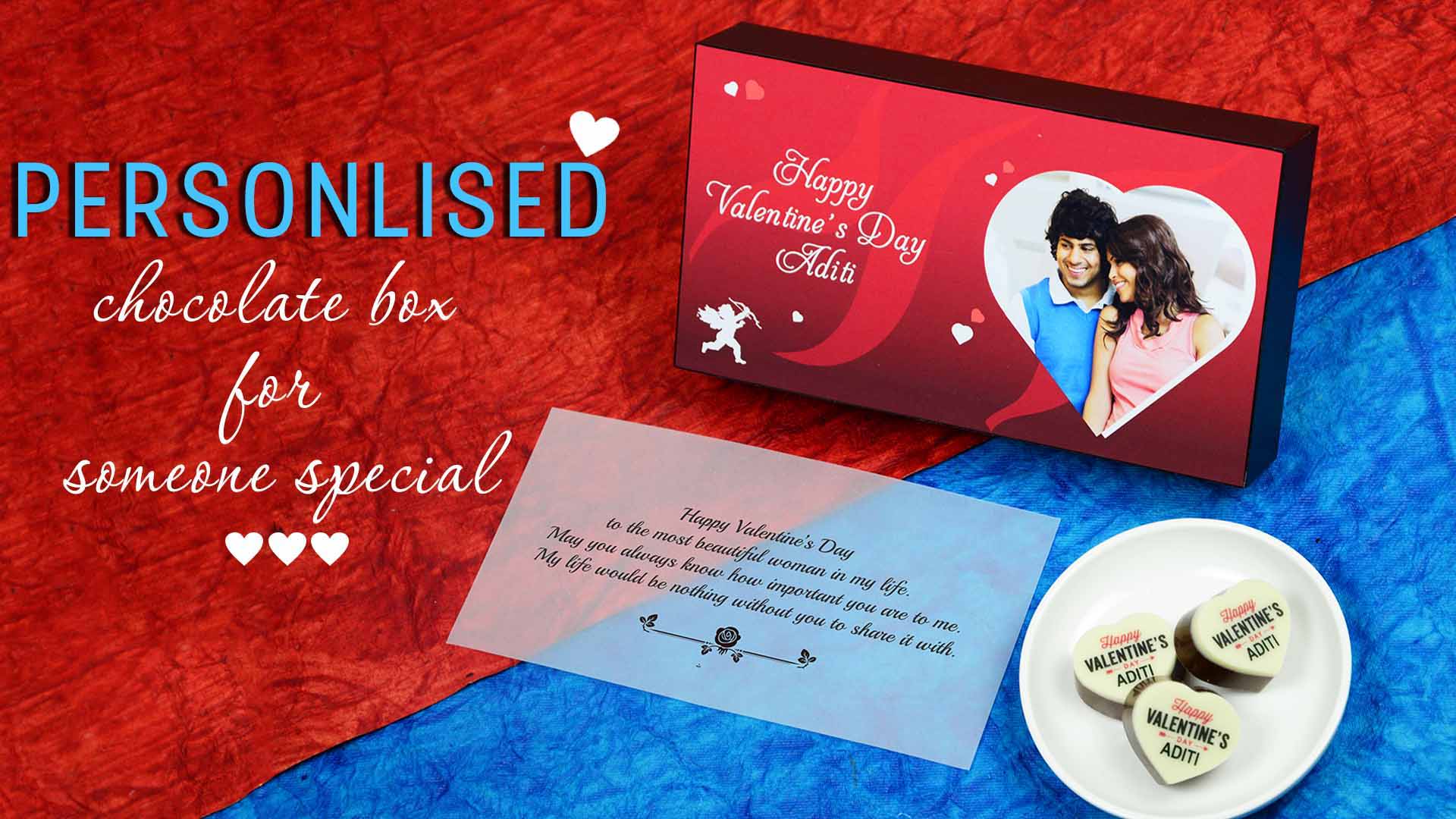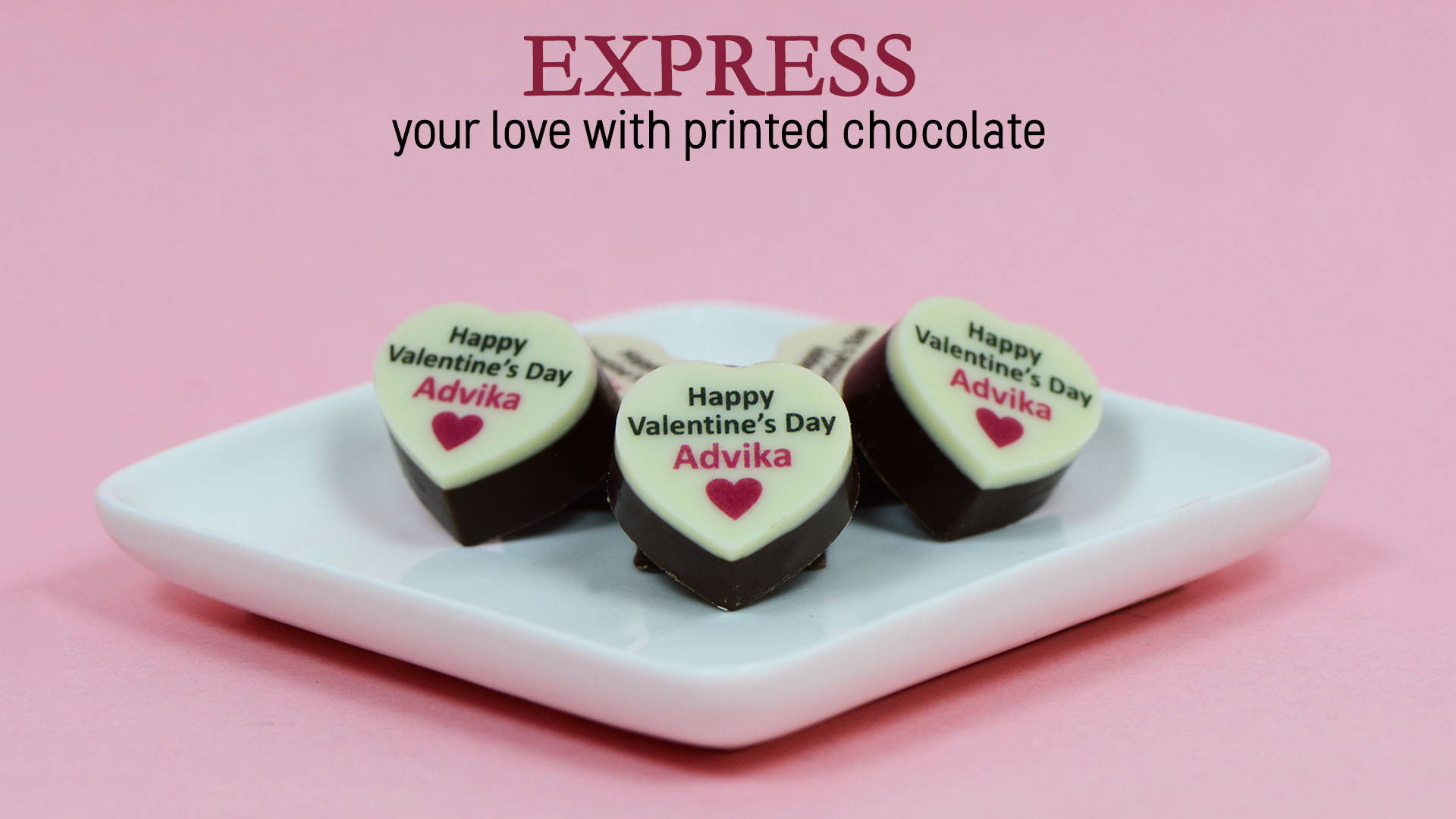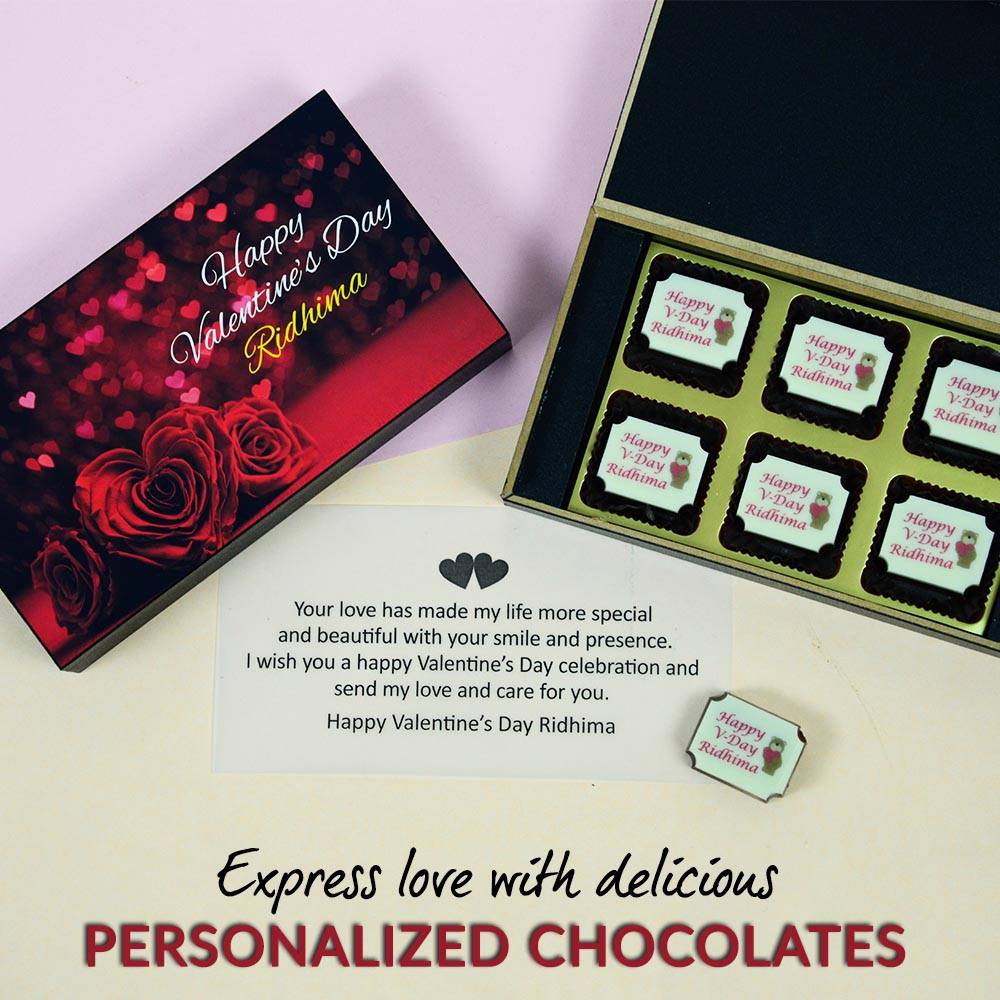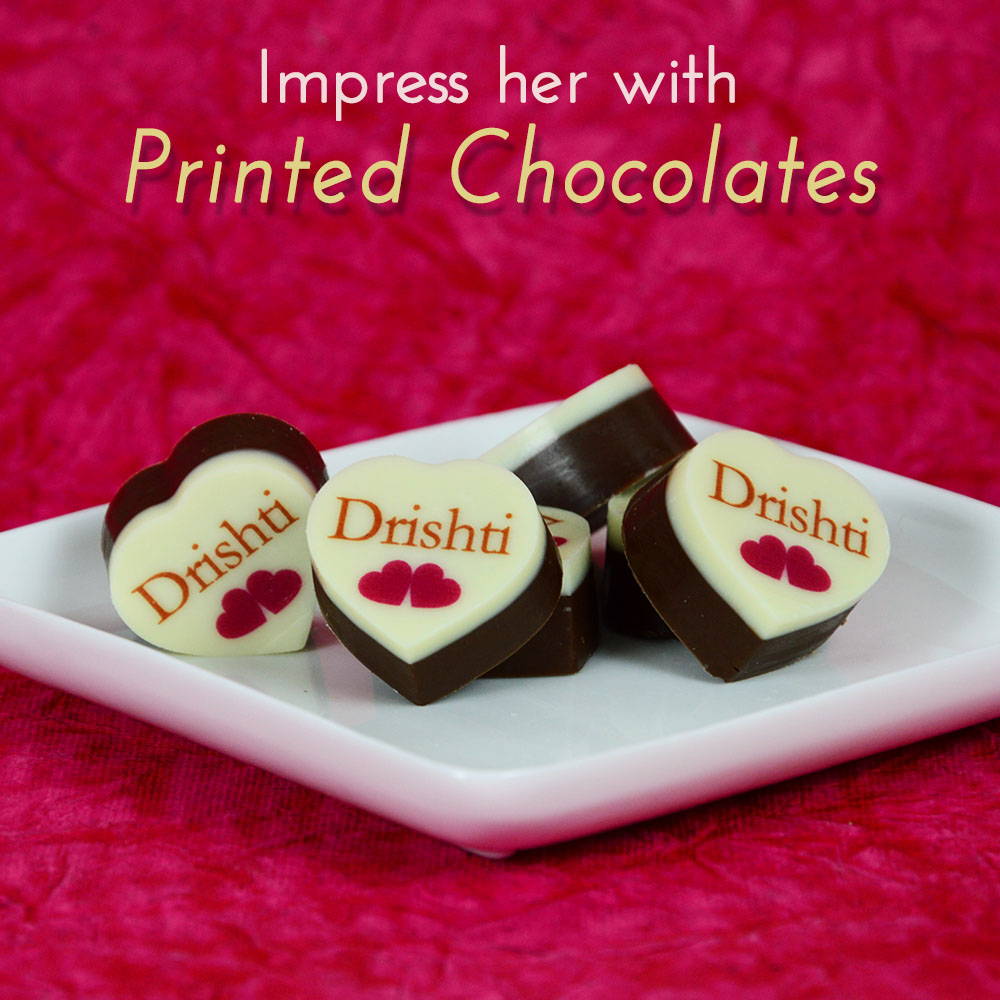 Create your own personalised chocolate gift!
PERSONALISED GIFT BOX                    +                     PRINTED CHOCOLATES                    +                     MESSAGE
The Concept
PERSONALISED GIFT BOX
+
PRINTED CHOCOLATES
+
MESSAGE



Free Delivery Across India
---
---
---
Chocolate Day Gifts
Can one say "I love you" without any chocolates? Sweeten your relationship this Chocolate Day!
"The bank of friendship cannot exist for long without deposits of chocolate."
.
When is Chocolate Day? Why is It Important?
Celebrating St. Valentine's birthday on February 14 isn't what Valentine's Day is all about. It is the celebration of love commencing a whole week prior to that. Each day is dedicated to a significant symbol of love and affection in a relationship- be it roses, proposes, kisses or hugs, teddies or promises. But chocolates comprise of probably the most important part of Valentine's Week. Be it any day of the celebration, you can never go wrong with gifting a box of chocolates. Many consider it as the safest gifting option for all occasions. But it also is so when a whole day is especially dedicated to chocolates, and it is just around the corner too! The third day of Valentine's week, February 9, is celebrated as Chocolates Day by lovers, couples, and admirers all around the world.
Any day of Valentine's Week you may skip the gifting part but you just can't disappoint your partner without a nice chocolate day gift. You can have chocolates any time of the year whenever you wish to but definitely can't miss relishing some on the only day which is wholly devoted to cherishing this sweet. Chocolates make simple and elegant Chocolate Day Gifts for him too, and definitely, don't require much thought. Think about it! All excited and prepared for Valentine's Day? Then make sure you've kept your chocolates in stock because it is time for that special day where you can't do without some chocolatey Gifts on Chocolate Day!
Chocolate Day Gifts from ChocoCraft
| | | |
| --- | --- | --- |
| For Recipients | Gift Types | Our Speciality |
| Gifts for Chocolate Day | 6 Chocolate Box | Photo Chocolates |
| Customized Gifts for Chocolate Day | 9 Chocolate Box | Printed Chocolate Bars |
| Personalized Gifts for Chocolate Day | 12 Chocolate Box | Personalised Box |
| Unique Gifts for Chocolate Day | 18 Chocolate Box | All India Delivery |
| Special Gifts for Chocolate Day | 9 Chocolate Box | Beautiful Designs |
Order Special Chocolate Day Gifts Online!
The beauty of Chocolate Day is that it makes you think out of the box. You can relish a nice nutty bar of heaven any day of any week of any year at any age. This makes it evident that you can't gift the same old same-old on this special occasion. What can only be fitting and just is a chocolate specially made for Chocolate Day.
Anything thoughtlessly bought from retail can never embrace the uniqueness of your friends or loved ones. Once you put on your thinking cap, you may come up with some brilliant ideas. For example, you can show a lot of affection and put in a lot of effort for your loved one and prepare Chocolate Day Handmade Gifts be it homemade chocolates, baking a cake, making a card or even a scrapbook. But if you're going for something more convenient, customized chocolates make perfect Chocolate Day Special Gifts too since they give a lot of room to experiment and get creative. If you're looking for some creative Chocolate Day Gift Ideas, you can buy Chocolate Day Gifts Online from ChocoCraft from any major city in India. For even more convenience, you can get it delivered for free too!
We at ChocoCraft have merged customized gifts, elegant customized packaging and chocolates all together to prepare the perfect gift for any occasion. Our special offering is chocolates with prints on them. You may gift your dear and loved ones with a customized box of chocolates especially designed with prints and logos according to the occasion of gifting, each containing chocolates with images and personal messages printed on them as per your choice.
If you wish to show your special friend how special they are to you, surprise them with chocolates with their names printed on them. You may also gift Chocolate Day Special Gifts with special Chocolate Day wishes and messages printed.
No one better to wish Happy Chocolate Day than the chocolate itself! You may also ace the game with chocolates with your images printed on them. They will show your significant other how much effort you've put in to make this ordinary delicacy an extraordinary symbol of affection and care.
A picture is worth a thousand words, and a picture of a loving memory printed on a chocolate can make the receiver happy beyond words.
ChocoCraft Delivers to all major cities in India so if you are looking for Valentine gifts in Delhi, Mumbai, Hyderabad or anywhere in the country you should definitely explore special Valentine's Day gifts by ChocoCraft.
Why Chocolate and Romance Go Hand in Hand?
Traditionally they have always been used as comfort foods. These simple little bundles of joy ought to make anyone happy. This is the very reason why people tend to propose or even apologize by gifting chocolates. Because after all, who says no to chocolates? There is every reason to believe why chocolates make an important part of any relationship. They help to remind the sender and receiver to sit down, share some of this sweet and relish the sweet memories of their relationship and remember how far they have come along together. When gifting chocolates, they are the best way of saying "Here, have these. They remind me of you; your sweetness, your kindness, your innocence, your simplicity."
This is the day of Valentine's week which can be equally cherished by many people sharing relationship- be that of between siblings, parents and children, friends and obviously lovers.
A son may bring Gifts for Chocolate Day and address them to his mother to remind her how she has always been and will always be the first love of his life. A student may present Chocolate Day Gifts to his teacher in a beautiful and well-thought box to remind him how he has constantly been a life-changing inspiration and acted as a role model for him.
A brother may gift his little sister a presentation to express how she will always be his little princess; she'll never be a grown up in her protective brother's eyes and he shall always stand as a pillar of constant support, encouragement and as a source of delicious candies to spoil her too!
Get innovative and embrace uniqueness with customized chocolates from ChocoCraft. Express your sweeter side this Chocolate Day, the right way!
"Chocolate makes everyone smile-even bankers. – Ben Strohecker, chocolatier"
More Gifts for Valentine's week by ChocoCraft